When 9-year-old reporter Hilde Lysiak saw some of the negative comments on her story about a suspected murder in her Pennsylvania town, she decided to deliver a message to those who think she is too young to report on adult topics.
Hilde, who was profiled on TODAY in September 2015 for her work as the editor and publisher of her own Orange Street News, was reacting after her story about police investigating a suspected murder in Selinsgrove drew the ire of several adults on the OSN Facebook page. Some said she is too young to be reporting on a story of that nature, while others said she should be "playing with dolls" and having "a tea party."
"It makes me mad that they think just because I'm 9 doesn't mean I can do a newspaper,'' Hilde told TODAY.com. "I was just kind of angry."
In a video filmed by her older sister, Isabel, 12, Hilde decided to respond to her critics. Wearing a button with "I Love Free Speech" on it, she read some of the negative comments out loud, including an expletive-laden one, and then gave her reply.
RELATED: Meet Hilde Lysiak, Pennsylvania's 9-year-old newspaper reporter
"If you want me to stop covering news, then you get off your computers and do something about the news,'' she says in the video. "There, is that cute enough for you?"
"I just wanted to put it out there that (the negative comments) don't mean a lot to me,'' Hilde said. "If you don't like my paper, then you don't have to read it."
Hilde is no stranger to the journalism world, as her father is author and playwright Matthew Lysiak, who was a reporter with the New York Daily News for 10 years. He often brought his family along while reporting sensitive stories about tragedies or law enforcement action.
RELATED: Teen refuses to calculate BMI for school homework, calling method 'outdated'
"Both of my older daughters looked at is as exciting and fun, and saw it as an opportunity to get to the truth,'' Lysiak told TODAY.com. "I see the debate online about the appropriateness of someone her age reporting on stories that are so serious, and I have to tell you, it's a fair argument. What a lot of people don't realize is how Hilde grew up. She's a different sort of kid."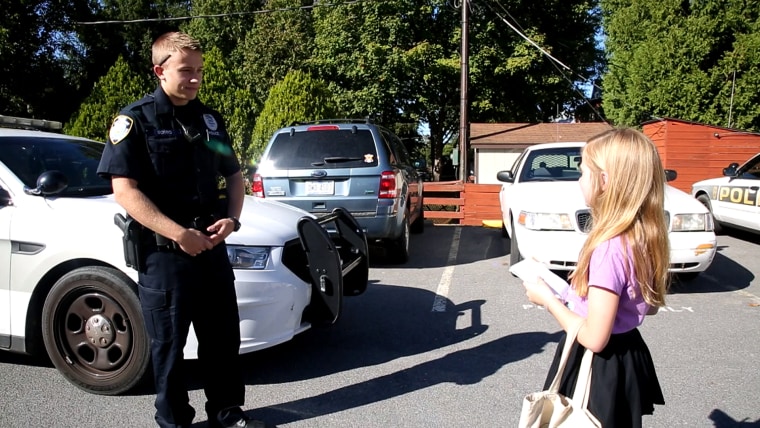 The second-oldest of four girls in the family, Hilde started the Orange Street News when she was 7 years old. She and her sisters are home-schooled by their mother, Bridget Lysiak, who is a certified English teacher. Hilde's parents go through her emails and online comments before she sees them, and they felt she should know about the reaction to her story about the suspected murder.
"We didn't show her the worst of the comments,'' Matthew Lysiak said. "We thought it was important that she see there are people in this world who will be judging her based on her age and gender, and she needs to stand up for herself. We are more proud of Hilde for how she responded to this adversity than we are for her scoop."
"I'm so happy that without really a lot of coaching my daughters just get that there is something very wrong with being told they should be cute and only playing with dolls,'' Bridget Lysiak told TODAY.com. "I was just proud the initial reaction was one of anger, saying, 'Don't put me in this box.'''
RELATED: Teen saves father's life with CPR — 2 days before he was set to take CPR class
Hilde rides her bike around the town of about 5,000 residents by herself and often knocks on doors to interview local people for potential stories. The article about the suspected murder came about when she had been writing regular articles about a vandal in town and went to follow up with police after hearing the person was caught.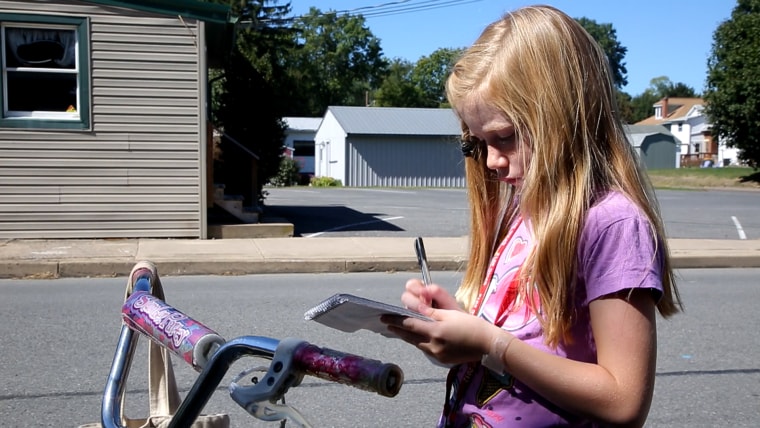 When the police chief said he had to leave for an important story, she started digging, knocking on doors and interviewing sources to find out about the possible murder before confirming it with law enforcement.
"I don't work for the police,'' Hilde said. "They can't tell me what to report on and what not to report on."
Her father looked the story over and posted it, allowing Hilde to beat the Daily Item, the local paper and website that covers their town. Isabel, incidentally, writes a kids' column for the Daily Item.
While Hilde's work has been positively received by the majority of the community and many Facebook commenters, her parents admit they have faced some backlash.
"We're kind of used to that,'' her mom said. "I guess you could call us free-range parents. I think people are far too afraid of things that are not real dangers. We want our kids to move about in the world."
Follow TODAY.com writer Scott Stump on Twitter.