When one 8-year-old girl was told she couldn't have the dinosaur-themed Clarks shoes she wanted — because they only came in boys' sizes — she wouldn't stand for it.
Sophia Trow penned a letter to Clarks, asking that the popular style be made available to girls as well.
"My Mum took me to buy new school shoes and I saw that there were dinosaur shoes for boys. Why can't girls have dinosaur shoes?" she wrote.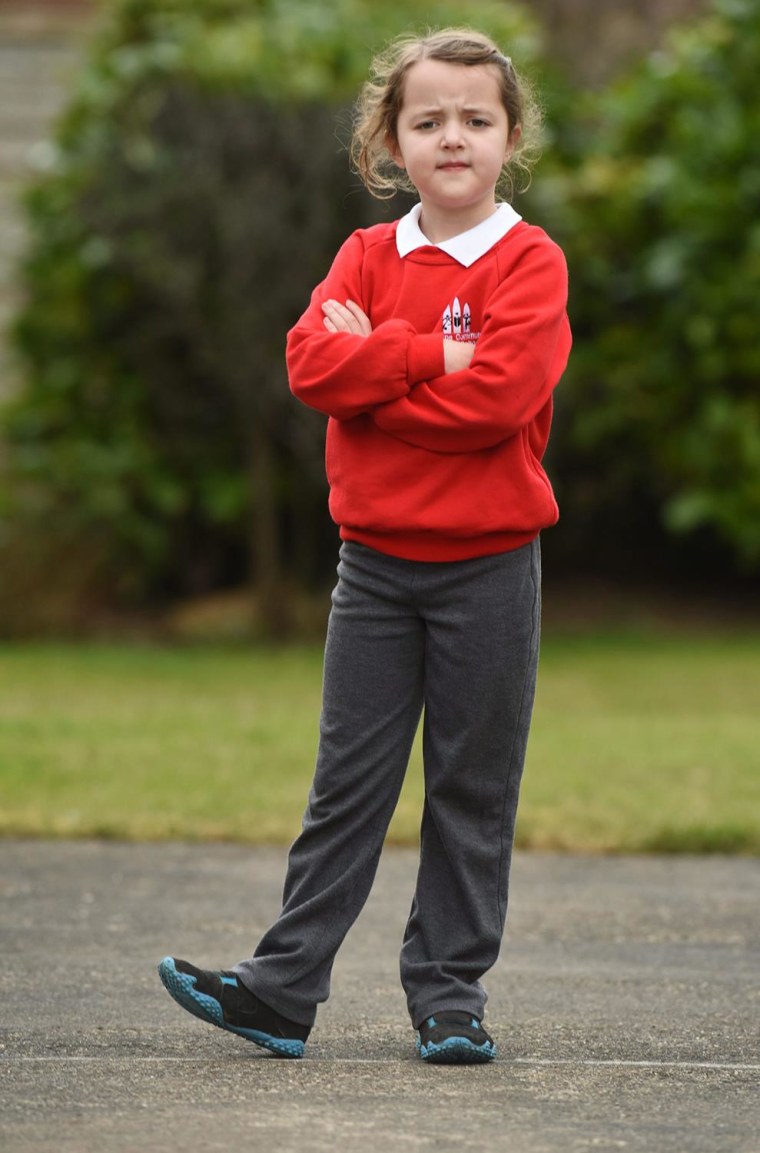 "I don't like how girls have flowery shoes," she continued. "I like dinosaurs and fossils, so I think that other girls might as well."
Sophia's mother, Jane Trow, shared the message on March 3, tweeting, "@clarksshoes My daughter has written you a letter about your sexist shoes. Not all girls want to be pretty princesses."
The mother and daughter were visiting a Clarks store in Middlesbrough, England, when the brand's Stomp Claw style, on one of the boys' shelves, caught her eye.
"We mentioned that it was a shame that there were no dinosaur shoes for girls, just for boys," Jane told TODAY.com. "We were told that boys' and girls' shoes fit differently, like how a ladies' size 7 is a different fit to a mens' size 7."
Jane explained to Sophia that it was possible to contact a company with feedback, so she decided to write the letter.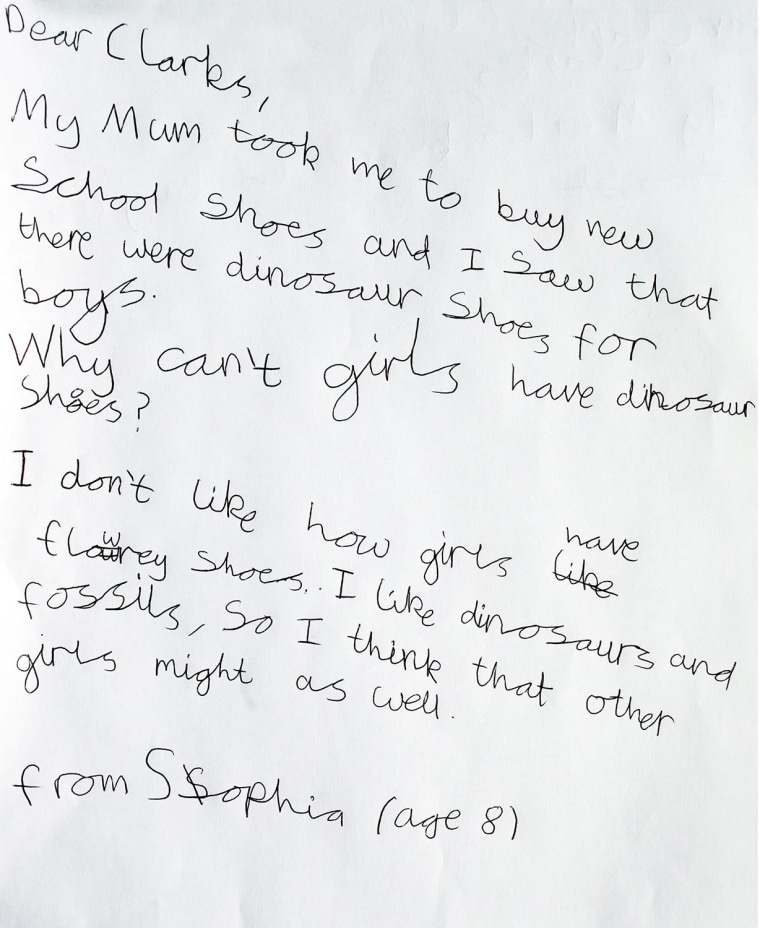 Clarks replied to Jane via Twitter, saying, "Sorry to hear our range didn't suit Sophia's tastes. We value her feedback to ensure we have styles that kids feel great wearing."
Jane said that the company also got in touch to offer her daughter a free pair of shoes.
A company spokesperson told TODAY.com, "Clarks are sorry to hear that Sophia was informed these shoes aren't suitable for girls. The Stomposaurus range can safely be worn by all children. We have a long and established heritage of designing shoes which offer style, comfort, fit, durability and quality, and offer a wide range of children's shoes to meet their varied tastes and needs."
The statement continued, "We are also developing a broader range of unisex styles which will be available from autumn/winter this year. We provide training to staff to ensure customers are made fully aware of our range of suitable styles."
Sophia's story has since inspired the social media hashtag #InMyShoes, which women in science have been using to share pictures of their own footwear of choice (scroll down to see some examples).
"I feel so grateful all these people have taken the time to encourage not just my daughter, but other children," Jane said. "I think girls, in particular, need visible positive role models to look up to, where looks are not the sign of success."
"Sophia is very interested in science; she finds it fascinating," Jane added. "She says she would love to be a scientist when she grows up, but just can't quite decide yet which part of science, as it's all exciting! The women tweeting photos of their shoes have even introduced her to fields of science she didn't know existed. So if nothing else comes from this, then I'm overjoyed that my daughters eyes have been opened."
Sophia isn't the only one to challenge gender stereotypes in clothing recently. Last month, two Washington, D.C.-area moms successfully launched a Kickstarter for Princess Awesome, a line that makes dresses that feature planes, trains, trucks, dinosaurs, science and other motifs not often seen on little girls' clothing.