These babies and their police officer parents have the right to remain adorable.
Sleep and scheduling have likely become challenges at the Erlanger Police Department in northern Kentucky, where eight officers welcomed newborns over the past year.
The department posted a photo of the baby boom on Facebook this week, in a friendly bid to one-up an Oklahoma fire department that made news after seven firefighters welcomed bundles of joy in a matter of months.
"Hey Glenpool Fire Department. I guess there's something in the water here in Erlanger KY too!'' the department wrote on Facebook in response to the firefighters from Glenpool, Oklahoma.
Erlanger officers Kyle Thornberry, Ryan Atchley, Margaret Ernst, Robert Yocum, Michael Clark, Justin Auton, EJ Dettmer and Josh Nezi all became dads within about a year.
"We are all like, 'Oh, I am having a kid,' then we are like, 'So am I.' 'So am I,''' Atchley told NBC affiliate WLWT. " A couple months later, 'So am I.' Then you start looking at it and say, '(The) schedule is going to be an issue.'"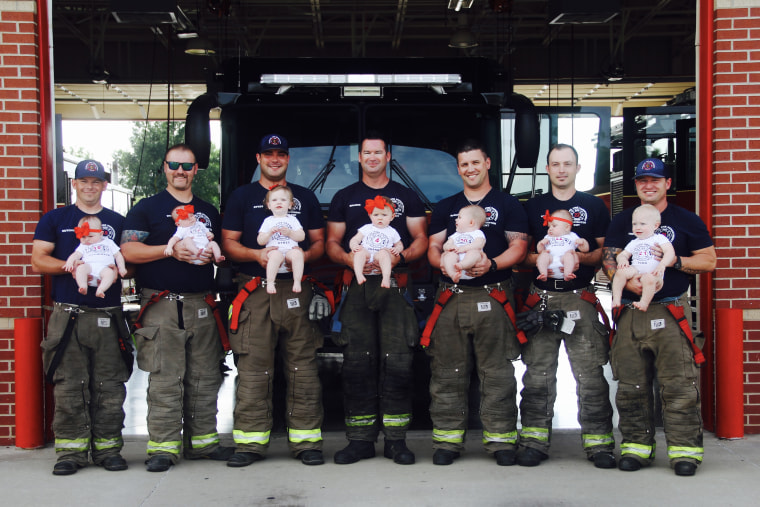 The officers are now trying to balance keeping the streets safe and getting up for midnight feedings.
"I average about three hours (of sleep) a night," Yocum told WLWT. "I do cook a lot. I do all the wife's meals for the whole week, the kids, I do all of that. I make birthday cake, stuff like that, even though I don't eat cakes."
At least they can all commiserate as their baby police academy grows up together.
"When you get eight? That is an astronomical number to have,'' Atchley said. "It is much more than a village. It is multiple villages to make this thing happen.''
Erlanger should savor its status as the department with the biggest baby boom because it may be short-lived. At Banner Desert Medical Center in Arizona, there are 16 nurses from the hospital's intensive care unit who are pregnant and due between September and February.
Follow TODAY.com writer Scott Stump on Twitter.