Jamie Foxx's daughter, Corinne, will serve as 2016 Miss Golden Globe at the Jan. 10 awards ceremony.
The Hollywood Foreign Press Association made the announcement Tuesday night at its party honoring Corinne, and confirmed the news with a tweet and a red-carpet Instagram photo featuring the father-daughter combo and HFPA president Lorenzo Soria.
Selected by the Hollywood Foreign Press Association, Miss or Mr. Golden Globe often is the child of an industry icon and assists with the ceremony. Corinne, an 18-year-old fashion model who's made multiple appearances as an "Entertainment Tonight" special correspondent, appeared relieved to reveal her exciting secret to 33,000 Twitter followers late Tuesday night.
"FINALLY!" she tweeted. "I am able to announce that I will be Miss Golden Globes 2016. What an amazing honor!"
Her 47-year-old dad, an Academy Award-winning actor for "Ray," beamed with pride on the same social-media circuit.
"[So] proud of my little one for being chosen as Miss Golden Globes," the comedian tweeted to more than 4.5 million followers. "@corinnefoxx can't wait to see you on the stage!"
RELATED: Look who's back! Ricky Gervais to 'raise anxiety,' host 2016 Golden Globe Awards
Corinne Foxx is the latest in a long line of celebrity progeny to hold the title of Miss (or Mr.) Golden Globe, a tradition that began in 1962. The following eight notable previous honorees are listed in chronological order.
1. Linda Evans (1964)
Evans, whose parents were professional dancers, shared a 1981 Golden Globe win with "Dallas" actress Barbara Bel Geddes for her portrayal of Krystle Carrington on ABC's "Dynasty."
2. Melanie Griffith (1975)
Her parents, actress Tippi Hedren and actor Peter Griffith, helped pave the way for Melanie, who'd later win a Golden Globe and be nominated for an Academy Award for her performance in 1988's "Working Girl."
3. Laura Dern (1982)
The daughter of thespians Diane Ladd and Bruce Dern, Laura would earn two Oscar nominations and a Golden Globe nod for her performances, ranging from 1991's "Rambling Rose" to 2014's "Wild."
4. Joely Fisher (1992)
A daughter of actress Connie Stevens and singer Eddie Fisher, Joely (second from right in the Instagram photo above) earned a Golden Globe nomination in the late '90s for playing Paige Clark on ABC's "Ellen."
5. Freddie Prinze Jr. (1996)
The son of actor-comedian Freddie Prinze and real-estate agent Katherine Elaine Cochran, the "I Know What You Did Last Summer" star was a rare Mr. Golden Globe who served at the 1996 ceremony with a Miss Golden Globe, actress Jaime Nicole Dudney.
6. Dakota Johnson (2006)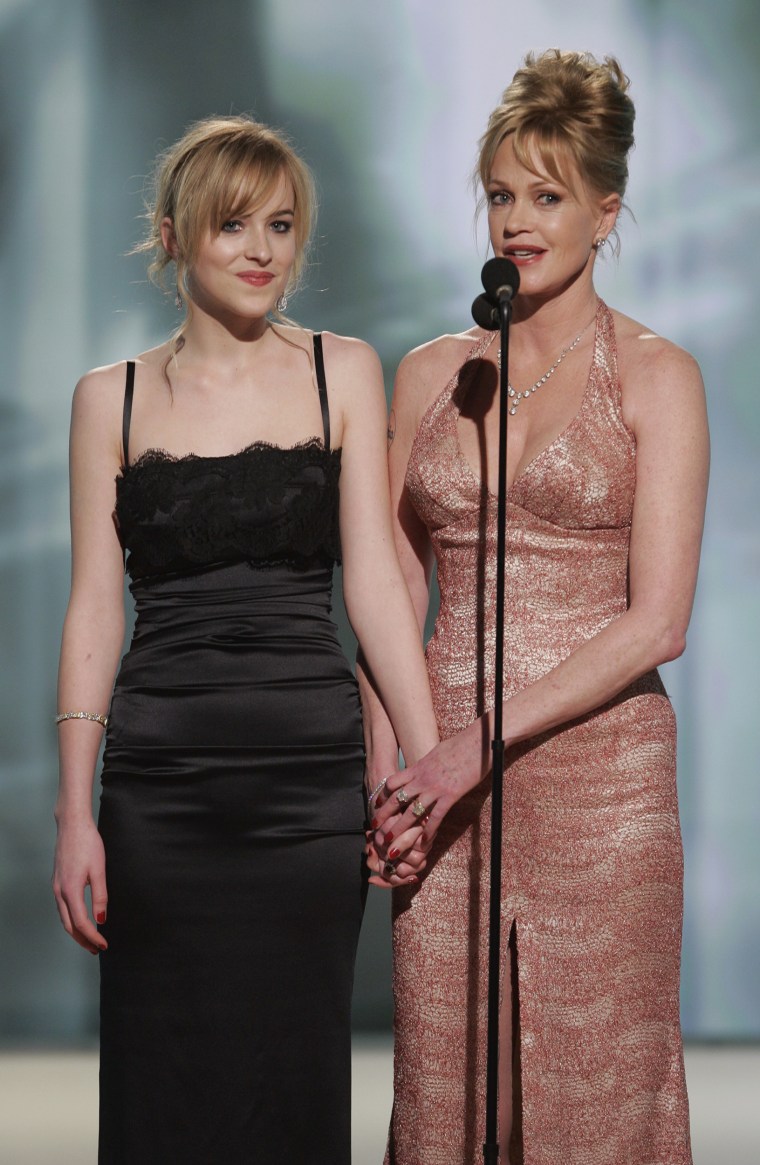 The "Fifty Shades of Grey" star and People's Choice Award nominee is the daughter of actor Don Johnson and the aforementioned 1975 Miss Golden Globe honoree, Melanie Griffith, who joined her onstage at the event.
7. Rumer Willis (2009)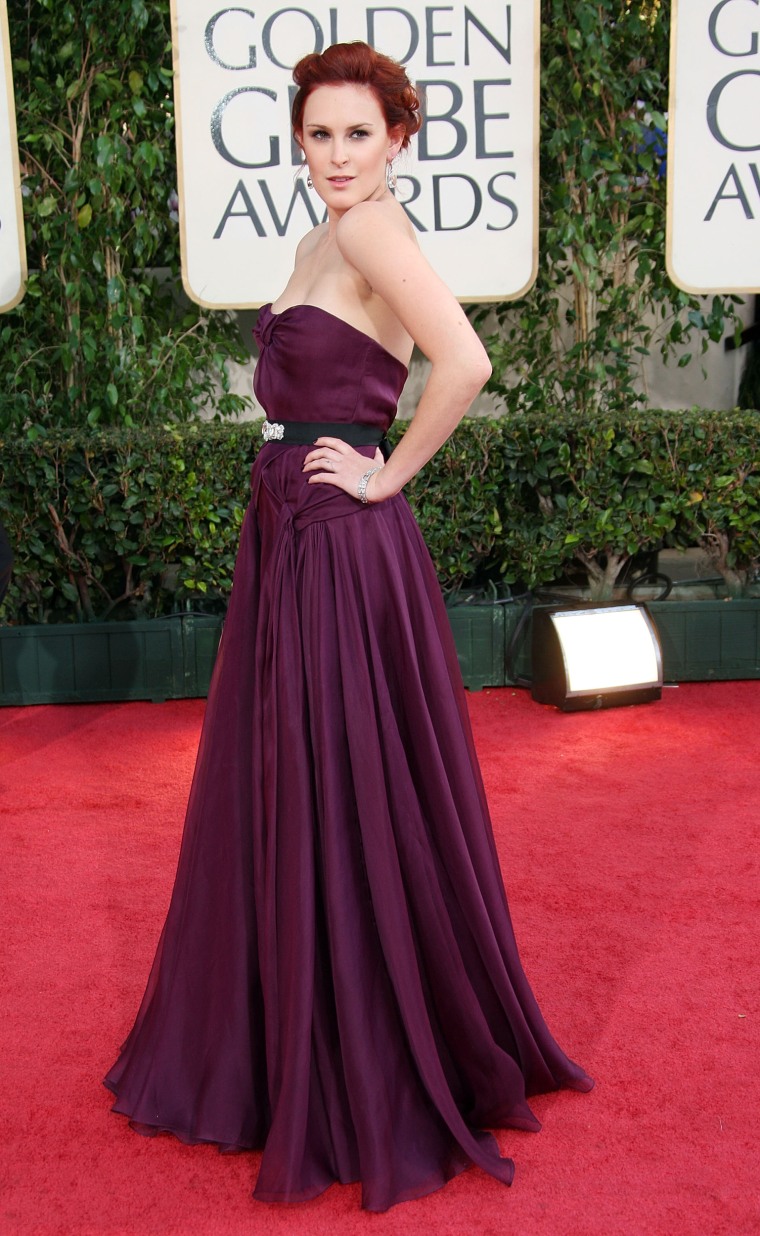 Demi Moore and Bruce Willis' oldest daughter is a fellow actor ("Pretty Little Liars") who also won the 20th season of ABC's "Dancing with the Stars."
8. Greer Grammer (2015)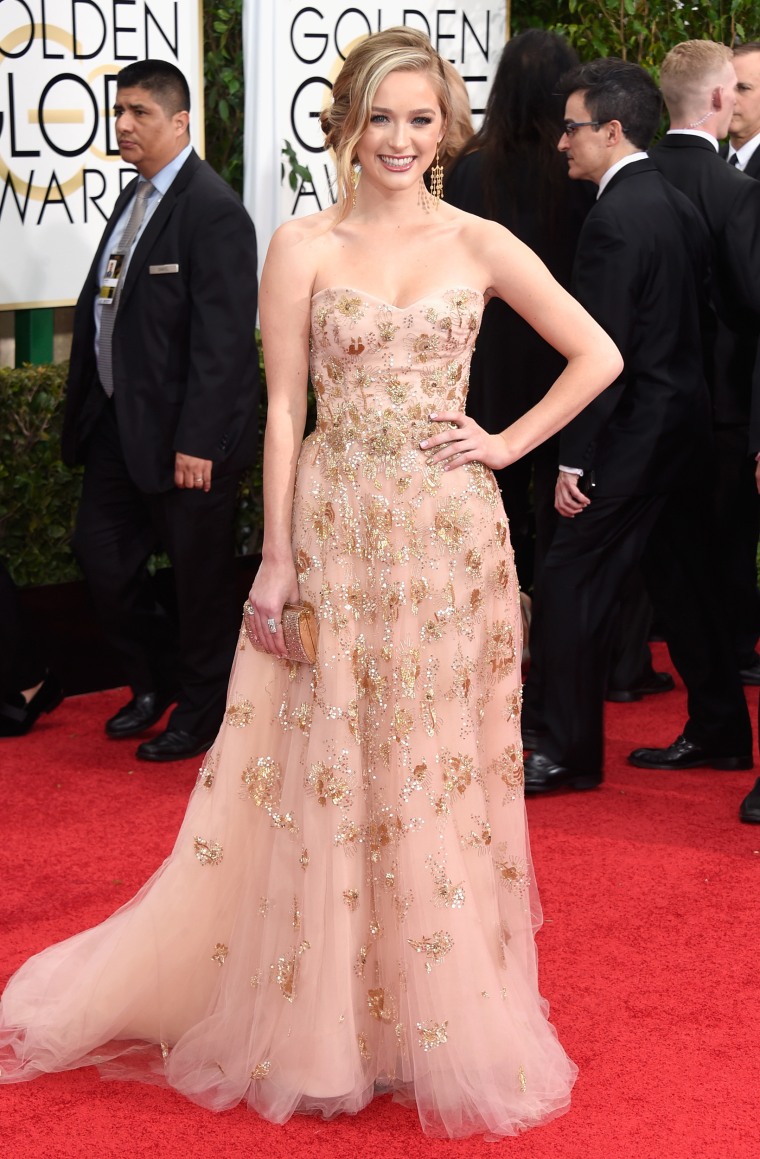 The daughter of "Frasier" star Kelsey Grammer and stylist Barrie Buckner has been making a name for herself on MTV's "Awkward."
Follow TODAY.com writer Chris Serico on Twitter.