From working out with their babies to lip-syncing with their teens, parents in 2014 inspired us to savor the moment, think outside the box and most importantly, laugh our way through the challenges.

These videos and pictures remind us that whether our little ones cover themselves in paint, develop an irrational fear of butterflies or ask us to dress up in a Halloween costume that's outside of our comfort zone, the best thing we can do as parents is to support them — or whip out the iPhone and watch their antics go viral.
1. The dad who couldn't stop laughing at his paint-covered kids
After discovering his kids covered head-to-toe in paint, this dad tries to discipline them, but ends up laughing instead. With a mess this big, what else is there to do?
2. The parents who created a time-lapse video of their pregnancy

Parents Mark and Anna Sansone created their second time-lapse pregnancy video this year, one that both documented the development of new daughter Mila and showed an excited big-sister-to-be, Amelie, getting ready for her baby sister's arrival.
3. The dad who shook it off with his daughter

We loved seeing this dad and his daughter film a silly dance routine to Taylor Swift's hit Shake it Off. The duo also went viral this year with their dance video set to Megan Trainor's All About That Bass, proving that everyone loves some pop-music-based family bonding.
4. The mom who found a sweet way to reveal her pregnancy

When mom Hilary Barrett found out she was expecting a new baby, she told TODAY she wanted a creative way to tell her daughters, Harleigh, 11, and Christina, 8. When Barrett presented the girls with cookie cakes telling them they were going to be big sisters, their squeals and screams of joy went viral.
5. The dad who lip-synced to Taylor Swift with his teenage son

Georgia father Chris O'Malley is no stranger to making lip-sync videos with his teenage children on car trips. However, when O'Malley and his son, Sean, 15, made a smirk-filled version of Taylor Swift's Shake it Off, the video went viral.
6. The dad who dressed as Princess Leia for Halloween

Tom Burns and his daughter had always dressed in coordinated costumes for Halloween, so when his little girl asked if she could dress as Han Solo this year, it made sense for him to dress as Princess Leia. We loved this dad's message that anything boys can do, girls can do, and vice versa.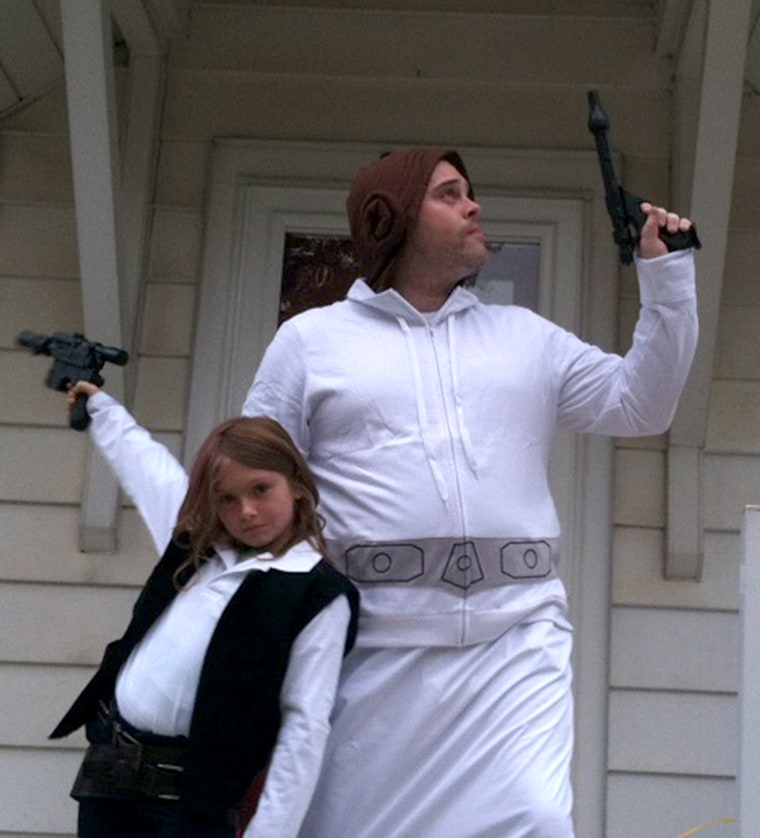 7. The dad who worked out with his baby
Dad Michael Stansbury shows the importance of getting fit with your kids in this viral video, where he's shown doing the "Lilly Ann Workout." Stansbury follows baby Lilly Ann's lead, moving through a series of adorable exercise moves.
8. The dad who created a NASA command center for his son

We're still wowed by the NASA-themed homework desk that dad Jeff Highsmith created for his sons. The talented Raleigh, N.C. father created a YouTube tutorial about the making of the mission control desk as a part of his monthly video series at Makezine.com, and told TODAY that he has plans to create more space-themed furniture for his kids.