Call it in: Here's some seven-alarm cuteness.
Seven firefighters from one Oklahoma department welcomed new babies in the past 15 months. And clearly, the photo opportunity was too precious to pass up.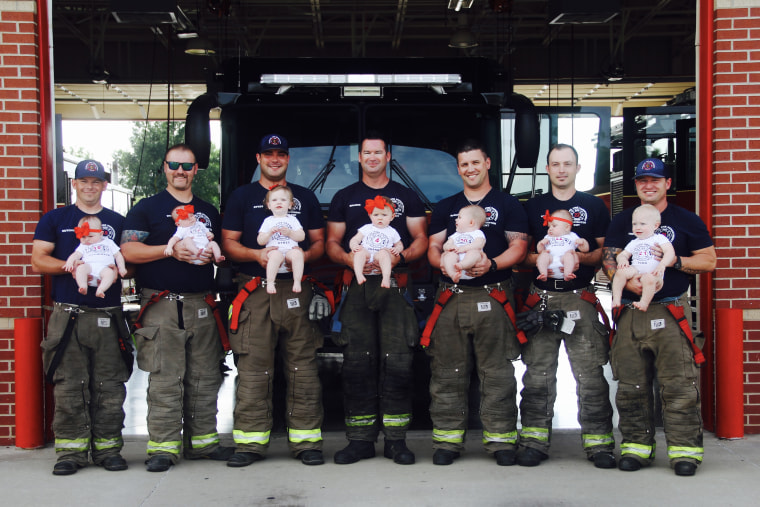 Melanie Todd, who is married to Glenpool firefighter Dusty Todd (far right in the photo), posted the photo on Facebook on Sunday.
In it, the seven rugged men wear their fire suits and boots while holding their little ones — five girls and two boys, with the newborn girls wearing matching red headbands and bows.
"Something is in the water at the Glenpool Fire Station!" Todd joked in the caption.
Avery Dykes, whose husband, Kendall, and baby, Jovie, are pictured third from the left, also took some photos of the group that day.
Getting all of the newborns to hold still for a nice shot was anything but easy, she told TODAY.
"It was crazy! We were all trying to get our babies to look and smile," Dykes said, adding that she was using toys to grab the children's attention. "Someone compared it to herding cats."
Over the next few days, the photos of the Oklahoma team and their little ones garnered national attention, collecting hundreds of likes and shares.
"We're really glad that we can bring smiles to people's faces when most of the news is negative and sad," Dykes added. "We're happy that we've got a happy story that we can share with the world."