Of the thousands of demonstrators and law enforcement officials who attended a Ferguson rally in Portland, Oregon, last week, two individuals stand out from the crowd.

A photo of a 12-year-old African-American boy and a white police sergeant hugging in the street inspired a storm of social media sharing and comments about the hope and beauty that freelance photographer Johnny Nguyen reminded people of through his talent.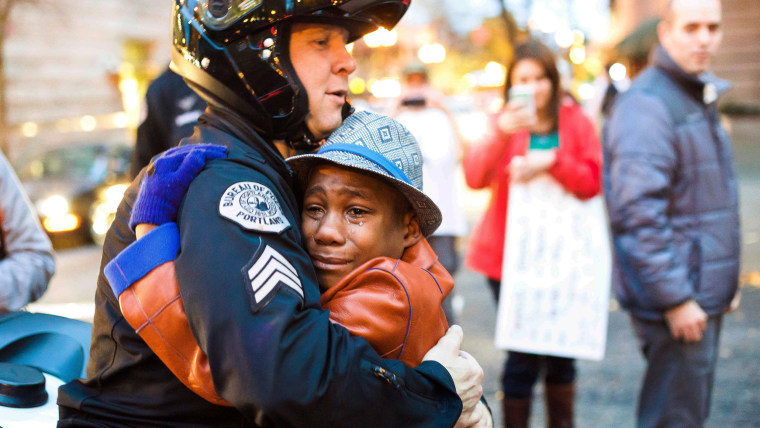 The story behind the photo, however, is nearly as touching as the image itself. Here are things you may not have known when you "liked" or "shared" it in your social media feed.

1. The officer had a conversation with the boy before the iconic hug.
Portland Police Sgt. Bret Barnum told The Associated Press that when he saw Devonte Hart standing in the crowd with tears in his eyes, he asked him his name and shook his hand. Barnum asked Devonte questions about his school, what he did over the summer, and what kinds of things he likes to do. When he noticed Devonte's "Free Hugs" sign, Barnum asked for a hug as well.
"It's a blessing for me that I didn't miss an opportunity to impact this child," Barnum told The Associated Press.
2. The boy's mother took to social media to talk about her son's big heart.
According to The Oregonian, Jennifer Hart, who is white, explained on her Facebook page that her son struggles with "living fearlessly when it comes to the police and people who don't understand the complexity of racism that is present in our society."
In the same post, Hart called the experience "emotionally charged" and recounted one moment when Barnum asked Devonte why he was crying.
"His response about his concerns regarding the level of police brutality towards young black kids was met with an unexpected and seemingly authentic, 'Yes. I know. I'm sorry. I'm sorry.'"
3. The boy is adopted and has overcome a difficult childhood.
Devonte is one of six children adopted by Hart and her wife, Sarah. Early in November, Hart spoke with New Zealand-based online news site Paper Trail about Devonte's challenging start in life — one that involved drugs, extreme poverty and great danger.
"He inspires me every single day," Hart told Paper Trail, even before that iconic hug. "He has proven doctors, psychologists and teachers wrong. His future is most definitely not bleak; he is a shining star in this world. His light shines bright on everyone on his path."
4. The photo was the photographer's first-ever published work.
A student at Portland Community College, Nguyen had never had a single one of his thousands of images published before last week, according to The Oregonian.
Nguyen told The Oregonian that he first planned to post the photo on social media but instead walked into the newspaper's offices to see if editors were interested. They were — and the paper purchased publication rights and published the photo online late last week.
5. You can follow the photographer on Instagram.
Nguyen posts his work @chambersvisuals. In a recent post, Nguyen mentions that he has received "loads of requests for prints of the photo" and says he is "in the process of making that happen."
6. The photographer got a free hug, too.
In his interview with The Oregonian, Nguyen tells of his own interaction with Devonte Hart, saying he approached the teary-eyed boy. The two had a brief conversation about the protest.
"He kept crying, so I gave him a hug. At that point, I could tell this kid was special," Nguyen told The Oregonian.