They are a tight-knit group of nurses who love caring for their patients at the Comprehensive Cancer Center at Wake Forest Baptist Medical Center in North Carolina.
But these nurses — now dubbed the "Fabulous Six-Pack" — have something other than oncology care in common: They are all pregnant.
After Sabrina Hudson announced she was pregnant, she pointed to her co-worker Katie Carlton and predicted that Carlton would be pregnant next.
But, Carlton didn't believe Hudson.
Never miss a parenting story with the TODAY Parenting newsletter! Sign up here.
Carlton and her husband had just started trying and she didn't anticipate getting pregnant with their second child so quickly. And, it seemed like it would be impossible. There were already five other registered nurses that were pregnant in her department. Hudson had been the fifth.
Four weeks later, Carlton learned she was the sixth nurse who was pregnant.
"I kind of had a feeling," Hudson, 35, told TODAY about her friend. "That was really exciting when I found out (Carlton) was pregnant."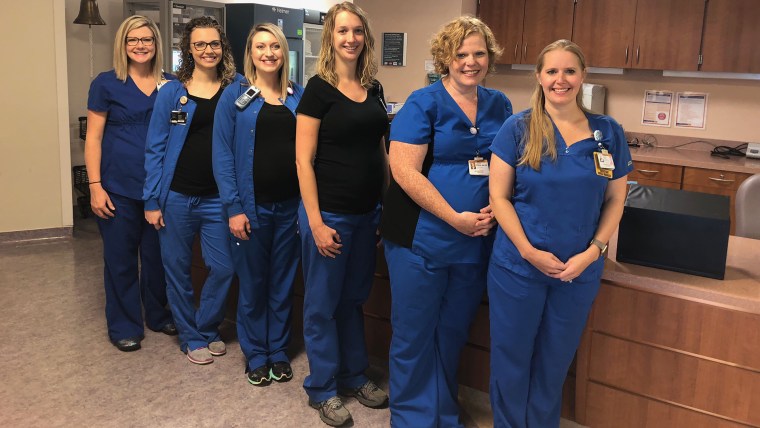 Carlton, 36, an assistant nurse manager, agrees that being part of the group is exciting.
"Honestly, it is a pretty cool experience," she told TODAY. "After the fifth pregnancy, I was kind of expecting someone else to get pregnant."
While Carlton was surprised it was her, the bond she shares with her pregnant co-workers feels special. Both Carlton and Hudson are pregnant with their second children. Carlton is due December 12; she was the last to learn she was pregnant. Hudson is due November 13. They've shared their pregnancy and parenting experiences with their co-workers who are experiencing for the first time.
"I feel comforted," Emily Johnson, 28, and a first-time mom, told TODAY. "I constantly have things running through my mind, 'Is this normal?' and 'What is going on?' Being able to communicate with other nurses helps me feel better."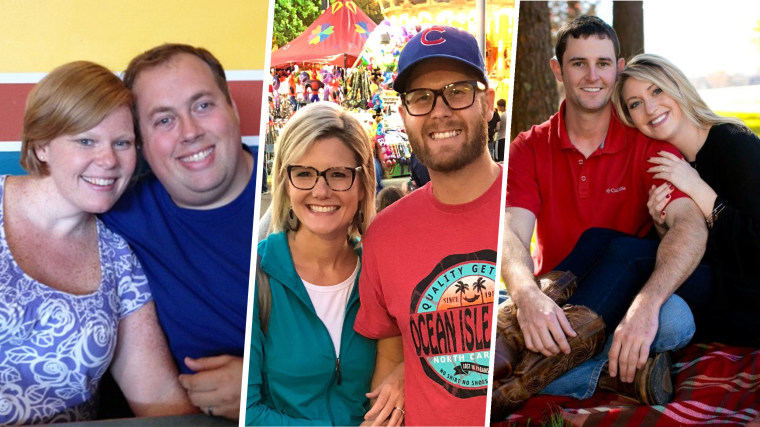 Johnson — who is due September 25 and was the third to become pregnant — felt elated to share her pregnancy with her co-workers.
"It was even more exciting when I found out that I wasn't the only one," she said. "It was double the blessing from God."
Nikki Huth is also a first-time mom and was the fourth to learn she was pregnant. She's due October 11.
"It is a fun experience to go through with friends," she told TODAY. "It is awesome to have a tight knit community of people to lean on."
Nina Day, 32, was the first to learn she was pregnant and she's due July 31, while Bethany Stringer, 29, was second, and is due September 8. Some of the due dates fall within a close range, but the nurses stressed that there are enough staff working at the outpatient hematology oncology department to cover their leave.
"There are provisions in place to make sure our patients are cared for," said Hudson. "All six of us won't be on maternity leave at once."
For now, their pregnancies remain a popular topic of gossip among their patients.
"Of course, they say, 'Is there something in the water?'" Carlton said. "It really intrigues people and gives them something to focus on when they are there."
But the nurses love that they're sharing this experience.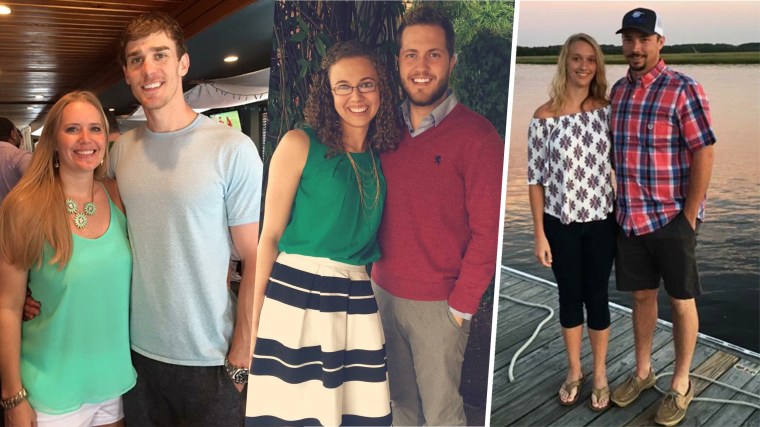 "People being pregnant together may not be a rarity," Hudson said. "We are just really excited about our babies and being able to share play dates. I don't think that after the pregnancies are over we will stop sharing milestones together."