Long road trips can be such a drag. And if you've got kids in the back seat, it can be difficult to keep them entertained for hours on end.
These days, it's easy to hand devices to kids or pop in a DVD to keep temper tantrums at bay. However, enriching your road trip the old-fashioned way with games and creative pit stops is another simple trick. TODAY tapped Mark Ellwood, Conde Nast Traveler contributor and author of "Bargain Fever: How to Shop in a Discounted World," for a few family- and budget-friendly travel tips to make the most of your long car journey.
1. Go analog.
Remember the road trips of yore, back in the days long before Google Maps or GPS? They were hardly complete without a Rand McNally road atlas, providing both a navigation tool and travel activity for bored kids in the back seat. "I love using an old-school atlas," Ellwood said. "You're not worried about your service going out, and it's a great activity, especially if you have kids, to teach them life skills and keep them engaged."
2019 Rand McNally Road Atlas, $12, Amazon
2. Make the most of your pit stops.
"Everybody's been in the car and thought, 'Should I stop here? Should I stop later? Am I hungry enough?'" Ellwood said. Now, you don't have to have the anxiety of pulling off the interstate and choosing the wrong exit — you know, the one with limited drive-thru options and high gas prices? With the iExit app, available for iPhone and Android, search for upcoming exits and their restaurants and retailers, and plan your pit stops in advance. "Fire up this app and it'll say there's great local pizza place to stop instead of a chain," he said.
3. Enhance your road trip with cultural activities.
Oftentimes, there are family-friendly activities along your route but you're so focused on the final destination that you blaze right by. With the Roadtrippers app, also available for iPhone and Android, plug in your destination to learn what cultural activities are available within a few miles of the interstate. "People don't realize that there may be a national park just 20 minutes off the route," Ellwood said. "The app is a bit like a tour guide."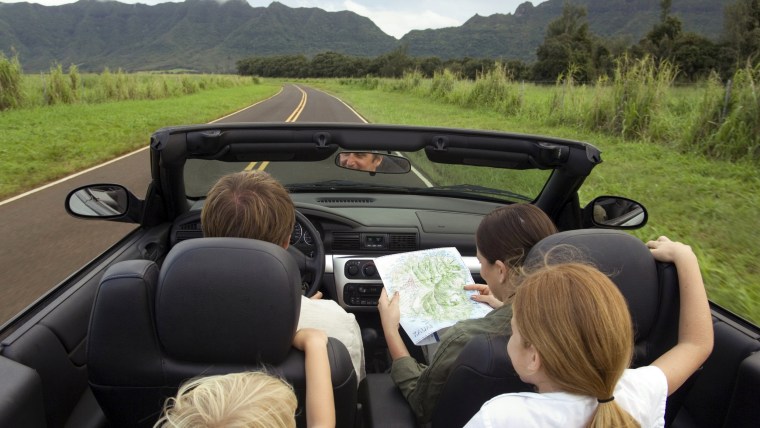 4. Limit screen time and play games instead.
"I know the wonderment in the simple is timeless," Ellwood said of classic car games like I Spy. "This reminds yourself that you're not a terrible parent if the iPad dies." He suggests planning a scavenger hunt or creating a bingo card of things outside the car or on license plates for a fun way to keep kids engaged — and off devices.
5. Arrive in style.
Silvercar is a car rental service that lets you rent a luxury convertible for around $100 a day (or a sedan for $59 a day). While that's a bit steep for a daily car rental rate, Ellwood suggests splurging if you want to upgrade your vacation, or if you're perhaps taking a journey you're not exactly thrilled about (like visiting the in-laws!). "Who doesn't feel like a 1980s movie star in this car?" he said. "A convertible is such a pick me up." Plus, in-car Wi-Fi and car seats come free!