/ Source: TODAY Contributor
North Carolina's newly passed House Bill #2 (HB2) — the so-called "bathroom law" which prohibits anyone over the age of 7 from using a public restroom for a gender they weren't anatomically born into — might have unintended consequences for families with older special-needs children.
TODAY Parents asked some of those families what they wish the public knew about the challenges they face in public restrooms in light of this national debate. Here are some of their answers:
1. Sometimes, disabilities are invisible.
Melissa Sharp, a mother of four in Roseville, California, is usually comfortable with Owen, her 12-year-old son who has autism, using a public restroom on his own. But in some situations, she is too uneasy to let him go alone if there isn't a male family member to accompany him or a family or single restroom available. In these cases, she takes him into the women's restroom with her.
Owen is perfectly capable of attending to his needs in a restroom alone, but he is "oblivious to his surroundings all of the time," Sharp told TODAY Parents. "Owen is literally the real life embodiment of Buddy the Elf: He is naive and innocent and only ever sees the good in everyone," Sharp said. "He would be such an easy target."
2. "Family" or "companion" restrooms are often occupied, and not necessarily by those with special needs.
Wendy and Matt Greenawalt of Laurel, Maryland, must sometimes travel great distances with their daughter Nora, 9, who has Down syndrome as well as extensive medical complications. Nora uses a wheelchair and cannot be left unattended.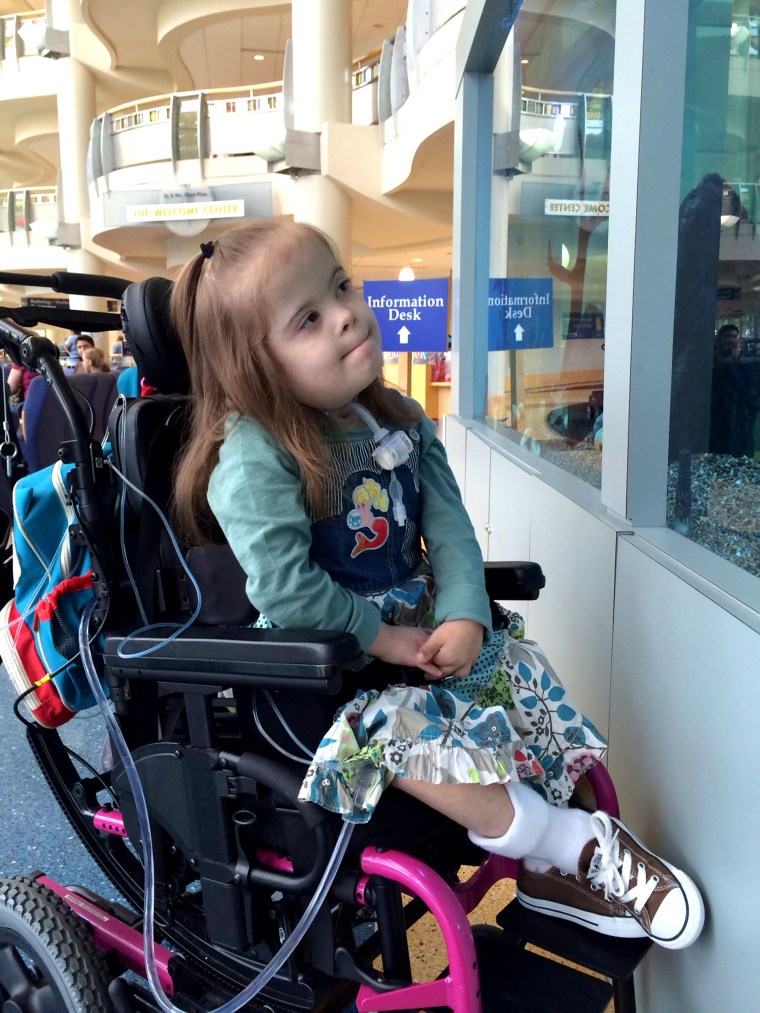 Wendy Greenawalt told TODAY Parents that restrooms marked "family" or "companion" are usually the most useful restrooms to someone with a disability, but they still are difficult to use because of high demand from non-disabled users.
"In those large restrooms I've seen everything from people changing for work to moms monitoring the restroom use of their fully capable, ambulatory, older children," said Greenawalt. "I've more than one time encountered a companion restroom being used for a lengthy period of time for a mom to nurse her baby. I've had people cut in front of me, bang on the door because I was taking too long."
3. Many stalls just aren't big enough.
The slightly larger handicapped stall with grab bars found in most public places, Greenawalt said, is totally unusable to her family. Nora's wheelchair is larger because it is tilted, and it doesn't fit in these stalls. "In fact, I don't know that anyone in a mobility device could truly use one of these with any semblance of privacy," said Greenawalt.
Last week, while on vacation in Northern California, Vera Hough of Little Silver, New Jersey, posted this picture of Thomas, her 7-year-old son who uses a wheelchair, in a too-small public handicapped stall.
4. They are almost certainly more uncomfortable than you are.
Tikvah Scheit, a Seattle, Washington, mother of three children, two of whom have autism, said she sometimes receives looks when she brings her 13-year-old son Kieran into the women's restroom with her. "At no time whatsoever could my son safely go to the men's room by himself," Scheit told TODAY Parents. "He picks up trash off the floor and puts things in his mouth. He doesn't understand that he needs to wait to take his clothes off after the door is shut, and if he were in trouble, he wouldn't have the words to tell someone that he needed help."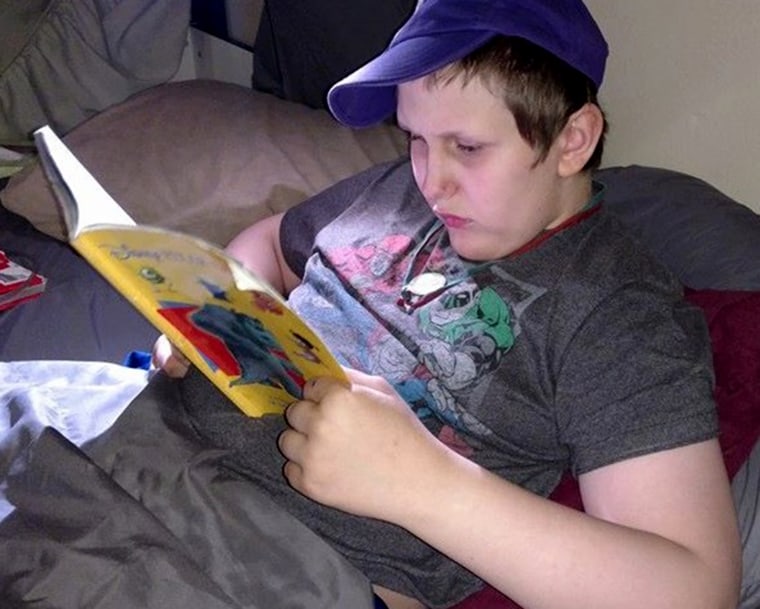 Though her son doesn't notice who is in the bathroom with him, she worries about his future, especially in a climate where women are being made to feel afraid of public restrooms. "What happens when my son is an adult?" she asked. "Unless something drastically changes, this isn't going to be something that I can just stop doing."
5. You can make a difference.
For caregivers of children with special needs, the simple task of using a public restroom can be an enormous challenge, but you can help. "I've had kind people allow us to cut in line when the handicapped stall is free and heard many teaching their children what the handicapped symbol means and why they can use the 'small' stall," said Greenawalt.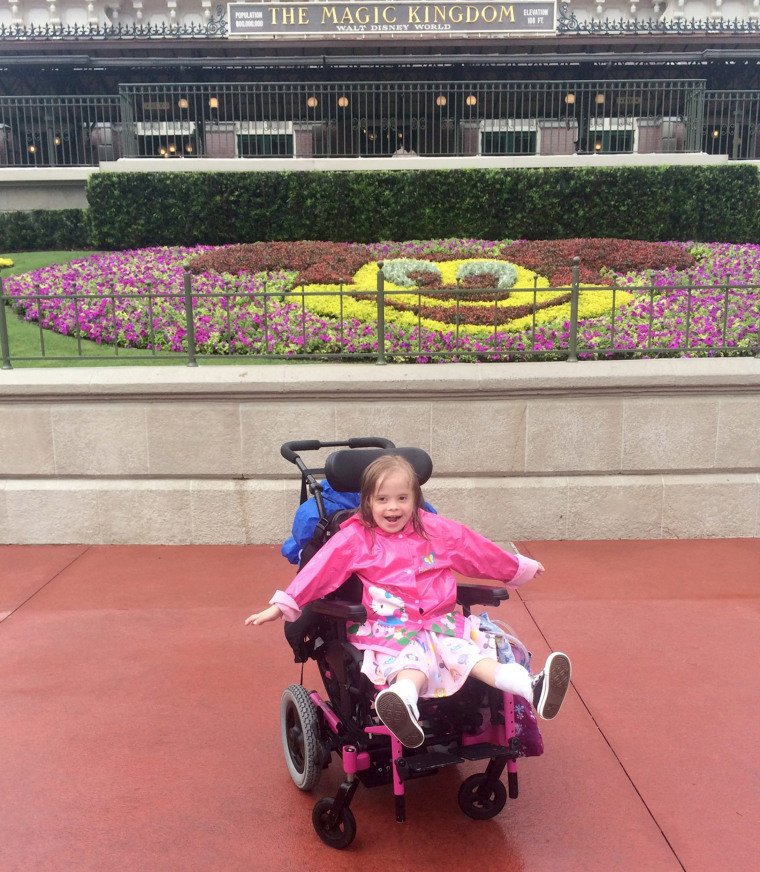 "One simple action can make a world of difference: Choose compassion," said Scheit.
Each of the parents expressed worries about HB2's potential ramifications on their families. "If I were to take my son to the store and not be able to have him use a bathroom when he needed to simply because he is a male coming into a woman's bathroom, it would be a massive incident for us," said Scheit.
Greenawalt agreed. "Losing the freedom for Nora to enter the men's room, such as in North Carolina, where we actually used to live, would be detrimental to our ability to take her to do fun things and participate in our family life," she said.