After retiring from his NFL football career in 2017, defensive tackle Devon Still knew what he'd tackle next: helping other families deal with childhood cancer.
It's a second career Still is prepared for. Since 2014, he had been by his daughter Leah's side as she battled Stage IV neuroblastoma. She had a 50-50 chance to live, according to doctors. Now 8, Leah is a cancer survivor.
During her public fight, Leah helped raise more than a million dollars for cancer research, won an ESPY Award for her courage, and formed a close bond with TODAY's Hoda Kotb after appearing in the "Truly Brave" video starring Cyndi Lauper and Sara Bareilles that was produced by Kotb.
Still, who has written a new book, "Still in the Game," spoke to TODAY Parents about the things he wished he had known before becoming a cancer dad. Here's his advice to other families going through the same ordeal.
1. I wish I would've know it was OK to be vulnerable in front of Leah because we wouldn't have bottled up our emotions to help each other stay "strong."
2. I wish I would've known that I needed to take better care of myself because it would've allowed me to take better care of Leah. You can't give what you don't have. Most parents forget to take care of themselves because they're too busy focused on taking care of their child. We think we are helping but we are truly hurting them and ourselves without knowing.
3. I wish I would've known that you can't go reading everything online about this disease because sometimes it makes the fight scarier than what it already is.
4. I wish I would've known that it truly wasn't my fault for what Leah was going through. When you find out your child has cancer you immediately start beating yourself up about what you did wrong, what you could've done different (foods, drinks, etc.), why you didn't notice the signs sooner.
5. One thing I'm glad I did know is that no matter what the doctors were saying, no matter what I read on the internet, no matter how stressed I was, no matter how much pain we were in, no matter how many treatments failed, no matter how many times I felt like giving up, as long as Leah was alive, we still had a chance, we were Still In The Game!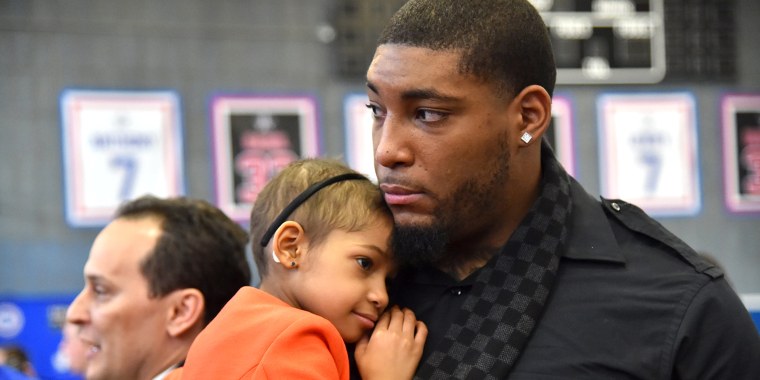 The following is an excerpt from Devon Still's book, "Still in the Game," © 2019, used by permission of Thomas Nelson.
"He tells me He believes in me and to believe in Him, and if I do He will help me. And no matter what I go through, He just says, 'Be strong!'"
"He said all that to you?" I asked her.
"Yeah. But God talks in all different ways."
I was floored. Not only was I taken aback that God was talking to my daughter, and that she'd clearly been talking to Him; but Leah helped me realize in that moment He'd been talking to me too.
And I'd been listening. I'd been listening to God my whole life, even when I didn't realize it was Him.
He'd been talking to me through my gut. That I recognized a long time ago. But He'd also been talking to me through Asha.
He'd been talking to me through the voices of my cheering squads, whether it was the crowd in high school when I first walked back into the gym, or the fans in some stadium, or the support of my parents in the waiting room at the hospital. He'd been talking to me through the public outpouring of support and love for my daughter and me ever since we went public.
In high school He'd talked to me through the voice of the therapist who convinced me I was ready to take a leap from a set of stairs. He'd been talking to me when he told me not to stand in front of that party talking on a cell phone.
He was now talking to me through my own daughter. What I realized during that conversation with Leah is that God doesn't always talk to us with words, either. God talks in all different ways, including through actions. God had been talking to me through my actions— or rather His actions, and His plans— which He'd laid out for me my whole life.
What instantly became clear to me when my daughter's fear of getting surgery went away is that everything — absolutely everything I'd ever done, everything I'd been through, everything I'd overcome
in my life — had prepared me for this very day. It felt like a revelation, and that revelation changed everything.
As corny as this might sound, it honestly felt like the secret to life was suddenly made clear to me, and the secret is: God has a plan. We can't always see that plan, but it's there.
Whatever you're going through is just preparing you for something else. Something bigger. Something you probably can't even imagine.
You just have to pay attention. Learn the lessons God's trying to teach you. Stay in the game. Don't give up. Fight for four quarters. Overtime if you have to.
Keep going. And someday, someday, if you stick it out, all that stuff that didn't make sense is gonna make some sense. It's gonna pay off. It's gonna add up to something.
I knew, and I would continue to know from that moment forward, that whatever new struggles might come my way, whatever challenges or obstacles might appear in my life, they were just preparing me for a future that God has in store for me. That revelation made me less afraid.
Knowing that everything we do in life is about learning, growing, gaining strength, preparing for a path we can't see but that
God is laying out for us— just knowing that somehow makes the task of facing life's struggles that much easier. Faith in God doesn't make the struggles go away. The obstacles in life don't magically disappear because you pray.
But the fear of those struggles? The terror of believing that each new obstacle is somehow gonna be the end of you? That goes away. That makes you stronger. And that is powerful.
As Leah fell asleep in my arms that night, I believed then and there to my very core that all I had done, all I had been through, all I had overcome in my life had prepared me so I could be there to help my daughter feel strong.
But I knew the only one who could really make her feel strong was God. And God was talking to her. So I held her close and I prayed deeper than I'd ever prayed before, with every cell in my body, for God to see her through this surgery.
Find information on how to buy "Still in the Game," by Devon Still, $17, here.