The mother-daughter relationship is complex enough as it is, but what happens when you throw business into the mix? These five powerhouse duos, from athletes to authors, designers, models and chefs, have figured out how to keep it in the family. Bound together not only by family bonds but also by their strong business savvy, these women share their unique stories, insights and advice, which are an inspiration for anyone looking to start their own mother-daughter dream team.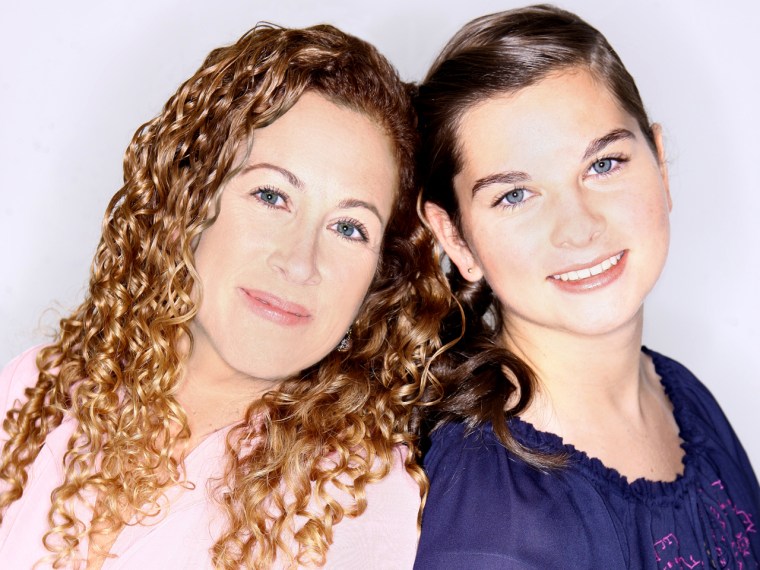 The Novelists:Jodi Picoult and Samantha Van Leer
It's hard to follow in the footsteps of a mother who's a New York Times bestselling author, and whose novel, "My Sister's Keeper," was made into a hit feature film. Lucky for Samantha Van Leer, when she conjured up an idea for a new book (in 8th grade, nonetheless), her mom Jodi Picoult was all for the concept of collaboration and happy to help her daughter sprout her own literary roots.
"I suggested we write [the book] together," says Picoult. "I knew how creative Sammy was, so I thought it would be a blast. But, I also wanted her to understand that WE were writing it. I wouldn't write it for her."
The duo spent the next four summers of Samantha's teenage years conceiving, writing, editing, and finally promoting their young adult novel "Between the Lines." They wrote every sentence together, reading copy aloud and taking turns typing.
And although they argued over plot lines and character traits, ultimately they learned to listen to one another's ideas and hash out the best ones. "I thought that because I was the experienced writer, I would automatically know what was best for the story," admits Picoult. "As it turned out, that wasn't the case. I would roll my eyes and let her start a section the way she wanted, and then I'd be surprised to find out that it was pretty darn good that way."
In the end, Samantha found her mother's support was the one thing she needed to accomplish her goal and complete the book: "My mother's work ethic is incredible. Knowing she believed I could do this made me think I could, too."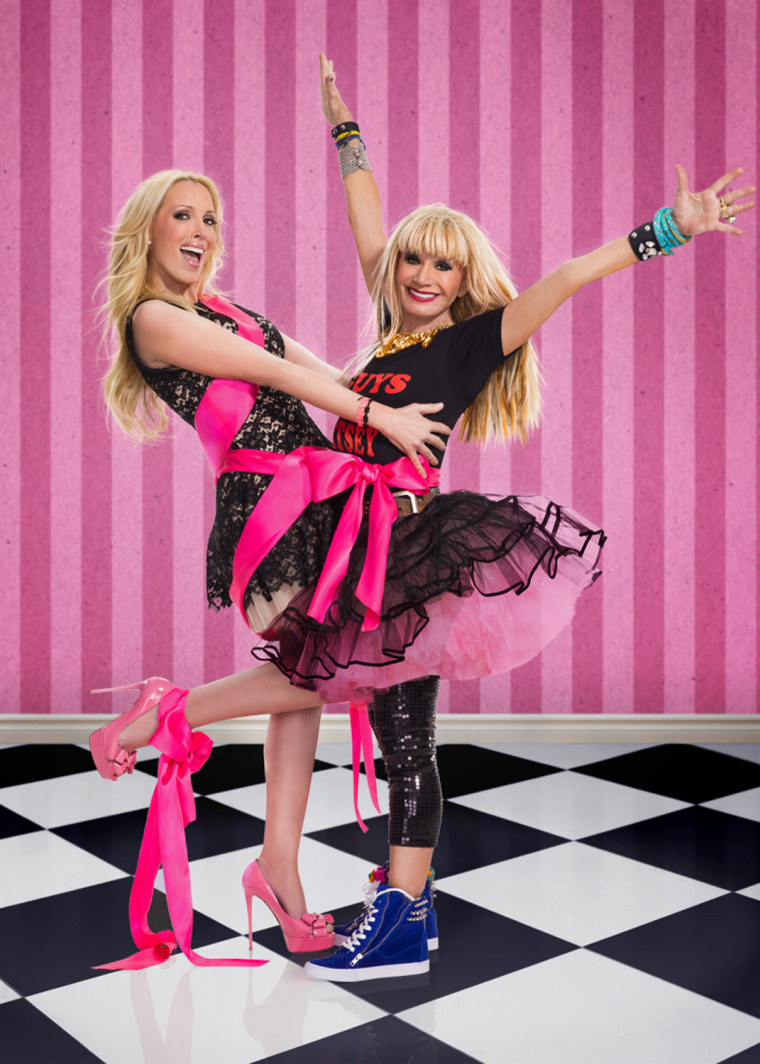 The Fashionistas:Betsey andLulu Johnson
From the moment she was born, Lulu Johnson and her mother, Betsey, the eccentric designer known for her eponymous label and punky designs, were inseparable. So it wasn't surprising when Lulu dove headfirst into her mother's business, first as a salesgirl at her store in Soho and, over the course of 13 years, working her way up to becoming the head of public relations for the brand.
But they're the first to admit that working together wasn't without conflict. "We were living in the same building and also working every day in the same office at two desks facing each other," Lulu recalls. "It was wonderful, but at times it was a lot. Our work life, our personal life. Everything was intertwined."
Although she eventually left the company to start a family of her own, Lulu has recently become closer than ever to her mother. This month the duo is preparing for the release of their new reality show, "XOX Betsey Johnson." An inside look at their mother-daughter dynamic, the show documents their relationship as Betsey rebuilds her brand with the help of Steven Madden, and Lulu prepares to launch her own clothing line, Lulu Johnson.
The concept for the series was conceived by Lulu at a time in their lives when it seemed all was lost. "My mother's company was going bankrupt and I was going through a divorce," she said. "When you hit rock bottom that's kind of the perfect time to try something new."
And while they are partial to their fair share of disagreements on and off screen, they believe that working together has been a positive for their relationship. "It always came with some downs, but the ups of working together were much more wonderful," Betsey says. "I wouldn't trade one second of our lives or how we lived on the show together. I had a great time during filming. It was very supportive at a time when I felt like an absolute failure in business."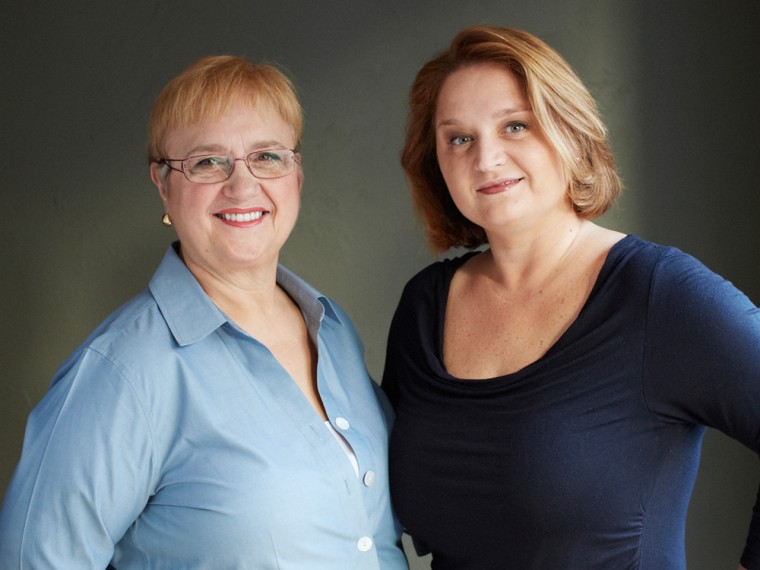 The Foodies:Lidia Bastianich and Tanya Bastianich Manuali
As not only an acclaimed chef, but a beloved TV host, bestselling cookbook author, and a restaurateur to boot, it's no surprise that Lidia Bastianich (and her Italian cooking empire) found herself in need of a helping hand. It was only natural that her daughter, Tanya Bastianich Manuali, rose to the occasion, while also creating a successful side business of her own.
Their working relationship began during Tanya's tenure as an art history professor in Florence. Deciding to combine the two greatest Italian things, "art and food," into a unique travel experience, she whisked her mother away on a whirlwind tour of Italy and eventually started a travel agency and touring partnership with her help called Esperienze Italiane.
After she moved to New York to raise a family, Tanya became more and more involved in the entertainment, product and electronic side of her mom's business, including developing her web portal, Lidia's Italy. "It was a gift from heaven for me, to have such great help and to work with my daughter," recalls Lidia. "It gave me and my projects a whole new perspective and energy."
One lesson the pair learned from working so closely together was to never shy away from disagreement. In Tanya's words, "Disagreements spawn better business. If we were to simply placate each other, what we do would be flat and uninteresting — to us and our clients. Strife generates creative energy and can only make the final outcome better."
Another important lesson they learned was to always separate business and family. "Know when to be a business partner and know when to be a mother," Lidia advises.
Whatever they're doing, it seems to be the perfect recipe for success: they've now worked together for close to 14 years.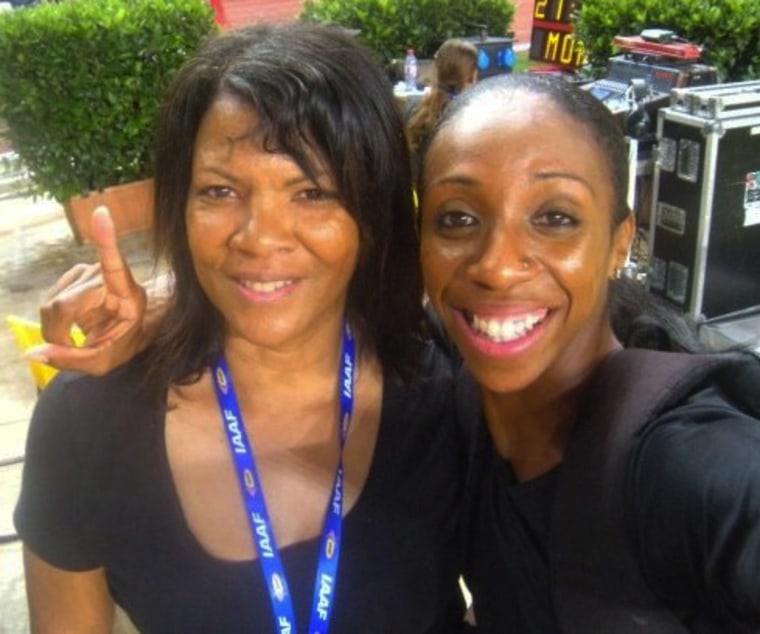 The Olympians:Yolanda Rich Demus andLashinda Demus
It's not often that one has a chance to prove to the world that mother knows best. Track & field star Lashinda Demus, a world title and American record holder in the 400-meter hurdles, got her opportunity at the London 2012 Summer Olympics.
Although Lashinda was coached by her mother, Yolanda Rich Demus, as a young girl, she later fell under the guidance of high school and college coaches to prep her for the 2004 Olympics. It wasn't until she missed out on the 2008 Olympics because of a difficult pregnancy that Lashinda took a leap of faith, returning to her mom's side to continue her training in preparation for the 2012 Olympic trials.
Although a lot of people doubted her decision, Lashinda knew she made the right choice. "I believed in [my mom's] ability to train me to be the best if I was willing to put in the hard work," she remembers.
Aside from their determination, it was their undisputed trust in one another that ensured a successful working dynamic. "As far as our training relationship, I 100% trust her as a coach," Lashinda says. "On my journey back to the top she always prepared me for what was to come by letting me know what to expect, even if it was pain. We have a great balance on the field, it's simply crazy how incredible it works."
Yolanda agrees, but admits that the relationship has its challenges too: "I have to work on not being too personal. Sometimes I like to get into her personal business when she really doesn't want me in it, and it's hard for me… at the end of the day, I'm still her mom."
In the end, their hard work together paid off. Yolanda's training helped Lashinda qualify for the London Olympics in 2012, from which she brought home a silver medal.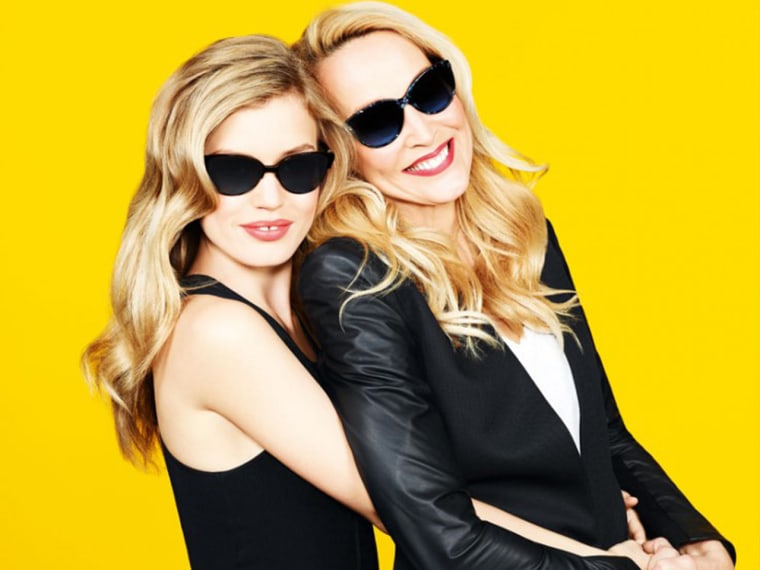 The Supermodels:Jerry Hall andGeorgia May Jagger
Neither Georgia May Jagger nor her mother, Jerry Hall, the famous actress, supermodel and muse, ever thought she'd follow in her mom's footsteps to pursue a career in modeling. And they certainly never imagined that they would combine forces in a worldwide modeling campaign.
In fact, Georgia May wanted to be a veterinarian. "When I was little I thought to myself, 'I never want to be a stinky model,'" she claims of her mother's longtime profession.
But she couldn't avoid it for long, and soon after Georgia May accepted her fate as a model, her career took off. Fashion labels quickly took note and began to tap the mother-daughter team as the face of their brand. H&M photographed the two for its 2011 holiday advertisements, and this month they posed together again for Sunglass Hut's Mother's Day campaign.
Working together was effortless for this jet-setting twosome, who both looked forward to the opportunity to catch up on set. "Georgia travels a lot because she's so busy these days, so it was lovely to be able to spend the entire day with her when we were shooting the Sunglass Hut campaign," says Hall. "But she's been working too much lately," she notes in a familiar motherly tone.
In addition to sharing clothing and accessories, they also share modeling tips. "I used to tell Georgia three things when she first got into modeling: always be on time, sleep is the best beauty trick and if a pose feels uncomfortable most likely it doesn't look right," Hall recalls. In return, Georgia has taught her mom a few tricks of her own, including how to stand longer in sky-high heels.
Their advice for making a mother-daughter, professional relationship work? "Be nice to each other," Georgia May sums up. "It's hard to work with family when you're already so close. So above all, be nice."