For an unusual adventure, let a hobbit be your travel guide.
Sept. 22 is Hobbit Day, which marks the birthdays of both Bilbo and Frodo Baggins, the beloved height-challenged, hairy-footed characters in J. R. R. Tolkien's books.
This year, it also comes as fans await "The Hobbit: The Battle of the Five Armies," the final film in Peter Jackson's trilogy – set to arrive in theaters in December.

Inspired to start your own unexpected journey yet? Here are five places where you can vacation like a hobbit:

1. The Shire of Montana
This may be the option closest to home, located on an 80-acre ranch near Trout Creek, the "huckleberry capital of Montana."

When owner Steve Michaels was building an underground guest home that would stay cool in the summer, the contractor's son remarked that it looked just like a hobbit hole.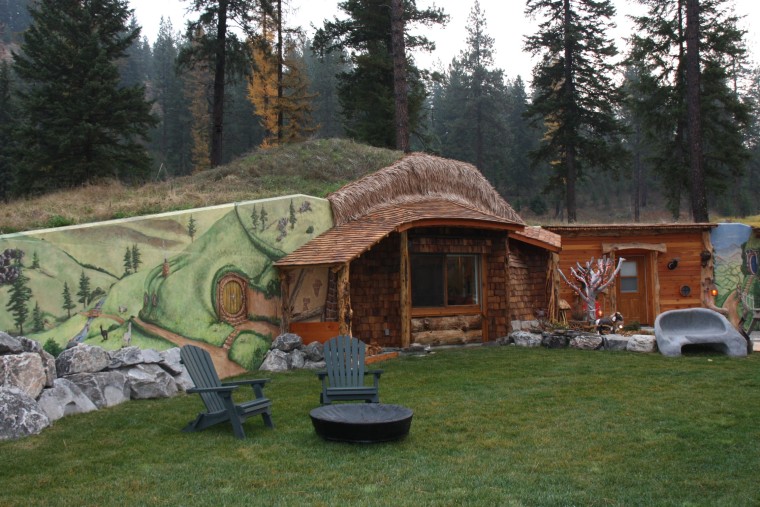 "That's when a little bell went off," Michaels told TODAY.com.
He didn't know much about Tolkien's work, so he started watching the "Lord of the Rings" trilogy to get the look just right, adding murals and filling the dwelling with whimsical wood furniture. 
The Hobbit House opened to guests in 2008, with Michaels adding more touches each year. There's now a 20-acre village with miniature hobbit holes, dragon flies that light up at night and trees with hidden surprises.

"We didn't make it for the money… this is more for my relaxation, my fun, my creativity," Michaels said. "It's an enchanted tourist home."
If dressing up Middle-earth-style strikes your fancy, Michaels keeps accessories such as Gandalf's hat and a pair of hairy hobbit feet on the premises so visitors can pose for photos.
The house is available to book from May through November. Price: $295 per night for double occupancy. Hobbithouseofmontana.com
2. Hobbiton Movie Set – near Matamata, New Zealand
As "Lord of the Rings" and "Hobbit" director Peter Jackson flew over New Zealand to scout for locations for his films, he loved this 1,250-acre sheep farm in the beautiful countryside as the setting for Hobbiton and Bag End, the home of Bilbo and Frodo.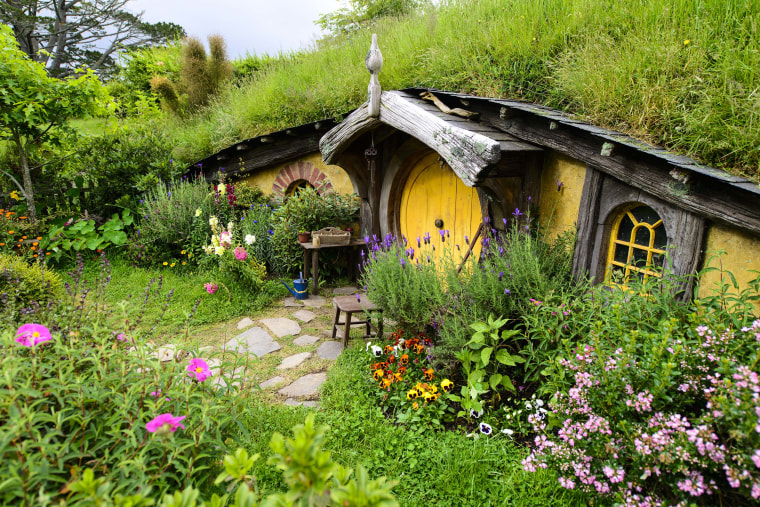 Constructed in 1999, and rebuilt in 2009, the set is open to guests eager to visit the hobbit holes featured in the movies, have a drink at the Green Dragon Inn and experience life, Shire-style. 
Though there are currently no accommodations on the site, the owners may look into adding that option, said sales manager Henry Horne.

Hobbiton does arrange farm stays with local families in nearby private homes for visitors seeking a "true kiwi lifestyle experience," added Melissa Beets, manager of Rural Tours.
Price: NZ$75 (about $61) per adult for Hobbiton tours; NZ$155 (about $127) for double occupancy for the farm stays. Hobbitontours.com
3. Hobbit Motel -- Woodlyn Park, Otorohanga, New Zealand
Grass roof, check. Round doors and windows, check. Bucolic scenery, check. Welcome to the Hobbit Motel, built on a working farm that's already known for its selection of unusual accommodations, including a Plane Motel and a Boat Motel.

Two units are available to book in the hobbit-themed inn, which is located near the Waitomo Glowworm Caves, a popular New Zealand attraction.
Price: NZ$285 (about $237) per night for double occupancy. Waitomomotel.co.nz
4. Hobbit Boutique Hotel – Bloemfontein, South Africa
Fans heading to New Zealand in search of all things "Hobbit" may be surprised that part of Tolkien's legacy lies in Africa.
The author was born in 1892 in Bloemfontein, a city that is now part of South Africa, and that's where you will find the Hobbit Boutique Hotel, which promises "top-notch accommodation with just a touch of JRR Tolkien history."
Each room is named after a "Lord of the Rings" character, so when booking you can choose to stay in the "Frodo," the "Bilbo" or the "Legolas" – 12 rooms in all.
Prices start at about $60 a night for a twin room. Hobbit.co.za
5. Hobbit Houses at the Wheal Tor Hotel – Cornwall, England
Call it camping, hobbit-style. Located near Bodmin Moor, this small hotel has built a handful of rustic "Hobbit Houses" with bright red doors and round windows in the nearby woods for guests who want to spend time closer to nature. Each cabin has heat and light, but some require visitors to bring their own beds.
Prices start at £12 ($20) per person per day. Bodminmoorhotel.co.uk
Happy hobbit travels!