/ Source: TODAY contributor
Not all high-order multiple births come with a sideshow of paparazzi and lurid tabloid headlines like those surrounding the octuplets born to a single mother with six other children in California. Many are like the four sets of quadruplets delivered in one Phoenix hospital within a six-week period — born to stable and responsible couples with the means to support the children and no desire for publicity.
Three of those couples introduced their quads to TODAY's Meredith Vieira on Wednesday and talked about the challenges and joys of multiple births.
"It's amazing and it's exciting and it's very tiring and better than anything we expected," Dafna Noury told Vieira from Las Vegas, where she and her husband Eli Zohar have been dealing with the joys of sleep deprivation for the nearly two weeks since they brought their four infants home from Banner Good Samaritan Medical Center in Phoenix, which has delivered more sets of quadruplets than any hospital in the country.
'Get your rest'The other two couples on TODAY — Sharmeen and Imran Mussani and Kami and Nick Lambe — are still in Phoenix while their healthy quads continue to be cared for in the neonatal intensive care unit (NICU) of Phoenix Childrens Hospital, which is affiliated with Banner Good Samaritan Medical Center.
Vieira asked Zohar what advice he had for the Mussanis and Lambes about bringing the infants home.
"Get your rest as much as you can before then, because you're going to be busy — very busy," Zohar said as he cradled one of his brood.
Dr. John Elliott, the hospital's director of maternal fetal medicine, specializes in multiple births and has delivered nearly 100 sets of quads at the hospital. It was his reputation that drew three of the four couples to Arizona from Michigan, Louisiana and Las Vegas to seek his help in starting or adding to their families. (The fourth couple lives near Phoenix in Gilbert, Ariz.)
Dafna Noury and Eli Zohar have been married for 13 years and had been trying to start a family for eight years before resorting to Elliott and in vitro fertilization. In her first cycle, Noury had four embryos implanted and none of them took. She and Zohar went back for another try and again had four embryos implanted. This time all of them took, and on Jan. 27, Noury gave birth to her quads: Jet Adam, Sky Michael, Max Ethan and Aurelia Elizabeth.
Jet and Sky's names reflect Zohar's career as a professional pilot. Originally from Israel, Zohar has served in the military, but, his wife said, "This is harder than anything he did before."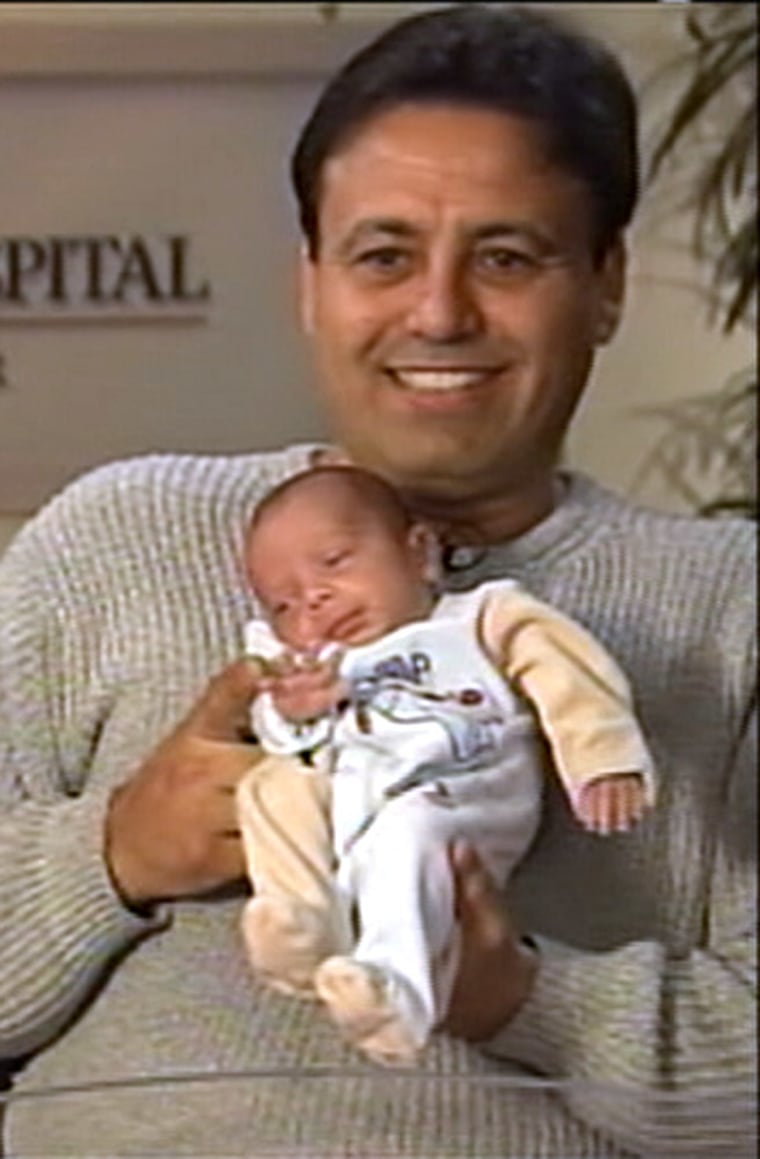 The couple live in Las Vegas and transferred the babies to Spring Valley Hospital in that city after birth for insurance reasons. During the final weeks before she delivered, Noury camped out in an RV outside the hospital so that she could be there when her time arrived. Zohar flew in every week to visit.
Just before her due date, Noury's placental membrane ruptured and she underwent an emergency C-section. Zohar was still an hour away on a flight, but hospital staff videotaped the delivery so he could see it later.
The quads have been home for more than a week, and Noury is getting helping hands from her brother and sister-in-law who live nearby as well as from friends who stop by when they can. Even with that much help, they're looking into hiring a baby nurse so they can get some rest.
'She couldn't believe it'
Sharmeen and Imran Mussani had been having difficulty starting a family, partly because Sharmeen had had an ectopic pregnancy that resulted in the removal of one of her fallopian tubes. The couple were contemplating in vitro fertilization more than three years ago when Sharmeen became pregnant with a son, Shayaan, who is now 2½.
The couple tried for a year to conceive a sibling for Shayaan with no success. They went to a fertility clinic and implanted four embryos, all of which took.
"We were told to expect one or two," Imran told Vieira. "When we were told we had four, my wife went into a laughing fit — she couldn't believe it."
On Feb. 4, Sharmeen gave birth by C-section to three boys, Mehran, Iffaam and Ramiz, and one girl, Nourya. The infants weighed between 2 pounds, 8 ounces and 4 pounds, 3 ounces.
The couple live in Brownstown, Mich., and are still making plans for bringing the infants home when they are released from the hospital. Sharmeen is particularly eager to get home. She has been living in Phoenix since October and hasn't been home for more than four months.
Two of the four are due to be released from the hospital in the next few days. Imran said their older son keeps asking when he can see his new siblings. "He's in for a shock when they all come home," the proud father laughed.
'Pimp My Quads'Kami and Nick Lambe of Baton Rouge, La., had just two embryos implanted in their in vitro procedure. They were delighted when an early ultrasound revealed that both had taken. But during another ultrasound at eight weeks, their obstetrician said he had news for them: One of the embryos had split twice and Kami was now carrying four fetuses, including identical triplets. 
Nick told TODAY he was excited from the moment he heard the news and joked that he wanted his own reality show: "Pimp My Quads."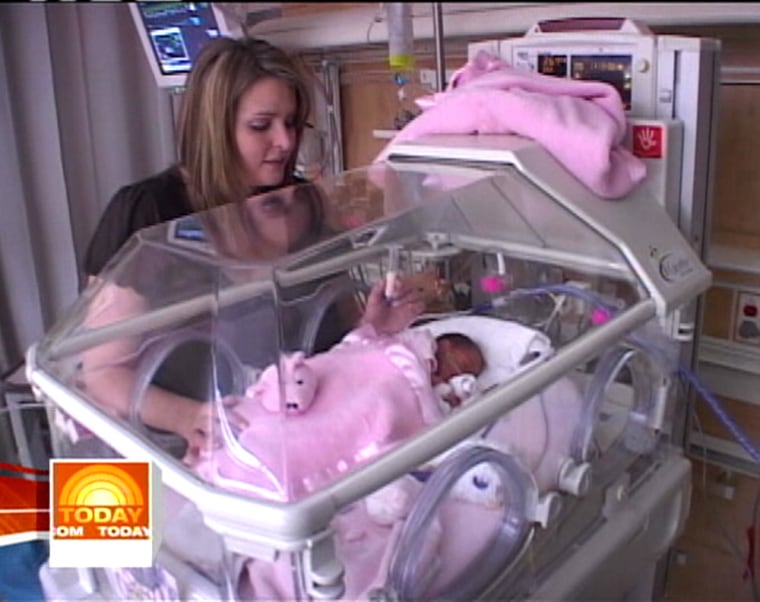 But Kami took a bit longer to come around to the idea of carrying four fetuses. "My initial reaction was fear for the babies' health, because I knew about the risks," she told Vieira. "But it didn't take long for me to get over that and get excited."
Kami delivered the four infants — daughter Sloan Olivia and sons Rocco Dean, Madden Jax and Jagger Cole — on Feb. 12. All weighed between 2 pounds, 5 ounces and 2 pounds, 11 ounces. The Lambes still can't tell the boys apart and have resorted to color codes to distinguish one from another. Rocco is blue, Madden red and Jagger green — the colors extend from blankets and clothing down to a toenail on each.
The Lambe quads will be 2 weeks old on Thursday and are expected to spend another six weeks in the NICU unit in Phoenix before they are allowed to go home. The Lambes said they still don't know how they're going to transport the infants to Louisiana. In the meantime, they said they're getting all the sleep they can.
A fourth couple, Kami and Jason Crisanti, welcomed quads into the world at the hospital on Dec. 29. The Crisantis, who live just outside of Phoenix in Gilbert, have two other children, Maya, 7 and Jace, 4. Unlike the other three couples, the Crisantis did not implant embryos but underwent artificial insemination, which resulted in the four infants.
The Crisantis chose not to be interviewed for the story.