It's difficult to find a tougher trio of fighters this adorable.
Three young cancer survivors featured in a picture that went viral a couple of years ago recently reunited for a celebratory photo shoot, shared exclusively with TODAY.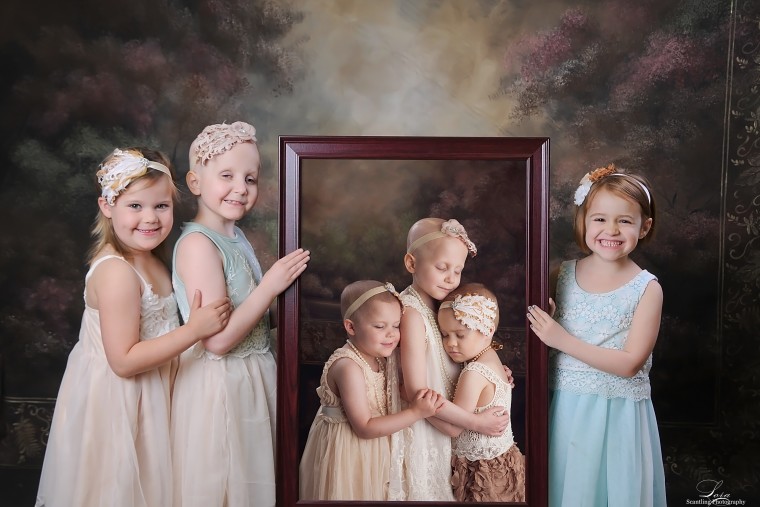 Rheann Franklin, 8, Ainsley Peters, 6 and Rylie Hughey, 5, first met when they came together for a 2014 studio session with Oklahoma photographers Lora Scantling and Christy Goodger. At the time, the young girls were battling different types of cancer.
The photo of the three girls, each dressed in vintage-style gowns and embracing each other, touched hearts around the world.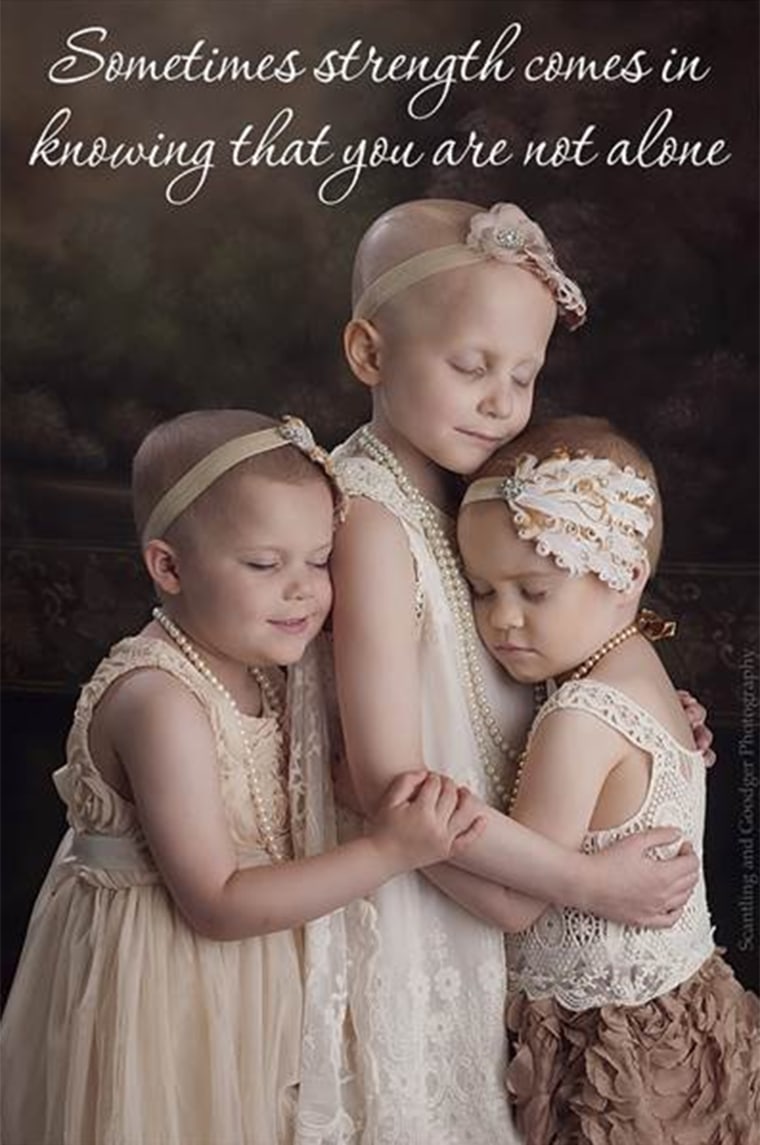 The girls met again months later for another photo shoot after learning each was in remission.
MORE: Three little girls retake viral photo to celebrate remission from cancer
Then, earlier this year, Scantling helped bring the families together, once again under happy circumstances.
"We decided to do it holding the original picture this year so everyone could see how much they have changed! All three girls are doing great and are still cancer free/in remission," she told TODAY.com by email.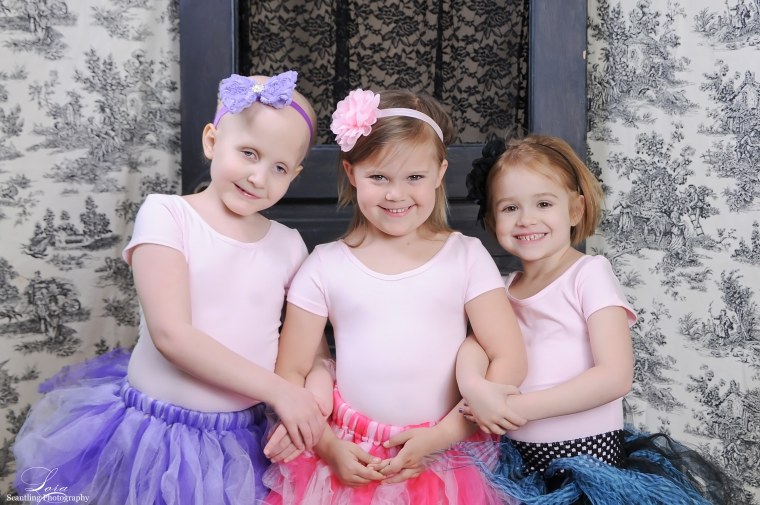 "We all love getting together! I love seeing the girls with each other!" Scantling said. "The bond they have is incredible and it's really neat that they understand that their picture has been seen all over the world and that they have made a huge difference for childhood cancer awareness!"
Scantling also provided updates on each of the girls:
Ainsley continues to be monitored through monthly blood work but remains in remission and is "enjoying the springtime."
Rylie gets scans every three months, but continues to get stronger. "She has left the hospital and now enjoys her days in Pre-K, gymnastics, dance and T-ball."
Rheann, the oldest of the group, permanently lost her hair from dozens of rounds of radiation and chemotherapy treatments. Her eyes also droop slightly because of where her brain tumor was located. "The good news is she is a happy 8-year-old with an active life. She loves to ride her bike, hang out with her school friends, and she loves to play with her sisters," Scantling said.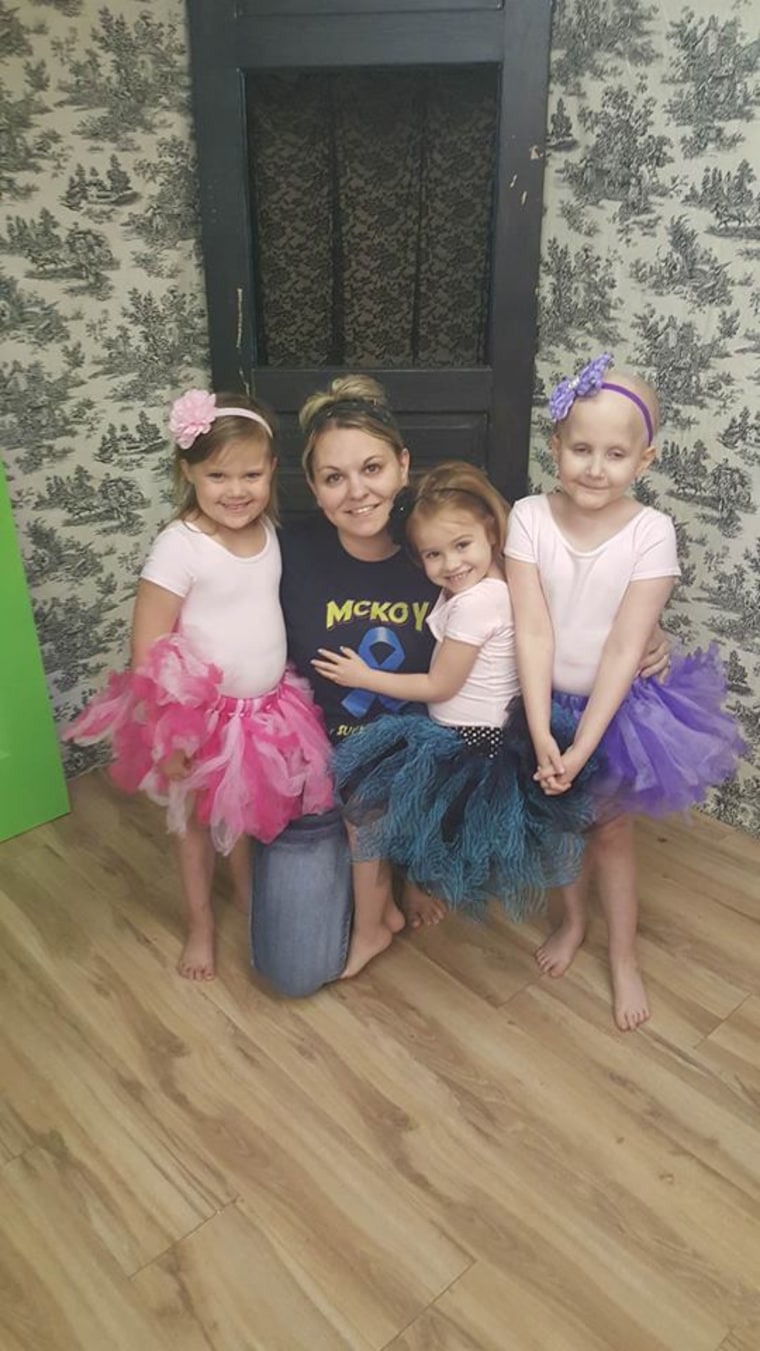 Scantling was inspired to capture the original photographs when her stepfather was battling lung cancer. She tried to find a way to create photos that would raise awareness about the disease and the people it touched.
The overwhelming response to Scantling's original photos led Ally's House, a cancer foundation in Oklahoma, to approach Scantling to take more photos of kids battling disease.
Scantling said she was excited to share the newest photos of her tough trio of cancer fighters.
"Still to this day we all get notifications and messages from people who have seen the story and portrait," she said. "We have so many eager followers ready to see this new updated portrait!"
Follow TODAY.com writer Eun Kyung Kim on Twitter.