For many, starting a family is an unknown journey with various difficulties along the way. For LGBTQ families in particular, it can feel unprecedented, groundbreaking or even lonely, with people navigating systems that can often feel unclear at best or discriminatory at worst.
Despite the obstacles, LGBTQ families are growing and based on 2019 census data (the most recent available), over 980,000 households across the country self-identify as same-sex couple households. At the same time, the data also doesn't show the many different types of LGBTQ families that exist, including households headed by trans or nonbinary folks.
TODAY Parents talked to three LGBTQ families to find out what their paths to parenthood looked like, the difficulties they had to overcome and what they've learned in the process.
Figuring out how to start a family
John Lam, 36, always knew he wanted to have children so when he and his husband, attorney John G.F. Ruggieri-Lam, married in 2012, they began to explore how to start their family. They considered adopton but Lam says he didn't want to be in a situation where a parent could reject giving up their child to them because of their sexual orientation.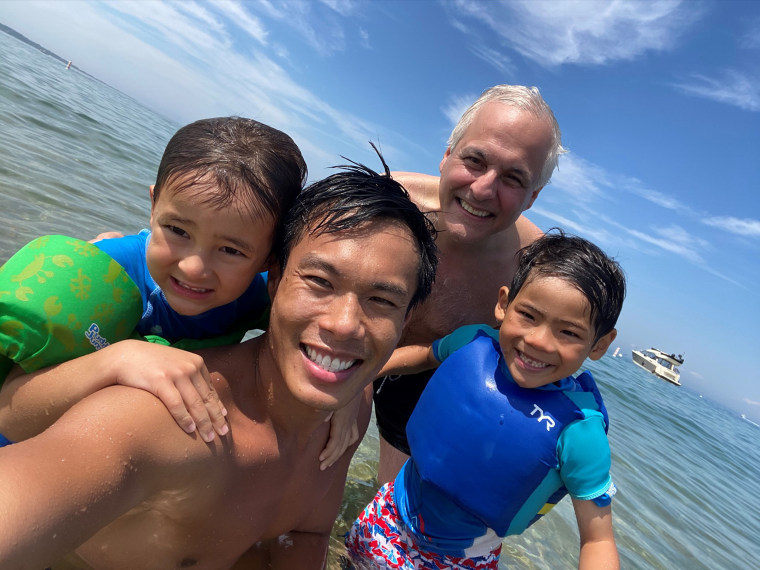 Wanting to have biological children, they chose to do IVF. "We decided to go through IVF when we had heard from one of John's friends who had kids through IVF, how it was successful for them," Lam opened up to TODAY Parents. "And I thought that was kind of a neat and crazy, amazing idea that your child could be biologically yours."
When Missy Hughes and Africa Fernández started dating in 2015, they didn't shy away from talking about kids.
"It was discussed pretty much on the first or second date that we both wanted to have a family. Maybe a deal breaker if one didn't want," Hughes, 44, told TODAY Parents.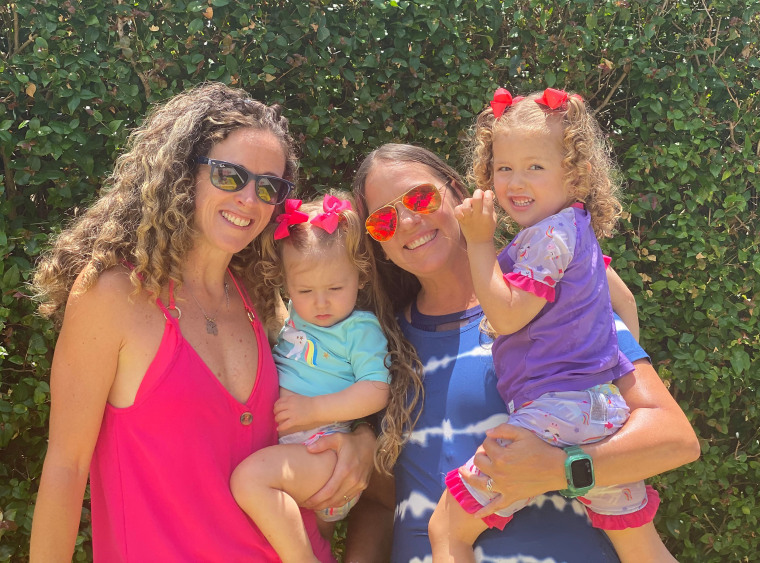 By 2016, they started exploring whether it was possible for both of them to carry kids.
"It just also happened very quickly because we had an appointment with a doctor just for a checkup and we decided, 'Hey, let's see, since we are old, let's check our hormone levels just for curiosity,'" Fernández, 42, recalled to TODAY. "And once you start doing things like that, you start talking with the doctors and it all happens quickly."
For Danny Wakefield, 35, his journey to parenthood was both expected and unexpected.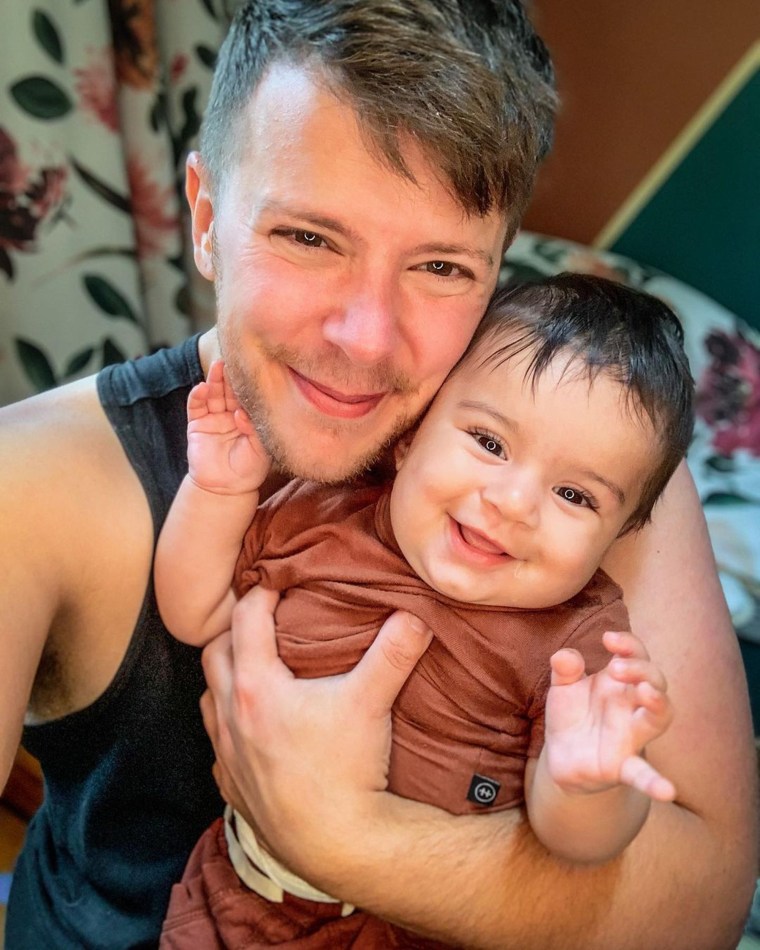 A former child nanny or "manny" as he called it, Wakefield built a 15-year career centered around children and knew that he wanted to be a parent one day, too. "When people would ask me when I was a kid, what I wanted to be when I grew up, I would say a parent," he told TODAY Parents.
When Wakefield, who identifies as a trans masculine nonbinary person, found out last April that he was pregnant with his first child, Wilder Lea, it came as a shock.
"The universe got the ball rolling for me and Wilder was not planned. ... I actually had COVID in March, right when COVID sort of hit and I got really, really sick. And then I started to get better for a few days and then I got really, really sick again, and I ended up finding out that I had hyperemesis or HG, which is really severe pregnancy symptoms, which is how I found out that I was pregnant."
Confronting challenges
Lam was 28 at the time when he and his husband, who was then 48, made the decision to pursue IVF. Lam was a little concerned since he was already juggling a rigorous work schedule as a dancer with the Boston Ballet, but they dove in to the process in part because they wanted to try to have a child before Ruggieri-Lam turned 50.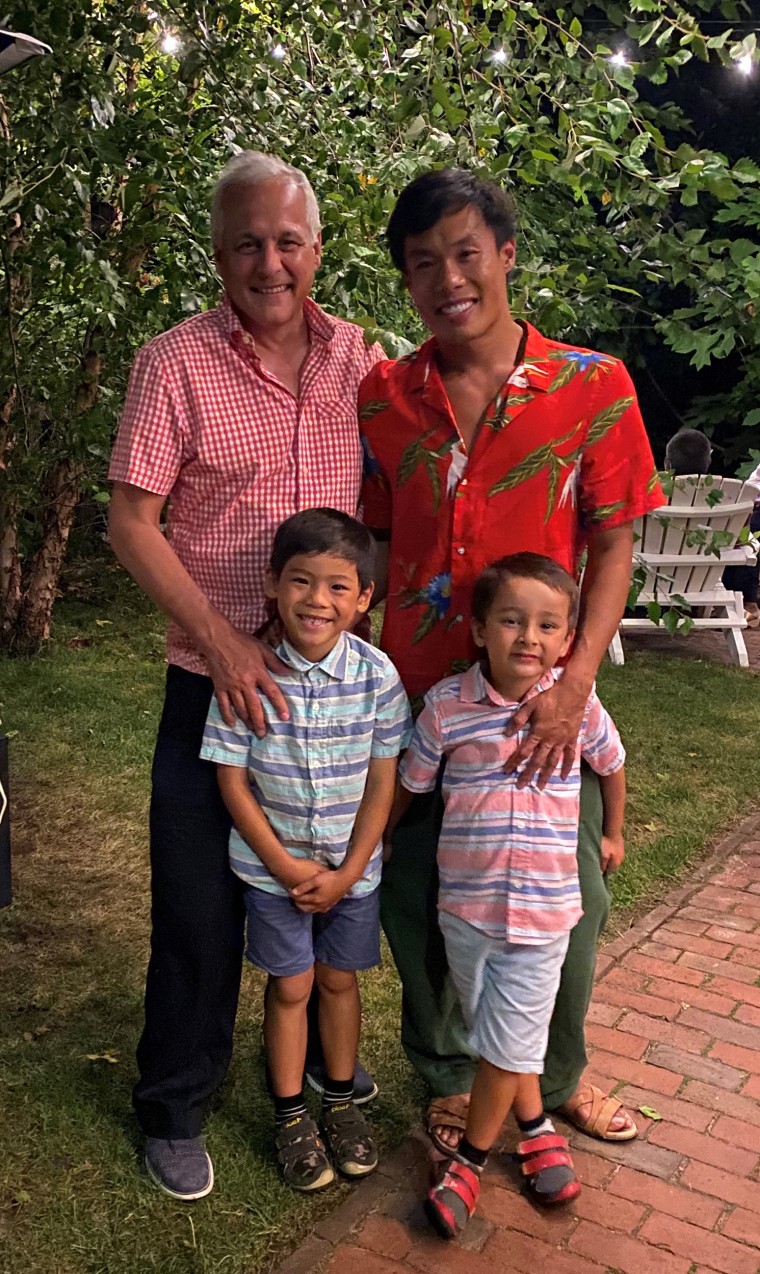 "We wanted to somehow have the kids be biologically related and ... that they were somehow ethnically tied to us. So I'm Vietnamese Chinese, and my husband is Italian French. So we would have to find an egg donor that would have a mix of any of those four. And that was quite hard and difficult."
The Ruggieri-Lams didn't let any long odds hold them back. They were hopeful about their first two egg donors but both fell through at the last minute. They ultimately found success with their third egg donor, who ended up being the donor for both of their sons.
"That Thanksgiving, we got a call saying that there's an egg donor that's willing to give to a family and she's Vietnamese French," Lam recalled. "And I'm like, 'Oh, my God, that's amazing. That's perfect.'"
After they decided to start a family together, Hughes and Fernández registered with a sperm bank and had to decide who they wanted to choose as their donor. Hughes, a project manager, described the moment they found their donor as a special one.
"He just felt right. We heard his voice because they have voice recordings and I remember ... we both looked at each other and we were like, 'This is the guy,' she reminisced.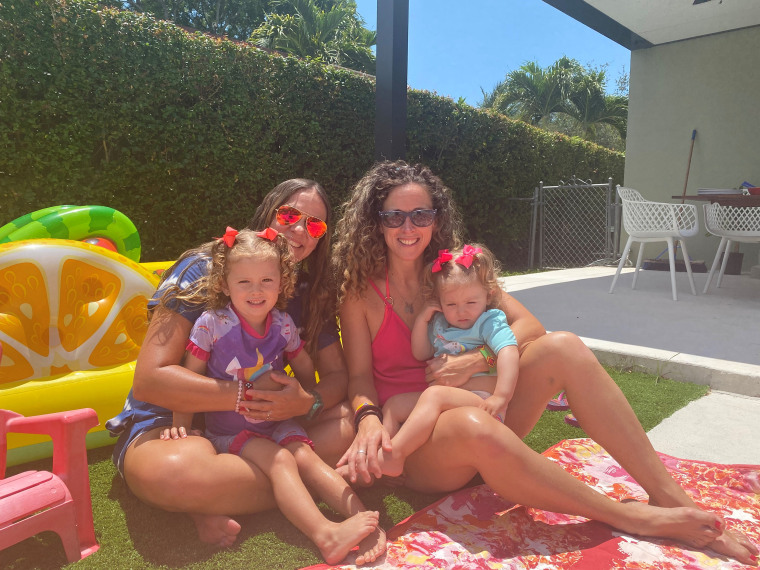 Fernández and Hughes then had two options: regular insemination or IVF. They went with regular insemination initially because IVF wasn't covered under their health insurance. In hindsight, Fernández, a scientist by training, said after knowing the higher success rate of IVF and what they went through, she would've turned to IVF from the beginning.
It took six tries, with the fifth ending in miscarriage, before Fernández was finally able to successfully carry their two daughters, both via IVF.
"It's excitement and then disappointment, excitement, disappointment and then the hardest for sure was the miscarriage," Fernández recalled. "I think different people react differently, but for me, I just needed to get back into the process as soon as possible. And you can't because ... all your hormones need to go down and you need to go back to normal. And that wait was also really painful because you just want to leave it behind and start again."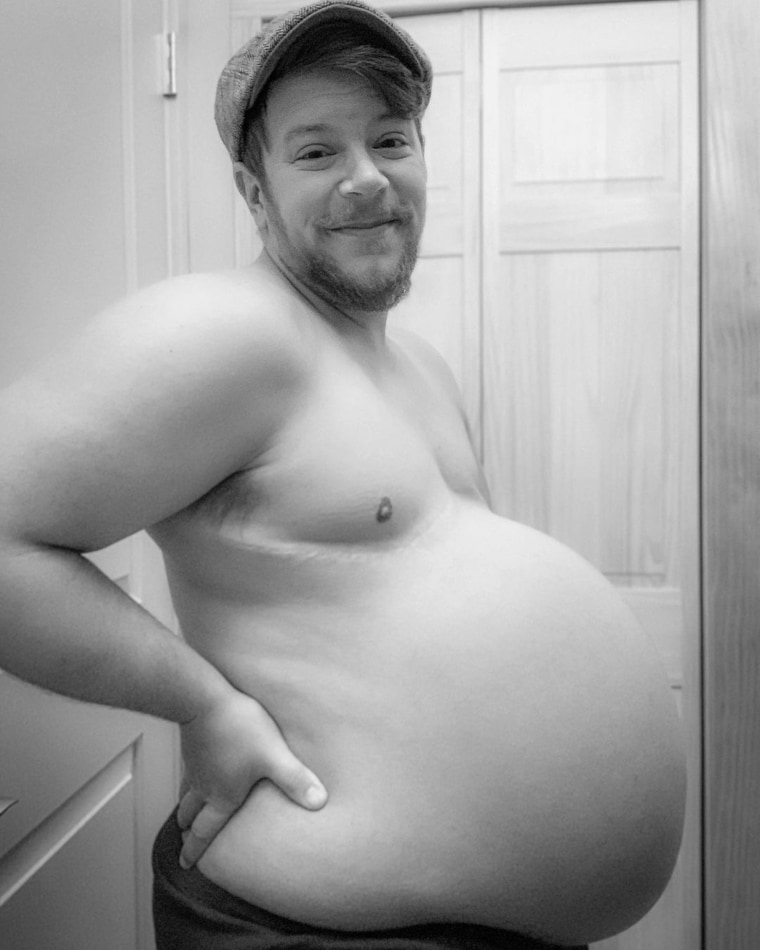 Wakefield's journey to becoming a parent was a complicated and difficult one.
Living alone in rural Duvall, Washington, about 30 miles east of Seattle, he visited the emergency room six times during his pregnancy. He was initially dismissed by health care workers who didn't believe he was pregnant or experiencing pregnancy symptoms. Wakefield says he had to rely on a few close friends who helped him advocate for the necessary care he needed throughout his pregnancy.
"I was given this experience of carrying a child in my body, of growing this being I've always dreamt of having in this body that I've never felt super comfortable in. But for the first time in my life, as a nonbinary person, being able to carry my child in my masculine self, it was really healing in a lot of ways."
"A beautiful experience"
The Ruggieri-Lams welcomed Giovanni, now 7, in 2013 and Santino, now 5, in 2015 with the help of two different surrogates. "It was a beautiful experience for me and my husband both times," Lam said. "And we're so grateful that there are women out there that are willing to carry for families that can't have children of their own. So we are indebted to them for a lifetime for carrying both our children."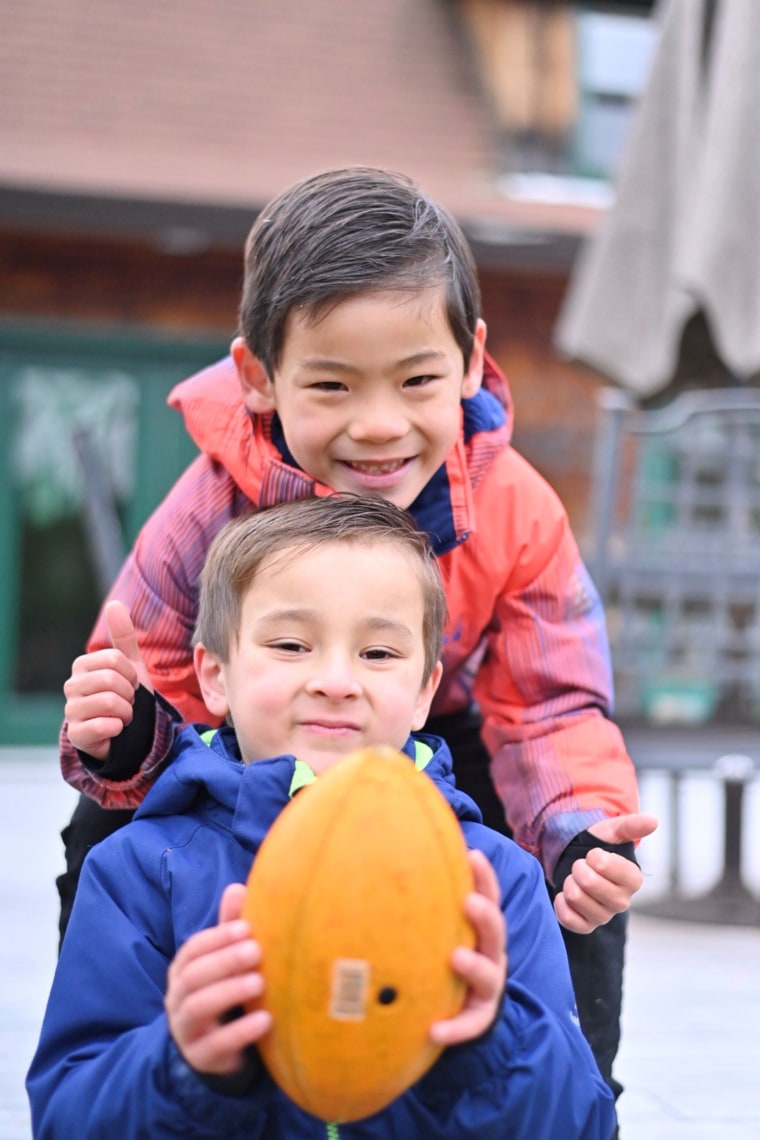 Lam said becoming a dad was and continues to be a learning experience.
"I thought that I would meet a lot of gay families when we were going through the whole process, but we didn't," Lam added. "It educated me that there's a lot of people that are heterosexuals that have issues of having children ... and that IVF is not such a surprising thing or it doesn't seem like it's such a taboo."
"I think it was hard for John," he continued. "Because he's at an age group where all of his friends, you know, opt out of having children because that was not even a possibility when he grew up. Having your own child biologically was ... a thing that you just wouldn't do as being a gay man."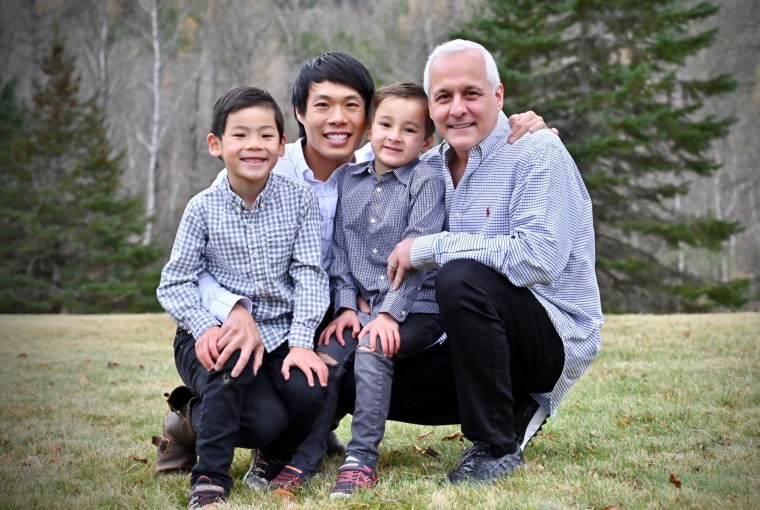 It's a sentiment echoed by broadcast journalist Anderson Cooper, when he announced the birth of his son in April 2020. "As a gay kid, I never thought it would be possible to have a child and I am so grateful to all of those who paved the way and for the doctors and nurses and everyone involved in my son's birth," he wrote on Instagram.
Lam hopes his family's story can be a positive example and change preconceived notions.
"When traditional families look at us, and they realize that we're a gay family ... it makes us proud that both our kids are good boys ... they're good kids. And we empower them to be thoughtful, caring human beings. You know, that's our responsibility as parents, not just LGBTQ families, but parents in general to empower our children to be that."
"Breaking barriers"
Hughes and Fernández welcomed their eldest daughter, Noa Skye, in June 2018 and their "baby" Alex Luna in November 2019. The girls call Fernández mami and call Hughes mom.
Both Hughes and Fernández agreed that while growing up — Hughes in the U.S. and Fernández in Spain — they didn't see LGBTQ couples having kids. "I feel like people our age didn't really have gay role models," Fernández said.
They still encounter people who are surprised by their family but aren't afraid to correct them.
"It's just a new experience for both of us. People assume that maybe you're not a couple and that maybe we're sisters and each of us has a kid," Hughes said, explaining that a move from New York to Florida has been revealing in that they don't see as many LGBTQ couples there. "We're kind of breaking those barriers down here."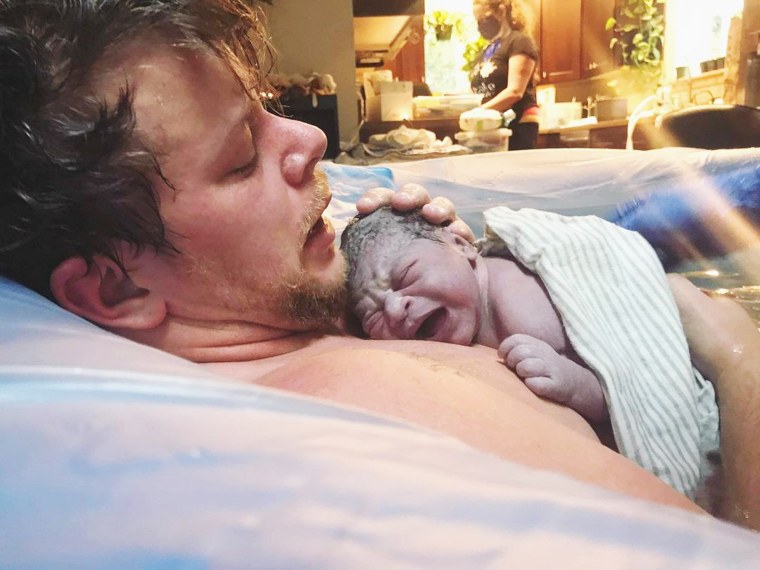 Wakefield doesn't regret a moment in his path to parenthood. He welcomed Wilder Lea in a home birth last November amid the pandemic. "I was bringing life into the world, something that I've always dreamt of doing, during a time that felt really scary and it felt like the worst time when it happened but now hindsight, it's the best thing that's ever happened to me. And Wilder's timing. I couldn't have planned it better myself."
He added, "It's changed my whole relationship with myself. So it was completely unexpected and it's been the biggest blessing of my entire life."
Related: