If you feel like you've lost your Christmas spirit, these kids will help you find it. The winter holidays always come at the darkest time of the year, and this year -- more than ever -- we could use some light.
TODAY Moms asked our Facebook community for stories of kids being sweet around the holidays. Their answers might make your heart grow a couple sizes. Keep in mind, these children won't be on any front pages or make headlines (well, except ours). They're just ordinary kids, reminding us of the good in the world.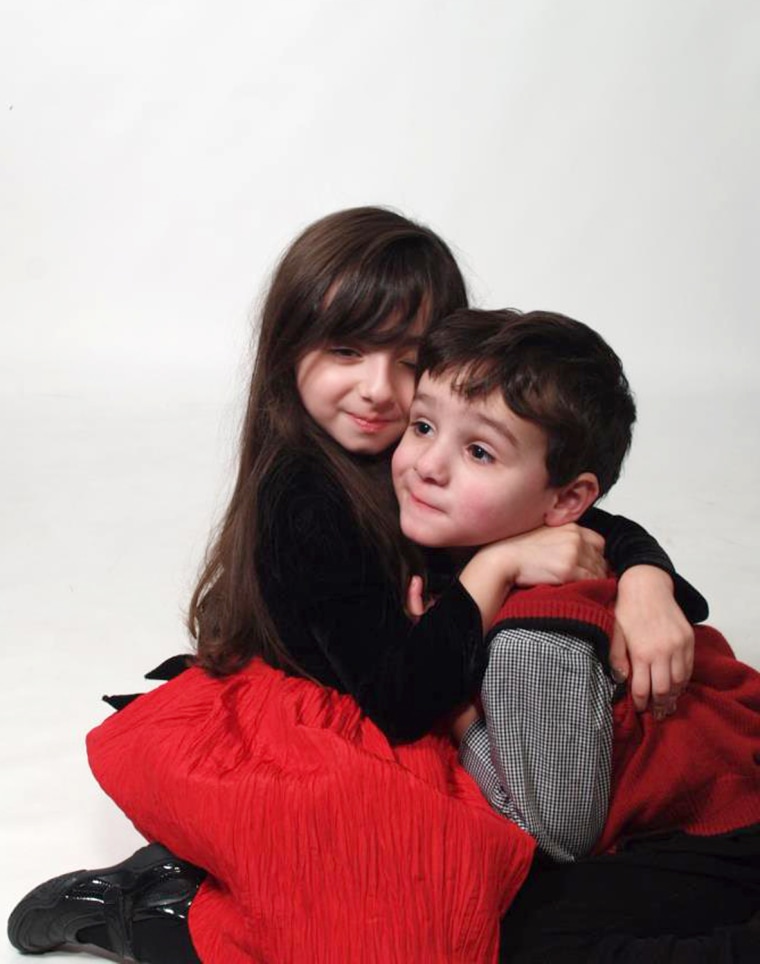 Thanks to these parents who sent in their children's stories and photos. You've all raised some great children. And thanks to these kids for reminding us of the reason for the season.
1. Christy Conner writes: My 7-year-old son has been in the "gimme" stage. So I told him he had to take half the money in his wallet (which isn't a lot, but to a kid it sure is) and buy toys for tots. At first he was upset and felt like it was a punishment. But when he saw the box and after I explained to him where the toys go, he got a huge smile. He ended up buying 3 toys, and I matched his 3 toys. He was eager to put them all in the box!
2. Monica Jenkins Cooke: We had Christmas a little early so my parents could be there. My 2.5-year-old woke up, found the elf (on the tree hanging low near the bottom) since that's what he knows to look for in the mornings... But seemed to be completely clueless to the gifts under it. We showed him his tricycle, trying to get him super excited... Nothing. So we finally just asked him if he saw the wrapped presents. He said "Yes!! They're for baby Jesus!" And since he thought they weren't for him, he shouldn't open them! So sweet.
3.  Jennifer Eggers: One of my boys saw another boy at school didn't have gloves during our first snow of the year. When he asked the boy if he had gloves at home the boy said, "No. I don't even have a coat just this sweatshirt." (5th grader) My son gave him his gloves and his coat so he could play in the snow.
4. Alicia Nuessle: I told my son I couldn't feel totally happy about Christmas because of the shooting in Connecticut. He said, "Mom, you don't have to worry about those children anymore, because they are in heaven and nothing bad will happen to them ever again." He is 12 years old and has Asperger's syndrome.
5. Linda Fasano Martin: My 16-year-old volunteered to go sit on Santa's lap with his 5-year-old sister!! She wanted to see Santa but is afraid of him, so big brother volunteered to keep her safe !! 
6. Jodi Zellmer Vetter: My daughter is wonderful with her special needs brother. She even went up and held his hand when we visited Santa Claus and told him that Santa Claus wasn't going to hurt him. But she is like that every day of the year. My son has never asked for anything. I love that about him. He is 9.
7. Katie Terrey Keene: My 6-year-old daughter used her tooth fairy money to help purchase a gift for the Angel Tree child her first grade class was sponsoring. Love seeing generosity at work in my kids!
8. Cynthia Palmer Lock: I caught my 6 year old daughter speaking to her Elf on the Shelf, Norville, asking him to ask Santa to bring me a Christmas gift.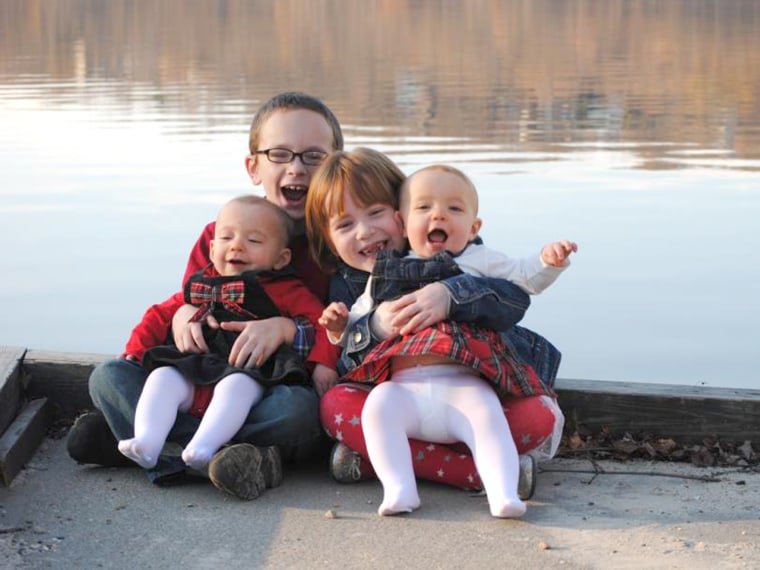 9. Wendy Legg Gilbertson: My 9-year-old has been upset that I haven't spent a lot of one-on-one time with her recently. I decided to keep her out of school this morning while her 3-year-old brother was at preschool so she and I could have a morning date. When I asked what she wanted to do, she said she wanted to use the time to find her brother a perfect present.
10. Courtney Crowl: My son will be 9 next month. He's decided that he doesn't need much for Christmas, but asked Santa for something anyway. So for his birthday, he's asking anyone who would get him a gift to make a charitable donation instead. We are still doing research to decide which charity. He said he'd rather help others!
11. Jessica Schiffl Boysen: My 6-year-old brought me his piggy bank and told me he wanted to go shopping for his grandparents. I took him to the dollar store where he picked out gifts and bought them with his own money.
12. Carrie Demke-Berry: I am a Kindergarten teacher and have come down with a terrible case of strep throat. My 4-yr-old is very concerned. She got me some noodle soup and I overheard her telling our elf on the shelf to get some magic from Santa to make me feel better. Love her.
13. Rachel Wysong: My 8-year-old son Ethan has Celiac Disease, which means he can't consume gluten. For his holiday party at school today the class was making gingerbread men and decorating them. He can't eat gingerbread. But when he got off the bus, he had a gingerbread man LOADED with icing and candy and said "I can't eat this, but I made it for Logan" (his 7-year-old brother). I was so touched at the love for his brother and the fact at 8 he didn't pout or cry over a treat he couldn't have. Not sure I would've handled the situation with that kind of maturity!
14. Erin Morrissey-Koenig: My 13-year-old spent the entire year saving, and surprised me with an iPad last night. Even more surprising, her best friend kicked in $50 when Jaida was short. Blessed with sweetest daughter EVER!
15. Tina Bingel: At the airport yesterday, my 5-year-old went up to two soldiers (dressed in combat fatigues) and said "soldiers thank you! Thank you for being a soldier & keeping USA safe. Merry Christmas." Then she gave one the quarter she had been saving to buy gum.
16. Renee Jordan: My lil man is 5, and asked me if there are kids that Santa can't get to... I told him Santa is a very busy man, and sometimes asks parents to help, but aren't able to get toys for kids, just clothes and things they HAVE to have. He then went into his room and began making piles. After about 15 minutes, asked me to come in and explained the piles were "keep," "don't play with" and "don't know." We went through them together, and ended up with six grocery bags of toys. He asked me to "find those kids that want toys like mine and can't get them." Then I realized that he had been listening to me when I talked to him about the less fortunate who have lost more than we have. We talked to some people and have delivered them and helped some families that hopefully really needed it... love this kid, and he melts my heart.
17. Ashley Tafoya: My sweet boy said he wanted to get something for Santa for Christmas. 
18. Vickie Mansour-Hasan: Two days ago, after doing a workout with both kids running around me, my 4-year-old daughter says, "I am so proud of you," while she cups my face in her hands. "Oh, baby, you break my heart," I say, panting out of breath, wiping away sweat. "No, no, momma, I love your heart."
19. Tara Barnes: My 5-year-old wants to give all his toys to kids that don't have any. So he went to his room and put all his toys into big bags. Came out and said, "The toys are ready mom. I talked to them and told them they are going to be okay. Their new home will be great." My reply "Awww son so nice of you." I think he thinks of his toys like the movie "Toy Story." My sweet boy.
20. Kathy Costigan: When my 13-year-old son wrote out his list he put "tickets to the 1D concert," because that's all his 12-year-old sister talks about for months. He also wrote, "a good week for mom + dad." He only wrote 5 items for himself! He's a sweetheart + has PDD-NOS (pervasive developmental disorder) and autism. He's the best boy!
21. Marcella Walters Kennemer: My nine-year-old son asked Santa what HE wanted for Christmas.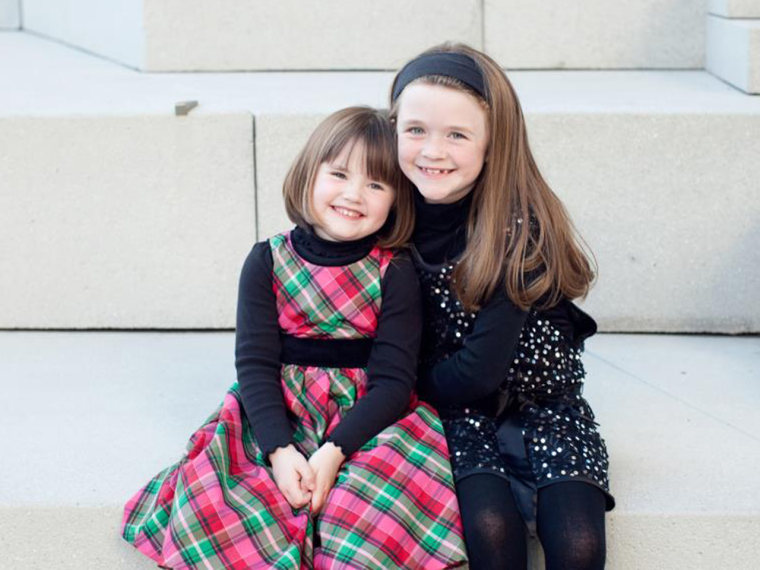 22. Melissa Swain Ferris: My 7-year-old boy wants saplings so he can plant trees for our earth. I thought for sure he would ask for Xbox; wow what a special little dude.
23. Jennifer Stutts-Pruski: My kids asked ME for a list!
24. Ashley Gatewood Taylor: I read an article that had gone viral on Facebook about people paying off strangers' layaway balances at Kmart, cried like a baby, and knew I must be a part of this. I told Emma about it, how I wanted us to go together to help a family who would not be able to otherwise afford to have Christmas; and with a look of such pure innocence she said, "But Santa still brings them toys, right?" Cue the soul-crushing attempts to hold back the sobbing.
I tried my best to explain to her that, of course, Santa still comes, but the sleigh is really heavy so he can't really bring a lot; and she said, "I understand, Mom, he can only bring a couple toys, so it would be nice for their mom and dad to be able to give them some more."
Yes, my sweet girl, exactly that. So, off we went to Kmart, armed with my wallet and a mission to help a family. The ladies at the layaway desk could not have been any kinder to Emma or more appreciative of her generous spirit. We looked at a few different orders until we found the perfect one, full of toys, obvious to me by the selections on the list that they had been picked for children old enough to know on December 25th whether or not Christmas had come to their house. Emma filled out a card in her sweet, 8-year-old handwriting that said: "From Your Secret Santa."