/ Source: TODAY staff and wire
The newest Duggar was barely visible, swaddled in a pink-and-white blanket for her first appearance on live television, but her mother assured one and all that Jordyn-Grace Makiya Duggar is just perfect."She's doing wonderful," Michelle Duggar told TODAY's Ann Curry from the family's home in Arkansas. "I'm really thankful. I'm feeling good. We're enjoying our sweet little girl."
Michelle's husband, Jim Bob Duggar, stood to her right, and she was surrounded by nearly all of the other 17 Duggar children. Jim Bob told Curry that Jordyn-Grace is sleeping very well. But one of the girls put in, "Mommy is the one that's awake."
'Ultimate Christmas gift'
Showing a keen media savvy, Michelle told viewers to be sure to tune in to the first edition of "Baby Makes 18" on TLC tonight to see more of Jordyn-Grace. While she spoke, Jim Bob held up their new book, "The Duggars: 20 and Counting."
Curry asked Michelle if there will come a time when she has enough children.
"Saying there's too many children would be like saying there's too many flowers," she replied. "You just can't have too many. I think they're precious and just a wonderful gift."
Added one of her daughters, "It's like having a live baby doll."
The Arkansas supermom delivered the baby girl by Caesarean section Thursday at Mercy Medical Center in Rogers. The baby, named Jordyn-Grace Makiya Duggar, weighed 7 pounds, 3 ounces and was 20 inches long.
"The ultimate Christmas gift from God," said Jim Bob Duggar, the father of the 18 children. "She's just absolutely beautiful, like her mom and her sisters."
The Duggars now have 10 sons and eight daughters.
Jim Bob Duggar said Michelle started having contractions Wednesday night. She needed the C-section, her third, because the baby was lying sideways. Jim Bob said both baby and mother were doing well Thursday night.
"We both would love to have more," he said.
The cable network TLC broadcasts a weekly show about the Duggars called "17 Kids and Counting." Chris Finnegan of TLC — which handles public relations for the Duggar family — said the show's name would be updated to account for the latest addition to the family. He said TLC also will air a show Monday on the baby's delivery.
Jim Bob Duggar is 43, a year older than his wife. Their oldest child, Joshua, is 20.
"Our whole family is excited about Jordyn's addition to our family," Jim Bob Duggar said. "She's just perfect in every way."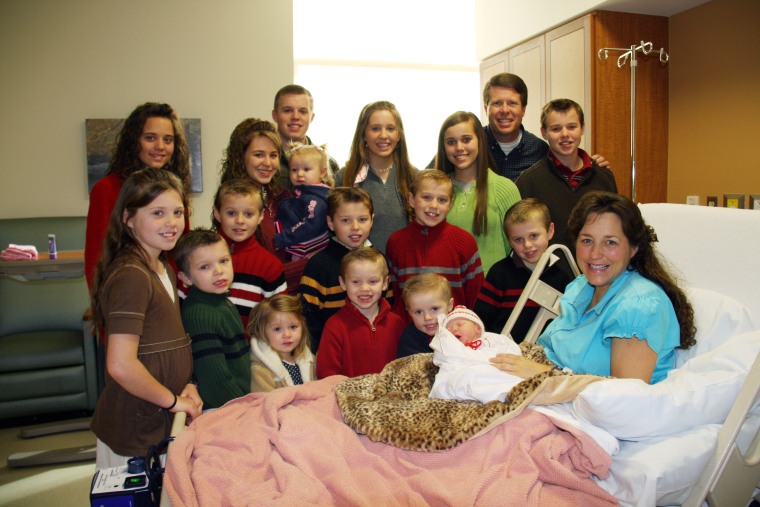 All about family
With the latest addition, the Duggars' 18 natural children range in age from 20 years to 1 day old. Included in the mix are 10 boys and now eight girls — Joshua, twins Jana and John-David, Jill, Jessa, Jinger, Joseph, Josiah, Joy-Anna, twins Jedidiah and Jeremiah, Jason, James, Justin, Jackson, Johannah, Jennifer and Jordyn-Grace.
With two sets of twins, Michelle has gone through 15 pregnancies that ended in 13 natural deliveries and two Caesarean sections.
Both Michelle and Jim Bob — a former state legislator who served in the Arkansas House of Representatives — are real estate agents. They claim their family is debt-free, with the entire bunch helping to build their 7,000-square-foot home in Tontitown. And they are enriched by a devout faith in their religion.
The Duggars are followers of the evangelical Christian movement called Quiverful, which teaches that children are God's blessing and that husbands and wives should happily welcome every child they are given. In fact, the Duggars' Web site, duggarfamily.com, quotes "Children are a heritage of the Lord" from verse 3 of the 123rd Psalm.
—The Associated Press contributed to this report
Visit or TLC.com for more info on the family. Michelle and Jim Bob's book, "The Duggars: 20 and Counting," is out now on Howard Books. Their show "17 Kids and Counting" airs on TLC on Mondays at 10 p.m. EST. On Monday, Dec. 22, TLC will air a special episode of the show entitled "17 Kids and Counting: And Baby Makes 18" at 10 p.m. EST.

More parenting tips| disciplining children