/ Source: TODAY Contributor
You've probably never met anyone with the hottest names of 2016; you might never have even heard of most of them. But we predict that's going to change, and fast.
In digging through Nameberry's statistics to find which baby names are attracting the biggest share of new attention from parents this year versus last, we found these 16 names that are wildly unusual, distinctive, exotic – dare we say crazy? – among those leaping fastest and furthest up the ladder.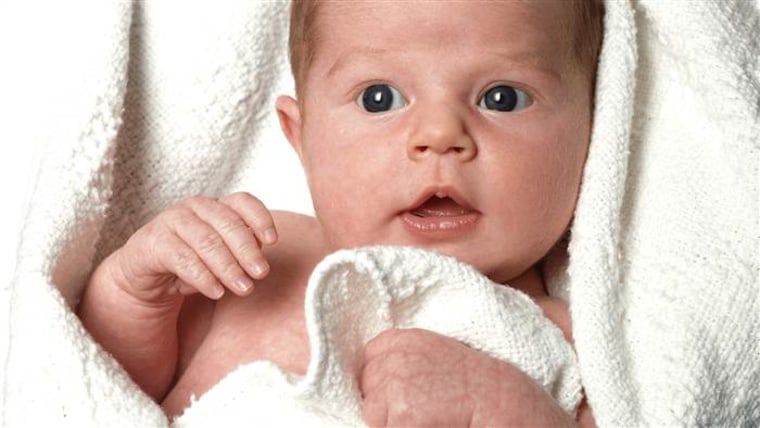 These hot baby names are inspired by a wood used to make surfboards and a hip New York neighborhood, by two ancient warriors and a celebrity entrepreneur. Here, the 16 crazy baby names that are among the hottest so far for 2016.
Koa, up 357 percent
Think of Koa as the newer, cooler Noah with a surfboard instead of a long gray bear. In fact, the wood used to make surfboards is koa, native to the Hawaiian Islands. About 160 boys were named Koa last year, but that's more than twice as many Koas as were born five years ago and ten times as many as received the name in 2000. Given the high level of interest from parents, we predict Koa will surface in the official Top 1000 for 2016.
Wells, up 202 percent
Wells is an English surname popularized as a baby name by pregnancy guru Rosie Pope, who uses it as a short form for her son Wellington. It means not well but spring, which gives it a pleasantly watery nature feel. Nearly 100 baby boys were named Wells in the US last year.
Saskia, up 174 percent
Saskia is a Dutch name – she was Rembrandt's wife – still extremely rare, given to fewer than 20 baby girls last year. But the combination of ancient roots and fresh feel places it first among hottest girls' names right now, prime for import to the US.
Theodosia, up 135 percent
All names The-related are having a moment, with Thea newly-arrived in the Top 1000 for girls and Theo vaulting up the boys' chart. Theodosia makes a unique addition to the class – truly unique, as there were zero baby girls given the name in the US last year. Like Theodora, Theodosia is a long form that gets you to Thea – or maybe Theo, on the girls' Top 1000 a century ago.
Neo, up 127 percent
Theo's o-ending is another hot quality shared by rhyming brother Neo, Latin for "new," Neo got its start as the name of Keanu Reeves' character in The Matrix series, which also spawned hit name Trinity. Eighty boys were named Neo in 2015, but we see it following Theo and Leo up the official ranks.
Ragnar, up 91 percent
The History Channel show Vikings turned Norse warrior Ragnar Benson, along with his less-than-melodic name, into a modern hottie. While only 30 baby boys were named Ragnar in the US last year, that's 30 more than were given the name outside Scandinavia at any time before the show. Might Ragnar be the new Atticus?
Calypso, up 87 percent
Now here's a name with a sound that makes you want to dance. But unlike some musical word names such as Cadence or Drummer, Calypso has ancient roots as a first name: Calypso was a Greek nymph who delayed the hero's return home in The Odyssey. A mere 15 baby girls were named Calypso last year.
Zephyr and Zephyrine, each up 78 percent
These twinned Z names also have roots in ancient Greek mythology: Zephyr was the God of the West Wind. Used throughout Europe but virtually unknown until recently in the US, Zephyr was chosen by tech mogul Sean Parker for his infant son and was used in the US for 126 boys last year along with 25 girls. Zephyrine, a relative of the stylish Seraphina, is much more unusual, not recorded at all on last year's Social Security list.
Kaiser, up 75 percent
Kaiser gained visibility as a boys' name rather than the title of a Germanic emperor thanks to Teen Mom Jenelle Evans, who cleverly made Kaiser more mainstream by shortening it Kai. Kaiser is also prime for widespread popularity on the heels of other titular names, such as Saint, King, Prince, Duke, and Messiah.
Mika, up 72 percent
Mika is a name found in two very different cultures with different roots and meanings, though both are spelled and pronounced (it's mee-ka) exactly the same. As a girls' name, Mika is Japanese and means "beautiful fragrance," while the male Mika is a short form of Mikael, the Scandinavian and Finnish version of Michael. Mika was given to nearly 200 baby girls in the US last year, its popularity – it's closing in on the Top 1000 -- undoubtedly spurred by its similarity to fashionable names Mia, Mila, and Mikayla. On the boys' side, Mika was given to 50 babies, though we see it climbing as a successor to Michael and Luca.
Astoria, up 59 percent
First came Brooklyn, now a Top 50 name for girls. Then, thanks to Ashlee Simpson and Pete Wentz, we had Bronx. Now the newest New York City place name to become a trendy baby name is Astoria, the Queens neighborhood named after titan of industry John Jacob Astor. Master character namer J.K. Rowling used Astoria as the name of grownup Draco Malfoy's wife. Only 16 baby girls were named Astoria last year.
Seren, up 57 percent
Seren may sound synthetic to the unschooled American ear, but it's a popular girls' name in Wales, drawn from the name of an ancient goddess and meaning star. Fewer than 50 girls were given the name in the US last year, but we see that rising dramatically given that Seren is a name that's both exotic and approachable.
Never miss a parenting story with TODAY's newsletters! Sign up here
Leonidas, up 55 percent
Can you think of a less likely hit name than Leonidas? This name of an ancient Spartan warrior-king was catapulted into the modern world by 300: The Movie. Now it's nearing the Top 500 and seems prime to keep climbing. Throughout Europe, the pronunciation is lee-OH-nee-das, but most Americans say lee-oh-NYE-das.
Alba, up 50 percent
This ancient Roman name meaning "white," last fashionable more than a century ago, is making a comeback thanks to inspirational actress-turned-baby product entrepreneur Jessica Alba. More than 150 baby girls were named Alba last year and we predict it will climb into the Top 1000 before 2020 as a successor to Ava and Ella.
Lula, up 50 percent
You might think of Lula as the love child of Luna and Lila, two trendy girls' names heavy on the lilting, lovely L sound. Lula has lagged behind other fashionable L names but that may be exactly why parents are turning to it now that Talullah and Lola are becoming overexposed. Just shy of 100 girls were named Lula last year.