Let's face it: Parenting is a LOT of work every day, week and month of the year, and most moms and dads make adjustments on the fly all the time. Still, there's nothing like the start of a new year for taking stock of how things are going on the home front.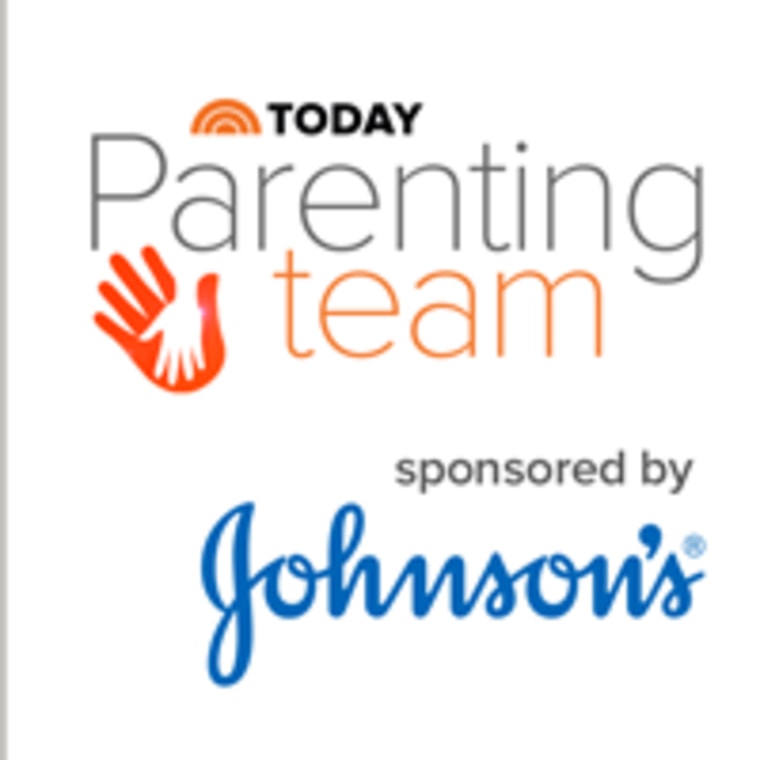 As part of our "Parenting Resolutions" challenge, TODAY Parenting Team contributors opened up about their hopes and dreams for the year ahead. Many of their resolutions are hilarious, many are touching — and all are real and relatable. We've compiled a whole bunch of them here.
What goals do you have for your family in 2016? Please join in this ongoing conversation by becoming a member of our TODAY Parenting Team, and stay connected to TODAY Parents updates on our Facebook page. We always want to hear from you!
1. I want my kids to speak nicely and stop saying bad words. (GIT Mom)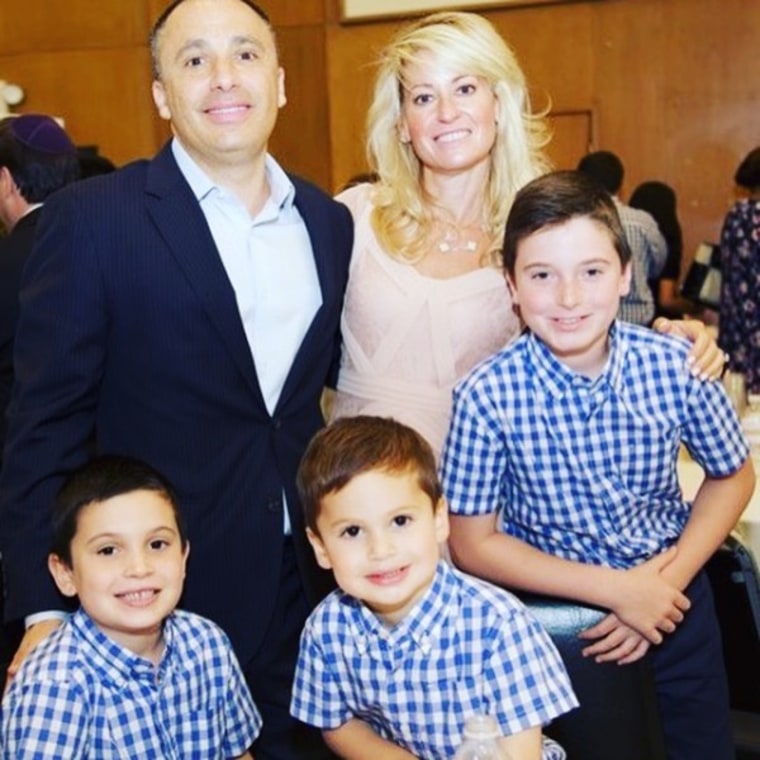 "As our family has officially reached tween-dom and my 11-year old's world and eyes have been opened up to YouTube and other nasty real world influences, he's been educating his 8- and 4-year old brothers on the finer points of cursing. Combine the joy of blurting out a first dirty word, with the idolization of an older brother, and these boys are enjoying a master class in Grade A hoodlum. ... So, for 2016, I resolve to stop permitting our kids to say all of the following swear words: Dumb; Stupid; I hate you; F#$k; Sh*#. ...
"I really believe we can quickly fix our kids' communication skills. They'll each get three warnings before they lose their electronic devices for the day. Because of their e-addictions, I know that giving them age-appropriate behavior targets will quickly teach them how to build skills and habits that'll serve them well into adulthood, while at the same time cushioning my eardrums."
2. I want to cut back on the amount of TV my kids watch. (Shana Sutton /Technotini.com)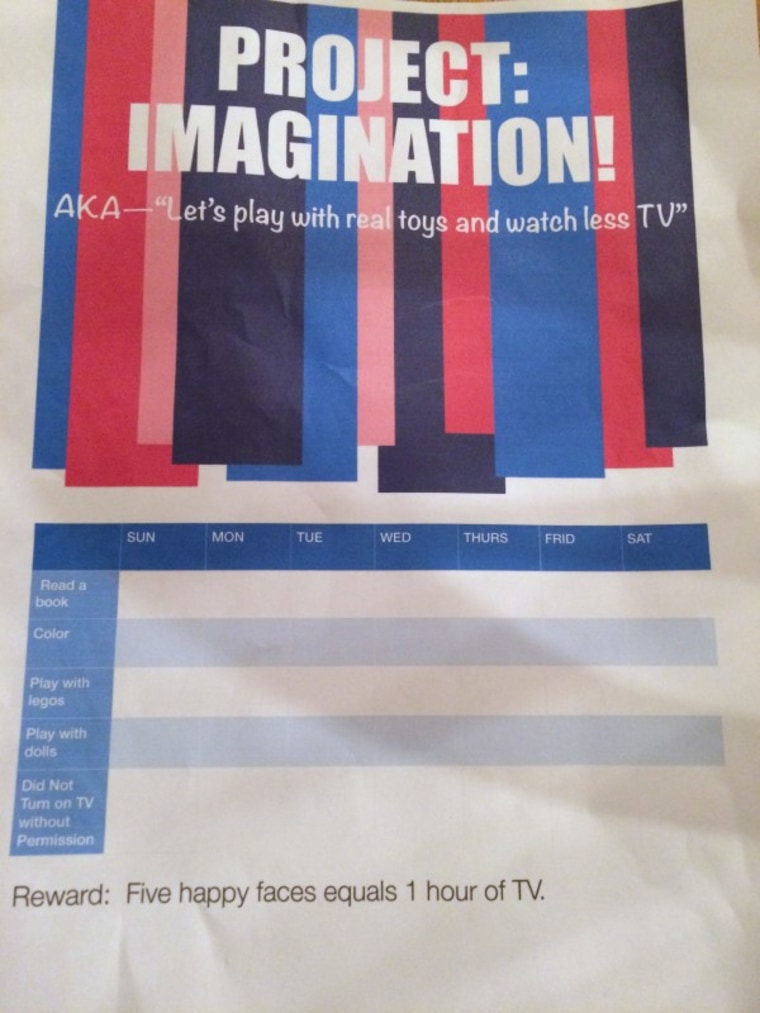 "My parenting/family New Year's resolution for 2016 is pretty simple — cut back on the amount of TV my kids (ages 4 and 5 1/2) watch to just an hour a day ... although honestly, I'd be happy if they would just stop confusing the TV 'on' switch for a light switch. It's gotten to the point where they cannot walk past the TV without turning it on! … Since I want to accomplish two things: 1) stop the automatic TV power-on and 2) encourage them to use their imagination and play with their toys, I decided to go with the reward chart route. In the right-hand column I wrote the four basic tasks my kids need to be doing instead of watching TV such as: read a book, color, play with LEGOs, or play with dolls. Then I wrote 'Did Not Turn on TV without Permission.' Every time they do one of the aforementioned activities, I'll give them a smiley face. Once they receive 5 smiley faces, they can have 1 hour of TV."
3. I want to laugh more with my kids. (Oh, Honestly!)
"I want to stop thinking I need to be so grown-up all the time. I want to ignore the people who might look at me and roll their eyes, and ignore the people who don't share my particular style of humor, and I want to laugh. Little giggles; big guffaws; the silent ones that are accompanied by tears rolling down your cheeks; the ones that catch you by surprise and shoot snot out your nose. However it happens, I want to LAUGH!"
4. I want more date nights — even if they have to happen at home. (Amanda Mushro)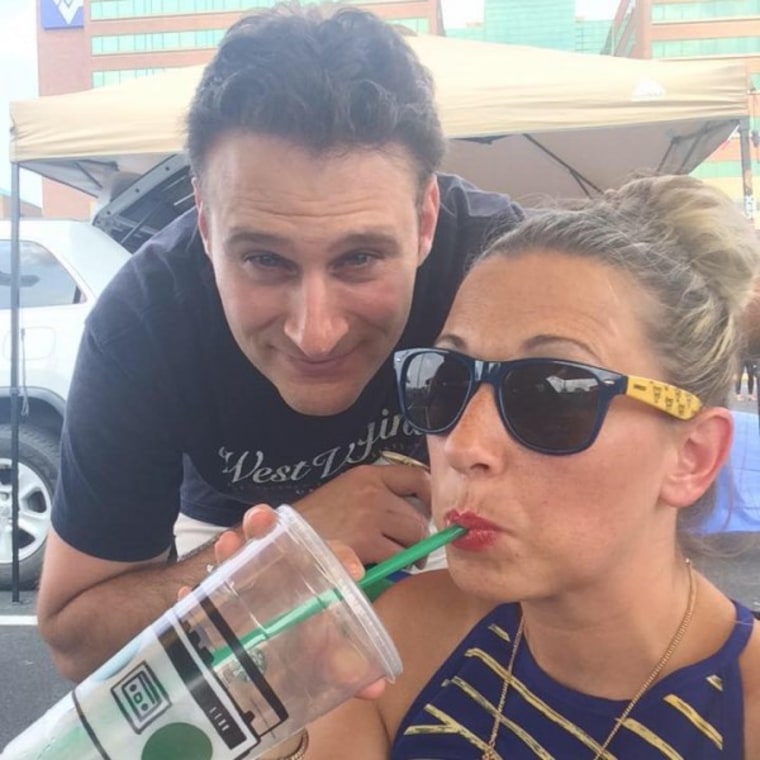 "We all NEED date nights with our significant others, so this year, make it date night without leaving your house with these fun ideas:
"Theme Night: Put those kids to bed and pick your favorite theme — Italian, Greek, Asian, or even a time period ('60s, '70s, '80s). Make everything fit the theme. For Italian, you can watch my favorite movie, 'Life is Beautiful,' make a delish pasta dinner, splurge on Italian wine, and have gelato for dessert.
"Breakfast in Bed: Set that alarm clock super early and make your honey a fantastic breakfast in bed. Save the frozen waffle for the kids and use those fancy kitchen utensils you got for your wedding shower a million years ago.
"Partner Picks: He loves horror movies, you love rom-coms, but tonight one person gets to pick everything — movie, dinner, snacks, 'dessert' (read those quotes however you want). The other person gets to sit back and enjoy."
5. I want to resist the compulsion to overprotect my kids. (Amy Rowland)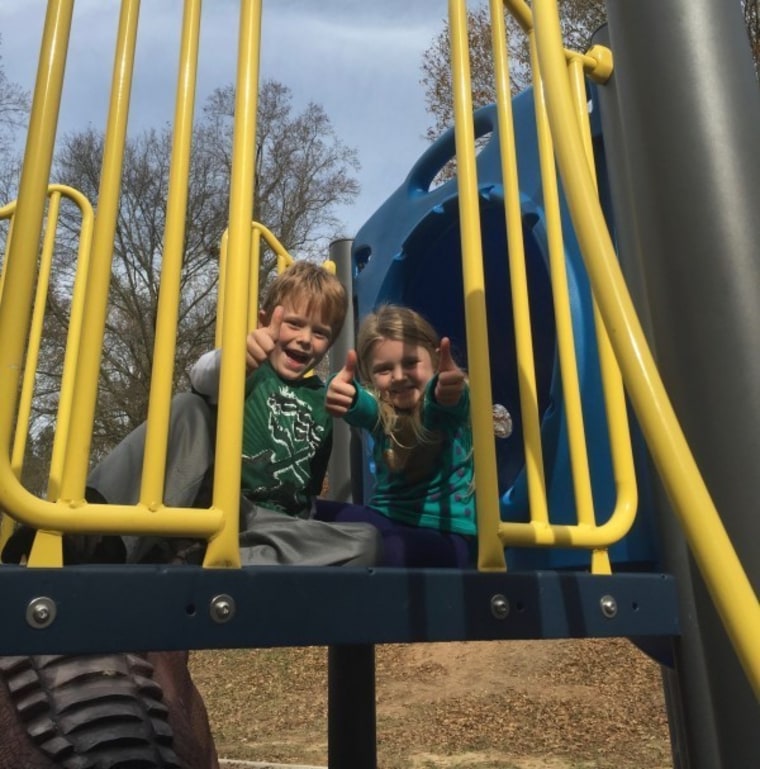 "I'm starting to realize that if I always overprotect my children then they will ultimately suffer even more. They will miss out on some of life's great opportunities if I don't let them work through their fears. They will lack the skills and developmental tools necessary to succeed in life if I don't allow them to take risks and sometimes fail."
6. I want to get better about dropping my kids off and picking them up on time ... (within reason!) (Keeper of the Fruit Loops)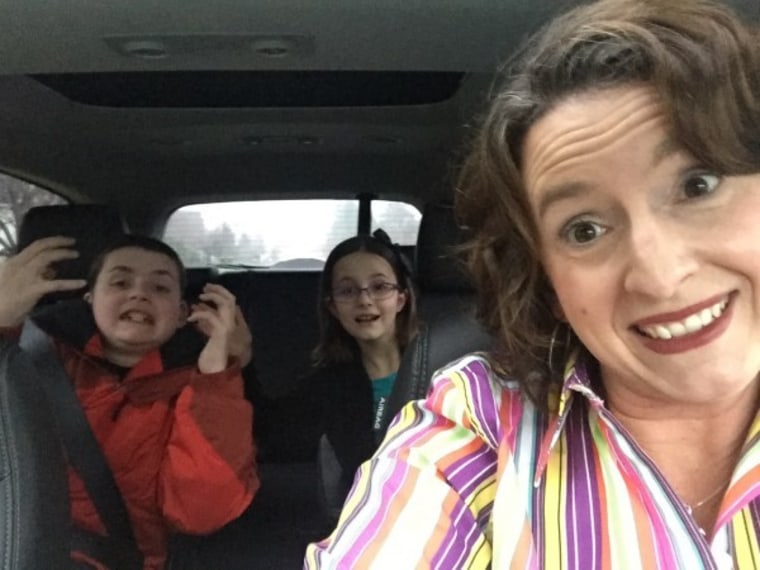 "I promise to not be late to pick you up from school activities. And by 'not late,' I mean within 15 minutes of when I'm supposed to be there."
7. I want to take better care of myself and feel less mommy guilt. (Dr. Claire)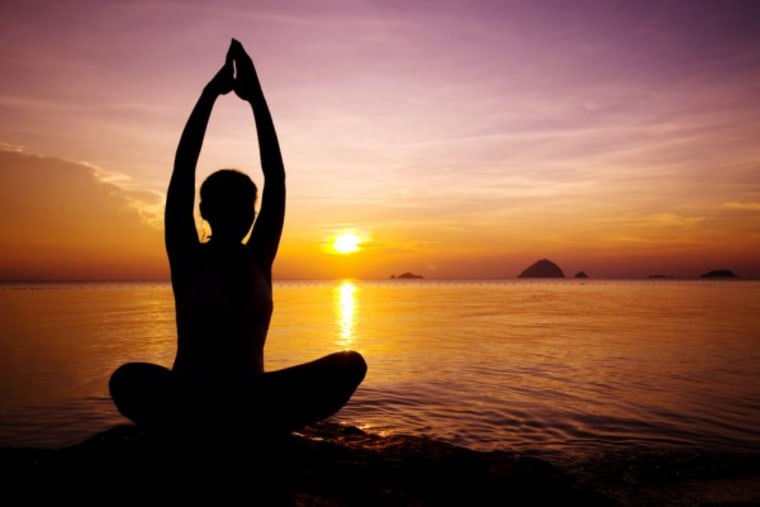 "Not caring for myself makes it very tough to care for my family; if I'm run down, it's hard to keep giving and nurturing effectively. ... My resolution is to take time each day to do something that is restorative to my physical, emotional and spiritual well-being. It may be as simple as getting up before my children to exercise or enjoy a cup of coffee as the sun rises, or going for a walk without any noise except listening to nature."
8. I want to reduce the "digital daze" in our home. (Andrea Gribble)
Here, mom Andrea Gribble describes her family's strategy for cutting down on time spent with electronic gadgets in 2016:
9. I want to spend more time playing outside with my kids. (Amanda Magee)
"When you boil resolutions down to being little changes intended to shift the way you feel, it's easier to latch on to the idea that, 'Hey, maybe I can throw on a snow hat and race outside to take a run down the snowy slide.' It's all right here for us, we just have to join in."
10. I want to get control of all the messy toys in our house. (Amanda Mushro)
"My daughter LOVES stuffed animals, but I don't love how they've taken over her room. To create a practical and creative storage solution take the outer shell of a bean bag chair and fill it with all your child's stuffed animal friends. The toys create a comfy chair and you can finally see the floor to their bedroom! ... Save yourself the pain of stepping on a rogue LEGO by organizing LEGOs in an over-the-door shoe organizer. Sort the pieces by color so your kids can see the pieces they want and quickly put everything away when they're done. (As a bonus, three-ring binders are great ways to organize all of the LEGO sets' directions, and empty baby-wipe containers make perfect on-the-go LEGO cases.)"
11. I want to embrace the ponytail and stop worrying about my hair. (Kim Simon)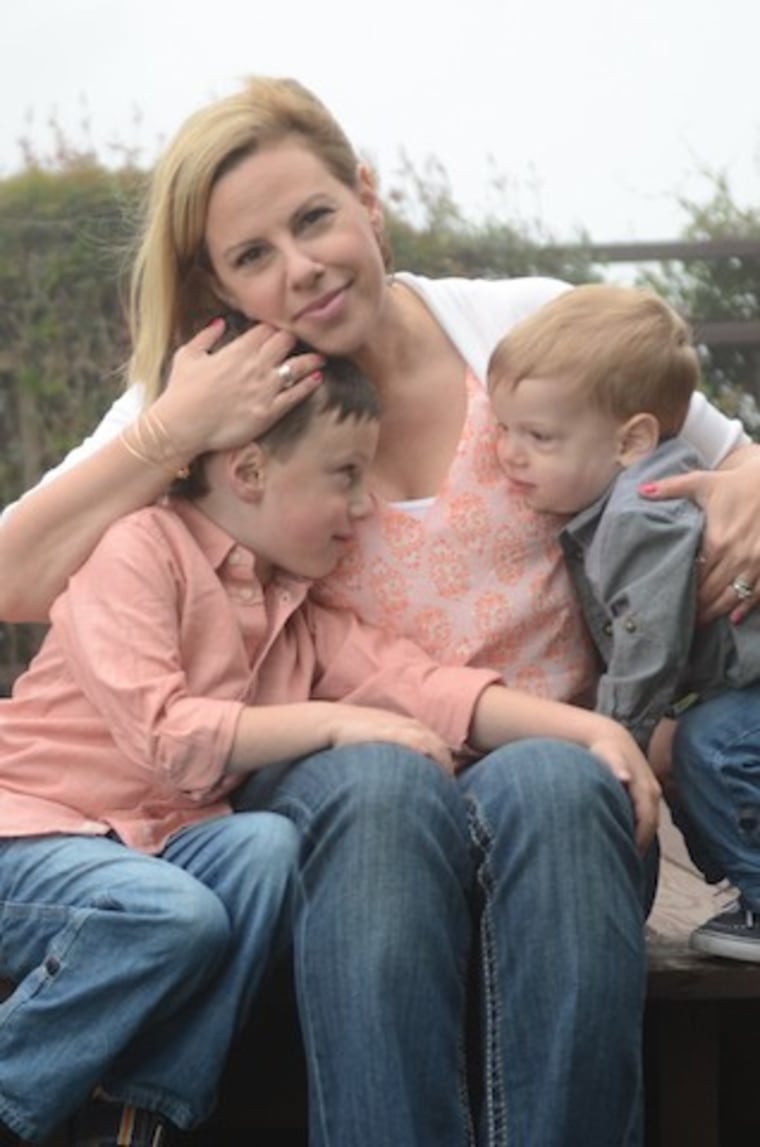 "Every six weeks, I feel like a runway model when I leave the hair salon. My hair is smooth and sleek, perfectly curled at the ends and smelling like whatever ridiculously expensive concoction the ridiculously trendy stylist sprayed on it when she had a ridiculously long time to dry it and make it look pretty. I drive home with a grin on my face, catch my reflection in the rearview mirror, and remind myself that I haven't really lost it yet. I pretend that the flowy sex goddess hair makes me more appealing to my husband, who greets me with, 'I thought you were getting your hair cut? It looks the same to me.' And 200+ minutes after spending 200+ dollars on my hair, my two little boys ask me to lie on the floor and play the game where I flip them over my head 200+ times. That's impossible to do with long, flowy sex goddess hair. Embrace the freedom that ponytails give you, and stop letting the magazines make you feel bad about it. Give it a new name. Stop calling it the 'mom ponytail.' You are sexy and fun and beautiful when you are swimming in the pool with your kids, or going for a run with your partner, or reading in bed at night, or playing with the dogs in the yard. You need your ponytail to do that."
12. I want our family to unplug for a whole day at least once a week. (Angie Goff)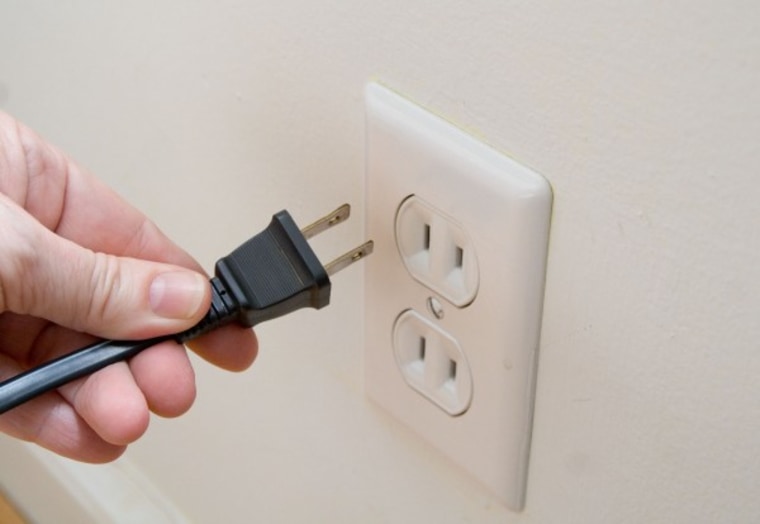 "Collectively my family spends hours touching and watching screens all day. We're on our devices for work, school, sports, fun, pretty much everything. Together as a family, we've taken the pledge to unplug one day a week. No iPads, apps, phones, TV for a day. That means we can spend that time going to the local library, doing puzzles, playing board games or baking. In this digital age there's all this talk about engagement. What about engaging with each other more — one on one? I'm hoping that will be the biggest benefit."
13. I want to assign kids meaningful tasks around the house. (Amy McCready)
"Kiddos of all ages thrive when they feel useful and needed, even if they simply empty trash cans and fold towels. What's more, when you divvy up the work, you'll feel less harried and better able to enjoy your family. To get started, consider this contributions by age list and pick a few jobs for each of your kids. Then, train each child thoroughly in any new skills, keeping in mind they might prefer to scrub the shower in their swimsuit or Swiffer floors instead of dusting baseboards. Once they're able to handle the job on their own, make it official and required by ... setting up in advance a reasonable consequence if the task doesn't get finished. Voila! Your kids are pitching in — and once they see that you're not going to let them wiggle out of their new responsibility, they'll do it without pitching a fit as well."
14. I want to overcome my unwillingness to ask for help. (Shana Chartier)
"My resolution is to ask for help. We are so scared to trust people with our child, even with our friends. Or maybe it's not trust. Maybe it's the other side of it: guilt. I know everyone is so busy and stressed out with their own lives that to ask them to come sit on our couch while we're not there, even though we barely see anyone now anyway, seems selfish and rude. But we have to. We're losing ourselves. ... So in 2016 we're going to try harder to reclaim ourselves. We're going to trust other people, and when I say trust I'm not just talking about their ability to care for our daughter. I'm talking about trusting that we have friendships strong enough that even if we don't get to see each other all that often, we can depend on each other anyway."
15. I want to set aside more "me time." (Doyin Richards)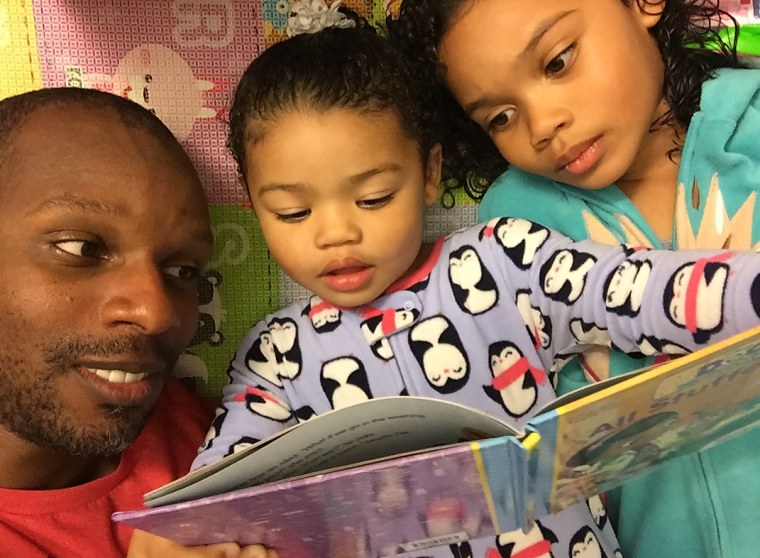 "I'm going to take care of me in 2016. It's always about the kids first — I can't remember the last time I had a warm meal! I'm going to take care of me and in doing so, it's going to make me a better father to my kids and then everybody wins. So, boom!"
16. I want to stop striving for perfection and be kinder to myself. (Cassie)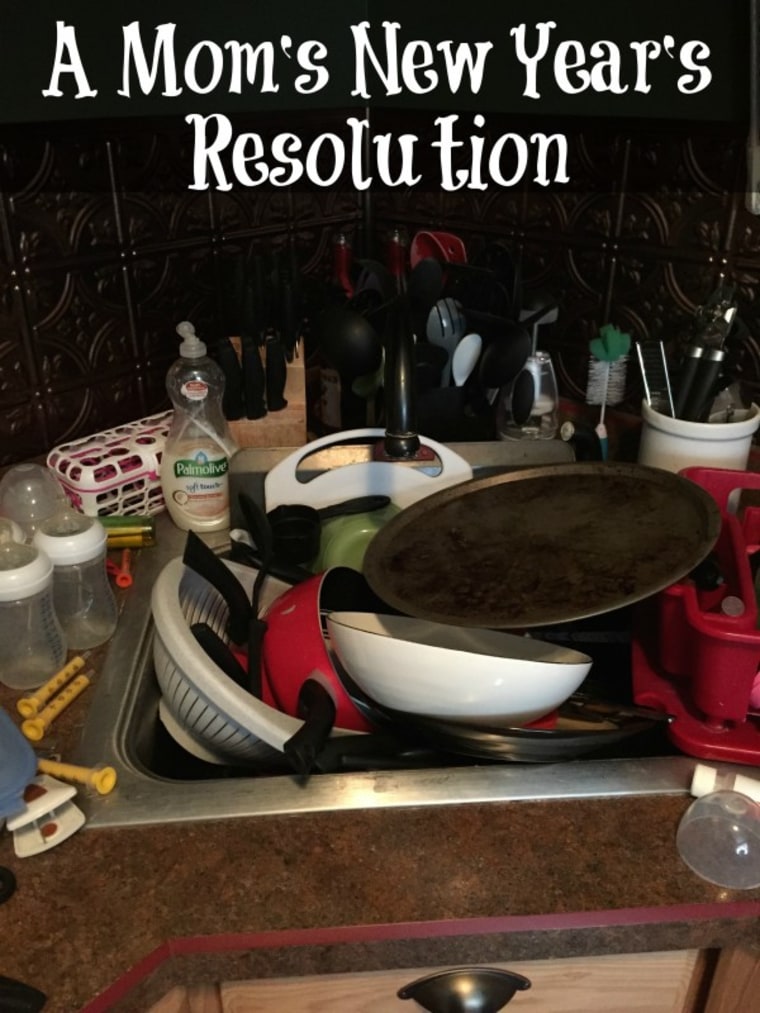 "I have decided that I am done with the 'fake it until you make it' mentality. No more front, no more feeling bad when I don't get something done, no more being so hard on myself. If I don't get something done, it's OK — there is no need to be perfect and no need to beat myself up over it. My New Year's resolution this year is to stop trying to be the perfect parent and just be the best mother I know how to be."
Follow TODAY.com writer Laura T. Coffey on Twitter @ltcoff and Google+ and learn about her new book, "My Old Dog: Rescued Pets with Remarkable Second Acts," at MyOldDogBook.com.