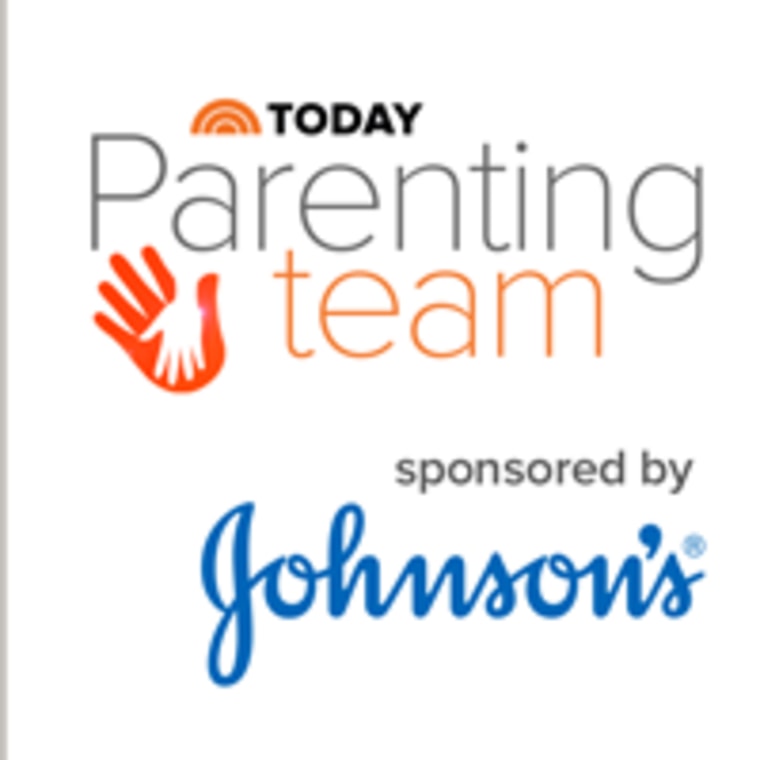 Oh nooooo! Summer is nearing its end and the back-to-school checklists are coming out!
You know what, though? We don't have to give up on summer fun with our kids just yet. Our TODAY Parenting Team contributors have been sharing all sorts of tips in our "Summer Fun" challenge, and we've compiled a bunch of them here. We hope these ideas and insights help you squeeze as much fun as possible out of these final days of summer.
Please feel free to add to this ongoing conversation by becoming a member of our Parenting Team — anyone is welcome to join! — and stay connected to TODAY Parents' updates on our Facebook page. If you've got other ideas for summer fun (and summer sanity), we'd really love to hear them!
1. Play at the park when your children play. (Laura Doran)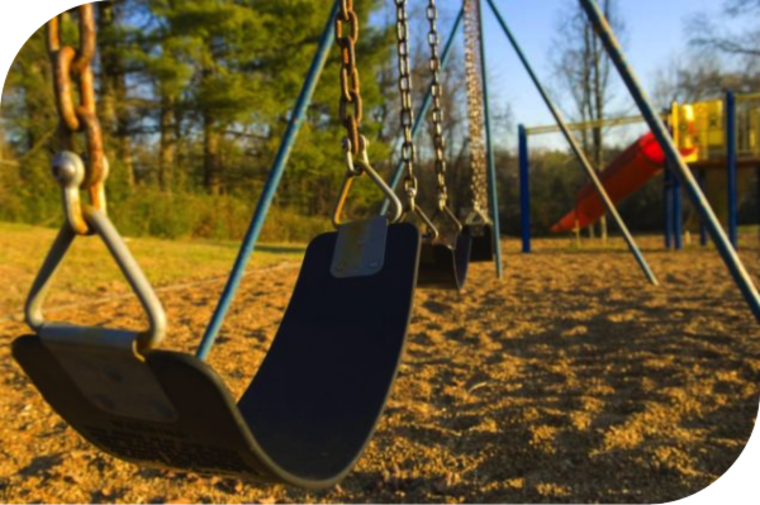 "My friend ... came across a clip of a woman doing burpees over and under the swings on her local playground. It was awesome. After our Stroller Strides workout the very next day, we headed to the park to try it for ourselves, and it was hard, but we did it. And it was a BLAST. ... That morning, my friends and I were playing on the playground for the first time in years. We laughed, we got some sun, we came home with a few scrapes. We had a great time challenging ourselves physically, much like we encourage our children to do when they climb the jungle gym or cross the monkey bars. Our kids were able to see their mommies pushing themselves and enjoying it immensely."
2. Throw an impromptu party — with snow cones! (Laura Fuentes / MOMables)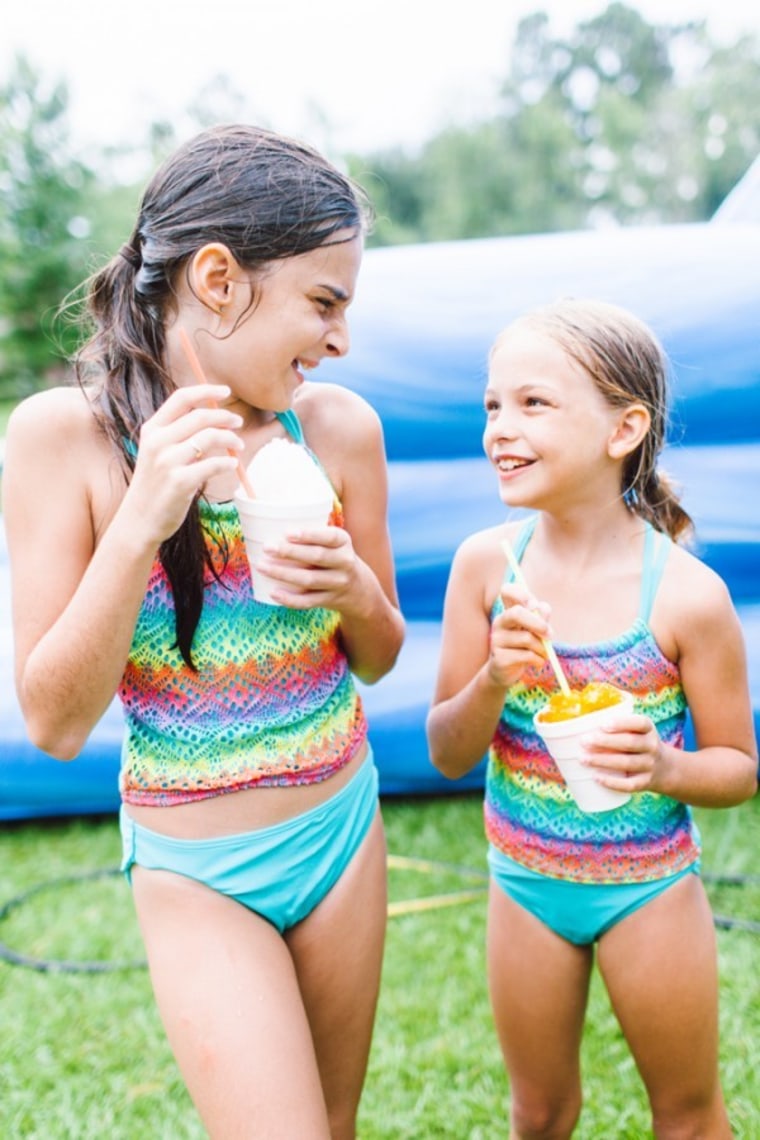 "This summer, I decided to throw the ultimate summertime block party — New Orleans style. ... My kids were so excited. They almost didn't believe this was happening so they kept asking: What are we celebrating? We are celebrating summer, I told them. And we did. The kids and their friends went up and down the slide carefree from the minute it was fully set up after delivery. Somehow, it became a boys vs. girls to see who can eat snowballs faster without a brain freeze."
Here's how to make the snow cones:
3. Go berry picking. (Shazi Visram / Happy Family)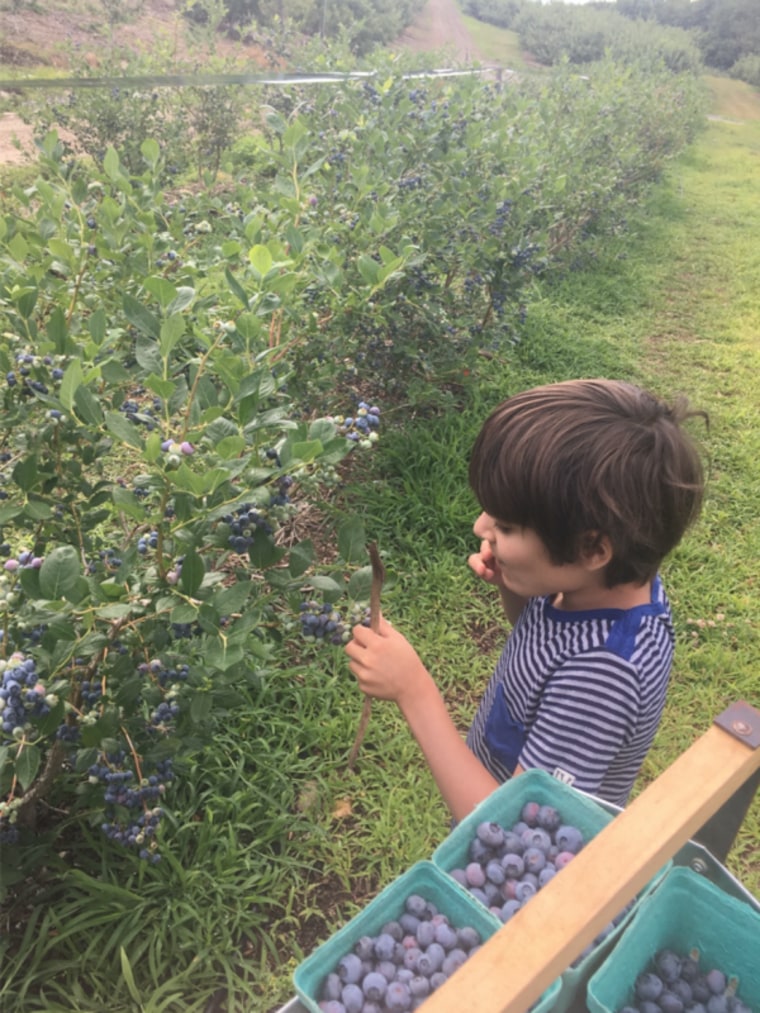 "If you have never taken your children berry picking, you should try it this summer. Watching their faces light up as they see a huge field full of strawberries and realize that they can pick (and eat) as many as they want is just heartwarming. It is also a great opportunity to start to teach your children about where their food comes from in a really easy and accessible way. ... The berries always taste so much better, and it is a great excuse to make a blueberry pie with the abundance you bring home!"
4. Bounce a ball. (Meredith Sinclair)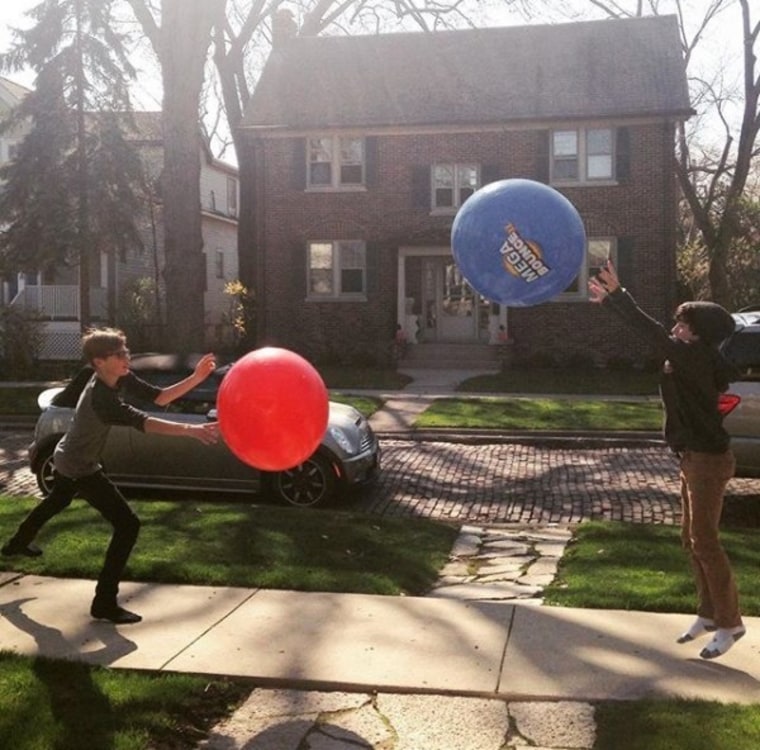 "One simply cannot resist the magic of a really bouncing giant playground ball. ... The Mega Bounce XL ... bounces incredibly high, it's 100 inches around, and it even bounces on sand and grass. Try taking one of these kid-magnets into your front yard and NOT attracting all the children in the hood."
5. Suit up and splash around with your kids.(Christina Nicholson / Mascara Maven and More)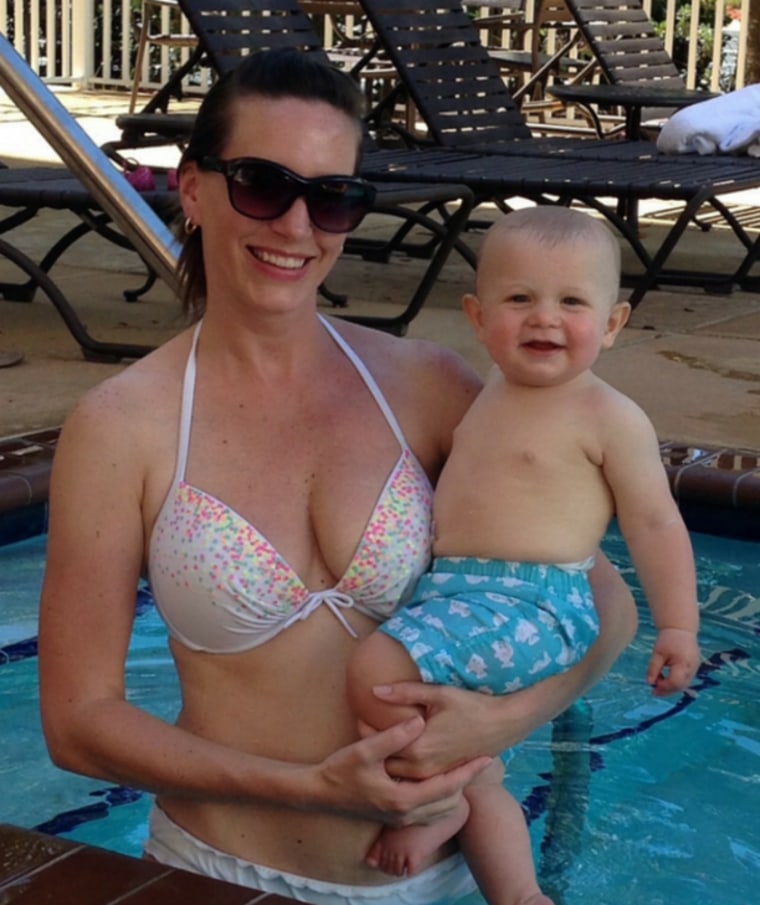 "Instead of worrying about how my stomach looks in my bikini, I'm having fun with my family at the pool or at the beach when I can. My kids aren't going to remember what I looked like in my bikini. They're going to remember what I did in my bikini — and that's spend time with them."
Never miss a parenting story with TODAY's newsletters! Sign up here
6. Play now, clean later. (Shalene Roberts)
"Keep in mind that the building of memories is far better than the building of an immaculate house."
7. Hack a movie projector for summer nighttime fun. (Amanda Mushro / Questionable Choices in Parenting)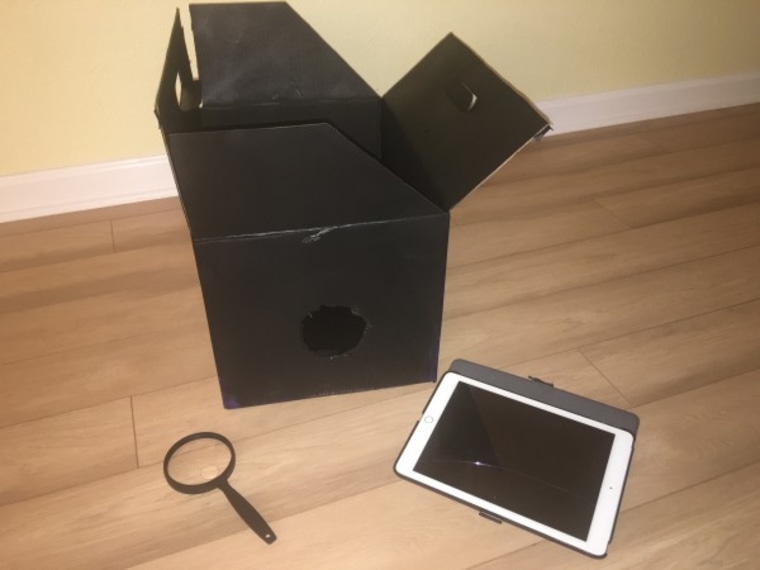 "If you've seen those fancy outdoor movie projectors and wondered how you can have one without paying a small fortune, this hack is for you.
"Here's what you need:
"A box
"Magnifying glass
"Black spray paint
"Black duct tape
"Cell phone or tablet
"Start by cutting a hole that is the exact size of the magnifying glass. Spray paint the inside of the box with the black paint. Use the duct tape to attach the magnifying glass inside the box. Tape the edges so that no light can get in around the magnifying glass. Put your phone or iPad into the box (be sure to lock the rotation because you need to turn it upside down so the reflection on the screen is right side up) and adjust to focus by propping the phone or tablet up higher in the box, turning up the brightness, or moving it closer to the magnifying glass. Turn the box to a wall or hang a sheet outside to create a screen. Start streaming your movie and use speakers to enhance the sound."
8. Get outside and enjoy some gardening. (Marcie in Mommyland)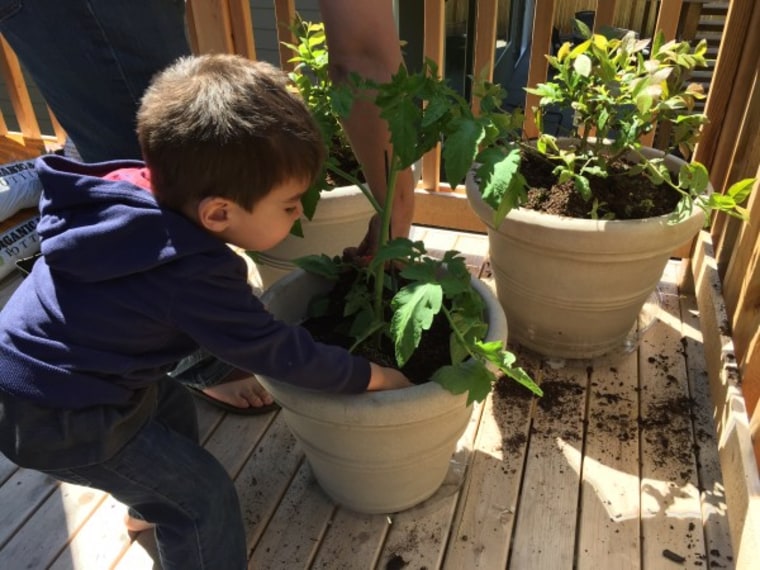 "Our toddler was thrilled to help us pick out which plants we should put in our cart. He was also excited to ride home in the car with the blueberry bush right next to him. As soon as we got home, our son wanted to help us plant. He was my husband's right hand as they dumped the potting soil into the pots, mixed in the plant food and shook the dirt from the plants. Our son's favorite part was patting the soils around the plants. He grinned when he and my husband would dust off their hands afterward. He also really enjoyed helping us water the plants and now he insists on doing it all by himself."
9. Use the Olympics for some fun summertime inspiration. (Jen Schiffman)
"An obstacle course is a great way to teach persistence. Use balls, pillows, and other household items for your child to jump over, run around, and crawl under. If your child gets frustrated completing one of the obstacles, remind your child that through practice and hard work she can overcome the obstacle. Point out that athletes often get frustrated, but that they persevere and try their best. You can also remind your child about the power of 'yet'! This simple word conveys the idea that it takes practice, commitment, and self-control to learn new things. It's not that your child can't do something, it's just that she just can't do it 'yet.'"
10. On outings with kids, leave electronic devices at home and only carry a camera. (Sommer Stiles)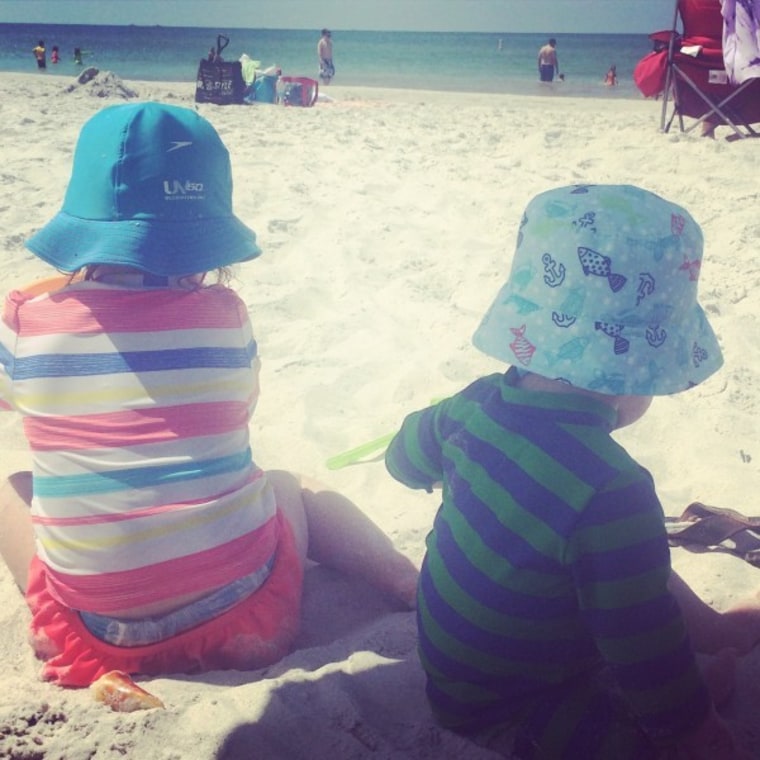 "I know, I know, you're an adult, you have responsibilities and someone 'important' may call. They can wait. The ones who matter most are with you, they deserve your full attention and you deserve to live in the moment. Opt to bring your camera instead. (You know, that thing you used to take photos before mobile phones became so 'smart.') With your eyes focused on the sights around you (not on a screen), you'll truly unplug and be there to capture every second with your heart, and your camera."
11. Coordinate a play date with a cool theme. (Jillian Darlington / MomCo)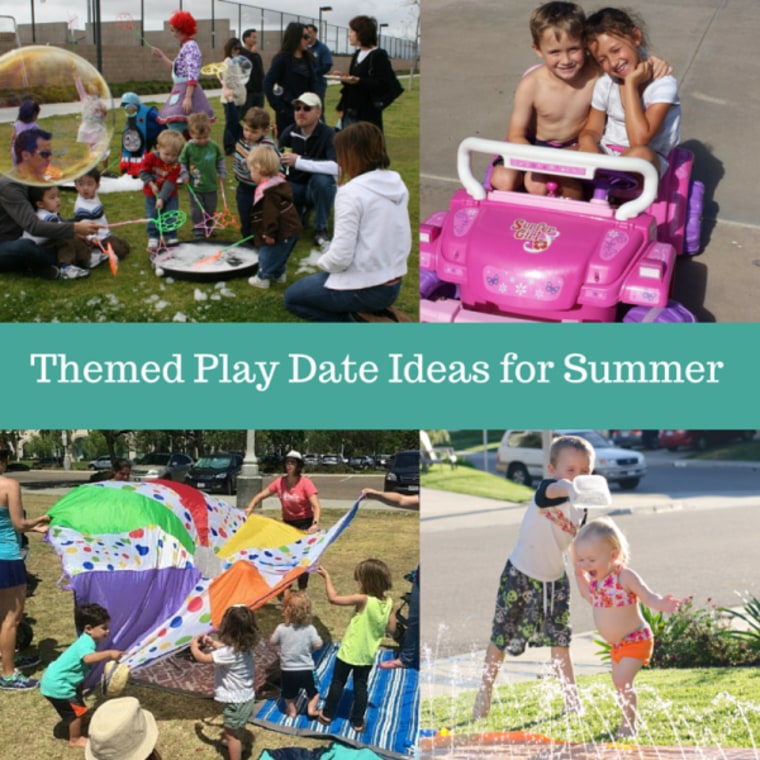 "Some fun ideas for themed play dates that you can do:
"Picnic-themed. Have a potluck picnic with your friends. Meet at a park, the beach, go strawberry picking, or ride a train and have a picnic afterward. ...
"Water-themed. Meet at a splash pad, the pool, the beach, run through the sprinklers, set up a water table or kiddie pool in your back yard, or meet at an aquarium. ...
"Car-themed. To incorporate the car theme, have everyone bring their favorite ride-on toys to the park or someone's house. ...
"Bubble-themed. What toddler doesn't like bubbles? Get the bubble machine out and have the kids run around. Moms can sit and catch up while the kids are kept busy."
12. Let your kids try a lemonade stand — and marvel at how it goes. (Leigh Ann Torres)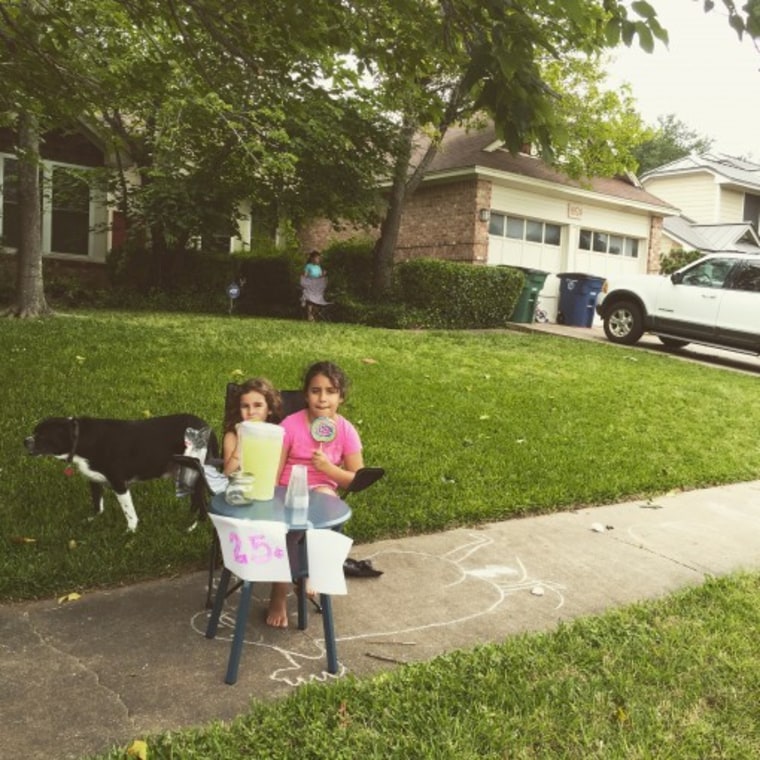 "Kids deserve more credit than we give them. ... Despite my reservations, Claire had so much of this business figured out already, and she wasn't going to let me keep her down. She had the idea. She made the lemonade. She made the signs. She provided prompt and cheerful service to her customers. She did lemonade outreach, something I never would have done as a kid. She wasn't shy about soliciting the neighbors, cars driving by. Even the burly tattooed boxers who train in my neighbor's garage dug around their cars for change to come buy some crappy lemonade from an excited little girl."
13. If summer break has been burning you out, don't beat yourself up. (Chrissy Roussel)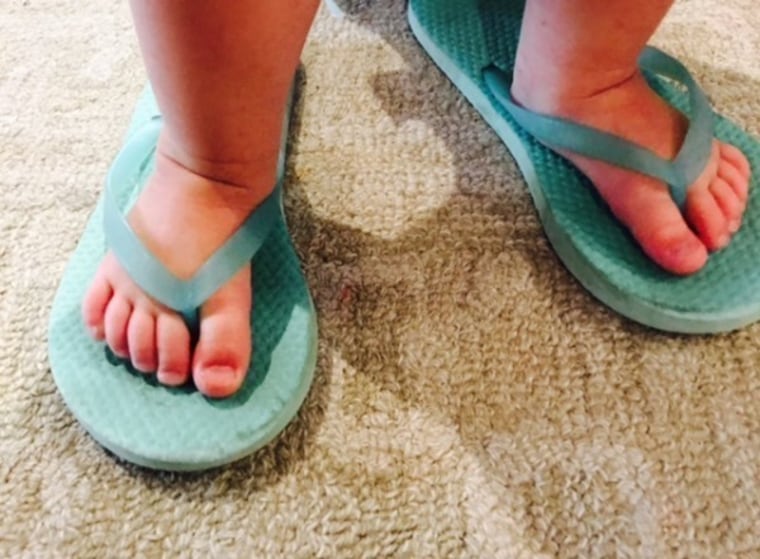 "Let's forgive ourselves daily when we lose our patience, our keys, and everything else too. Summer is hard. Fun, but hard. Like life. It's OK to lose your patience when they leave their wet bathing suits all over the house for the millionth time. It's OK to be frustrated when you have to answer the 7,535th question of the day. It's OK to ... get mad when no one has picked up their toys and shoes that are strewn all over the yard. Forgive yourself and move on, tomorrow is another day. One where you will likely be asked 8,345 questions, so get ready."
14. Let them have some screen time. (Judy Yaron)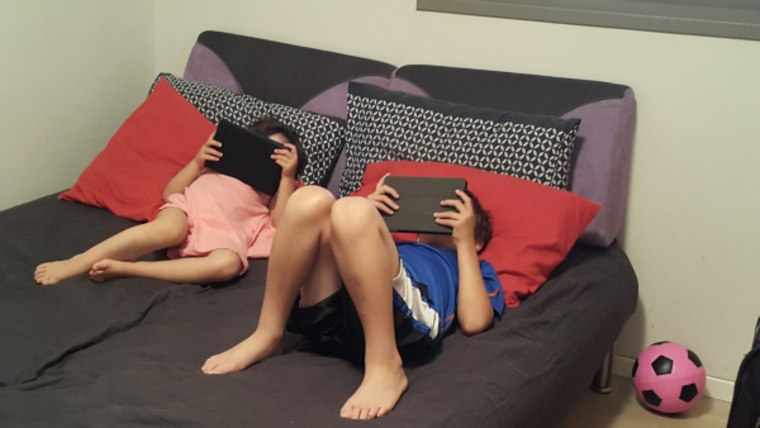 "There is nothing wrong with computer games, puzzles, video clips, and social media as long as it is in moderation and is counterbalanced by other activities. Who knows? You too may want to join them and have a go, or you can always use the time to do your own thing."
15. Make a special effort to re-prioritize in the final days of summer. (Whitney Fleming)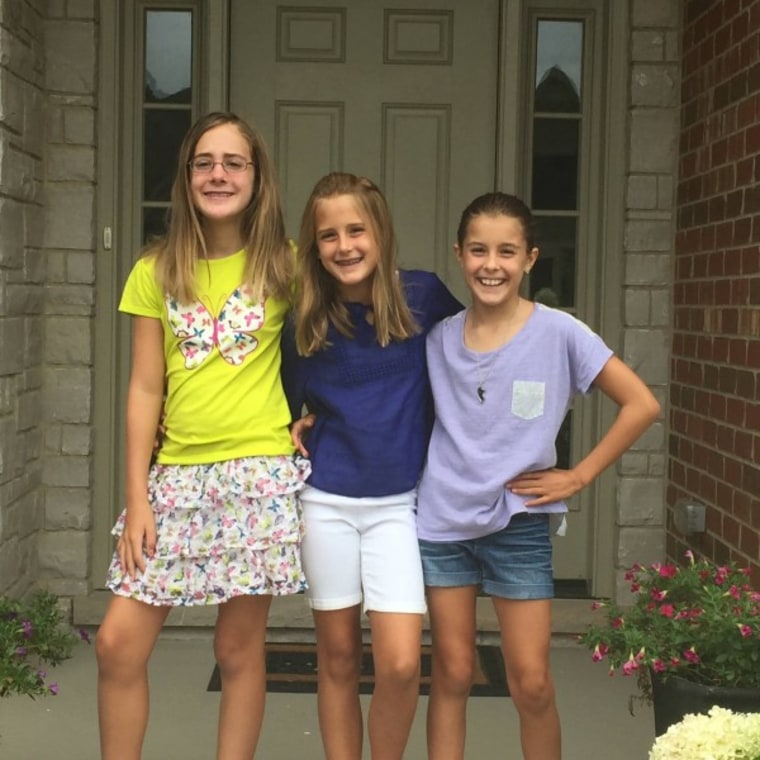 "I will let you have a lemonade stand, go on bike rides to get ice cream, climb trees, and go to the pool as often as possible, even when I want to do other important stuff, like vacuum. ... I will let you do fun, messy stuff even though it drives me crazy. I will let you play in the mud, bake cookies, try elaborate crafts, run in the sprinklers, and do science experiments. You are growing up so fast and I know there's not much more time left."
Follow TODAY writer and editor Laura T. Coffey on Twitter @ltcoff and on Google+, and learn about her bestselling book "My Old Dog: Rescued Pets with Remarkable Second Acts" at MyOldDogBook.com.