For children who use wheelchairs, Halloween is an extra-magical time of year when their creativity can take center stage.
"It's just like a nice little escape from our day-to-day routine of therapy and stuff that he can't really participate in because of his disability," Deanna Alfano, whose son Anthony has cerebral palsy, told TODAY Parents. "It's almost like bringing Halloween to him rather than him having to miss out on the trick-or-treating."
TODAY Parents has rounded up some of the most fun and creative wheelchair costumes — and Halloween-ready families were quick to describe how the costumes have brought joy into their lives.
Beetlejuice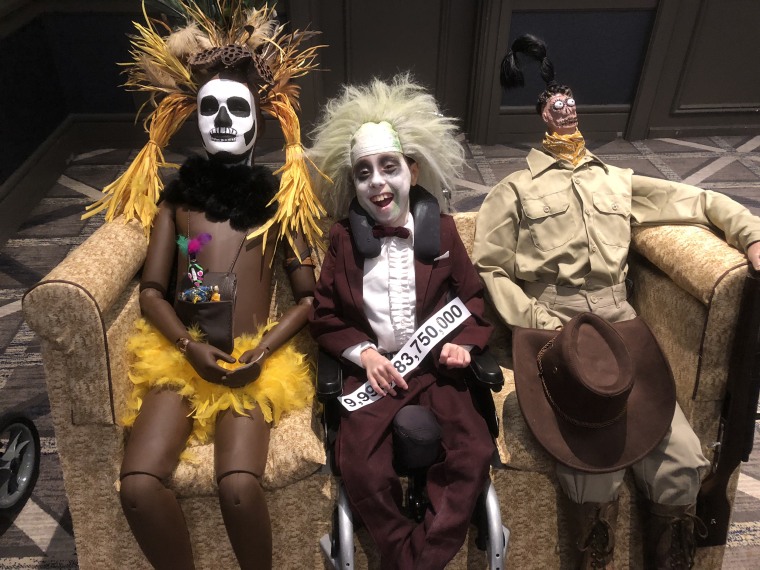 For 9-year-old Anthony Alfano's costume, his father, Tony Alfano, decided to re-create a scene from "Beetlejuice." This is a tradition for the Alfano family, of Melrose Park, Illinois — Tony has made special costumes every year since Anthony was born.
Wheel of Fortune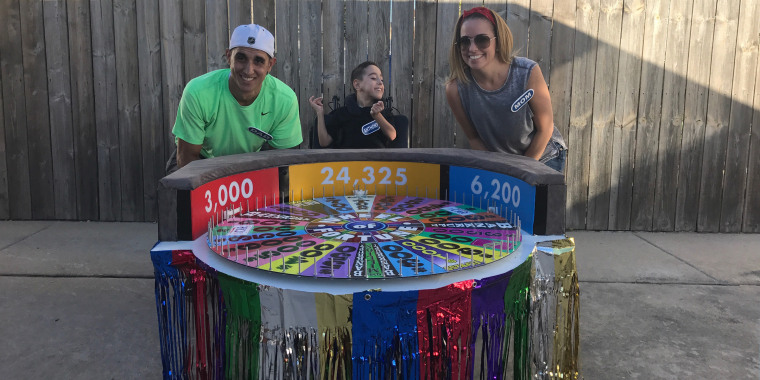 In 2017, Tony Alfano created a costume based on the "Wheel of Fortune." It was so popular that the show's producers even invited the family out to watch a taping.
"It's taking a situation that we've been dealt and turning it into something fun that we can do with him on a holiday that somebody that's in a wheelchair can't really participate in," said Deanna Alfano.
The Flash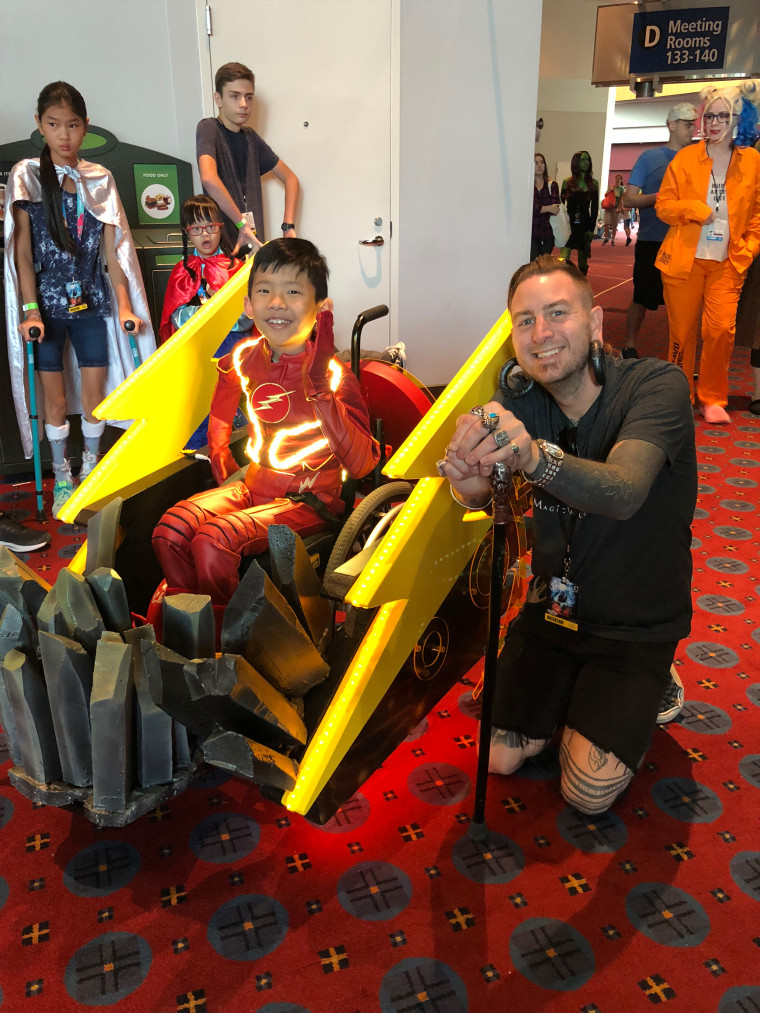 Nine-year-old Sam David lives in Portland, Oregon, and this year he really wanted to be The Flash for Halloween. David's mother, Rebecca Phelps, learned about Magic Wheelchair, a nonprofit organization that makes costumes for kids in wheelchairs, on a message board for parents of children with Spina bifida.
"Sam David basically missed Halloween last year because he had one of his big surgeries and had just gotten home from the hospital," Phelps told TODAY. "He dreamed up his favorite super hero and that was The Flash,and Magic Wheelchair helped make that possible for him."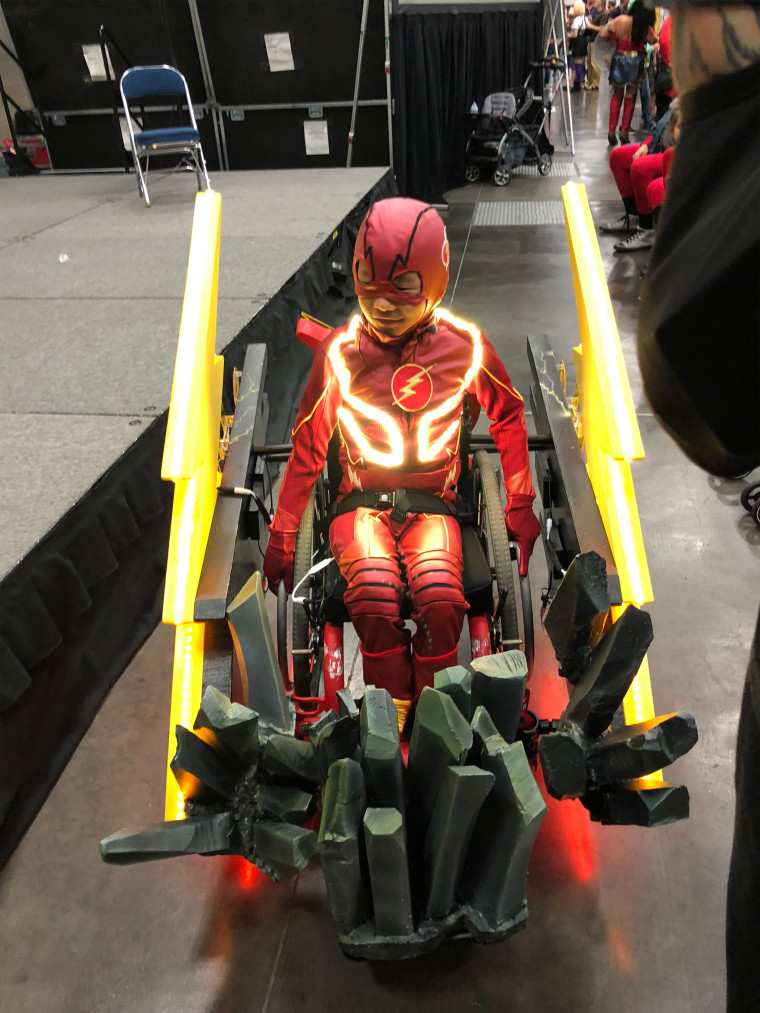 Magic Wheelchair matches children around the country with a team of volunteer builders who work with the children to bring their dreams to life.
"Kids don't come up and ask why he's in a wheelchair, they just come up and say, 'Wow that's so cool,'" said Phelps.
Sam's costume even lights up to complete the look.
"He's just so super proud of it," said Phelps.
Mal from 'The Descendants'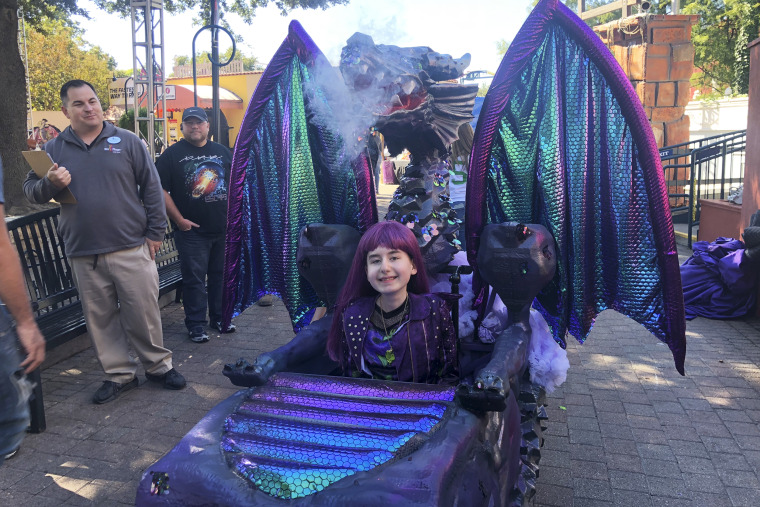 Harley Smith is an 11-year-old with muscular dystrophy, and this year for Halloween she's going to be Mal in a breathtaking costume from Magic Wheelchair.
"For a child who goes through doctors appointments and is always considered different and can't dress the way she wants to, this was an unforgettable experience," Stephanie Leathers, Harley's mother, told TODAY Parents. "It's amazing."
The family lives in Azle, Texas, a small town near Fort Worth, and Harley will debut her Halloween costume, which even features a dragon that blows smoke, at her school's Halloween dance.
"To watch her smile is a moment where you can see she's not worried about what's next," said Leathers. "And that is the ultimate happy mom feeling."
Rancor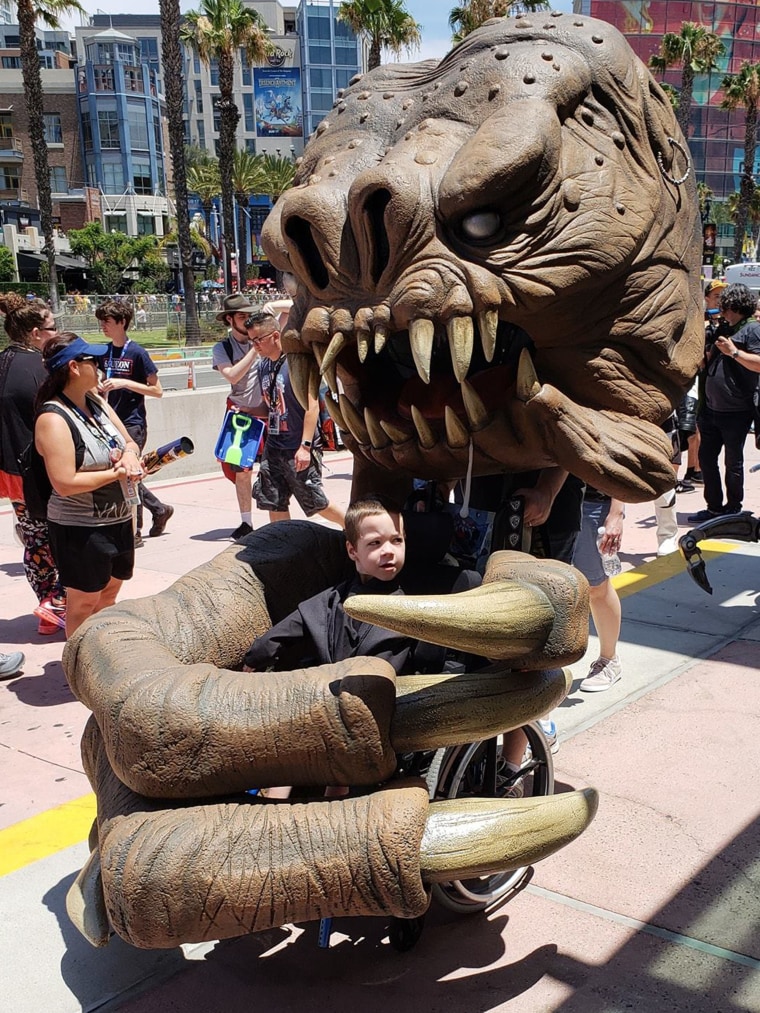 Liam Cullen has Arthrogryposis, a congenital condition that limits the mobility in his joints. In the 6-year-old's case, it affects his elbows, ankles and knees, but it sure didn't stop him from donning the Halloween costume of his dreams along with some help from Magic Wheelchair.
"Liam is an encyclopedia for 'Star Wars,'" his mother, Lisa Cullen, told TODAY Parents. "He had a couple of ideas in mind, and my husband suggested the rancor."
Immediately the family, who lives in Long Island, New York, loved the idea.
"We're still on cloud nine over it," said Cullen. "Magic Wheelchair may not be curing cancer or diseases, but in a way they are healing — it just gives us a different kind of hope."
Anakin Skywalker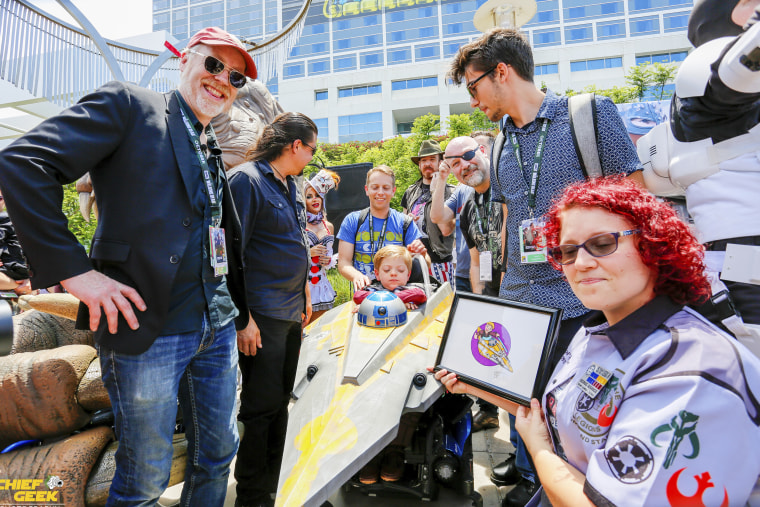 Here are some of our favorite costumes from past years as well... enjoy!
Hot Rod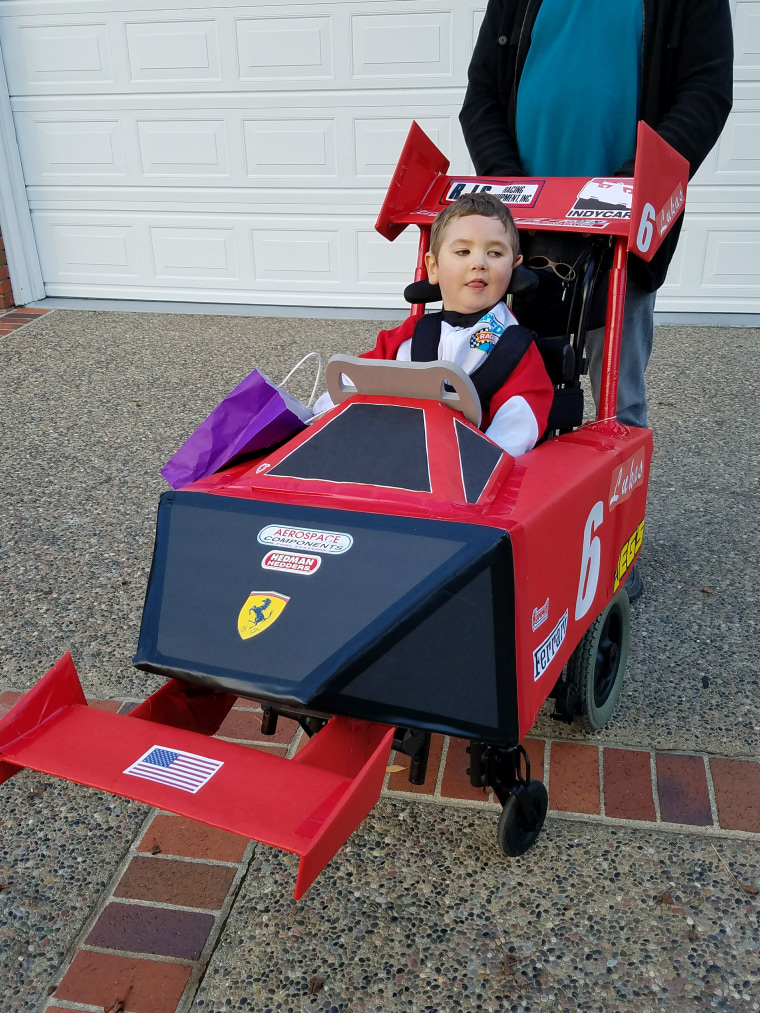 Seven-year-old Lukas Tallent from Burlingame, California, wanted to be a race car driver (and really, who doesn't?), so his mom Aubri enlisted the help of family friend Megan Jepsen to make his costume dream come true. "We really appreciate it, because it allows Lukas to be fully involved in Halloween and to get a lot of positive attention as opposed to the stares he usually gets," said Tallent.
A truly super Mario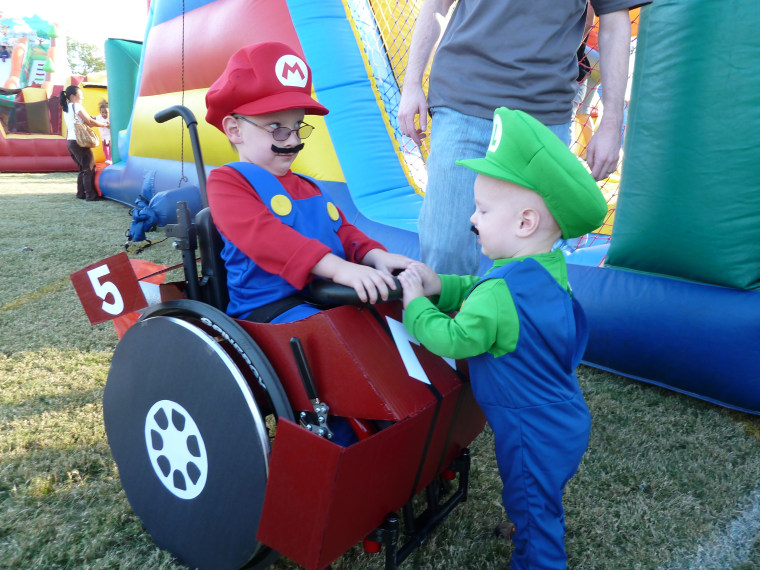 Cassie McLelland has been making costumes for her son, Caleb, that incorporate his wheelchair since he was a toddler (he's now 12).
McLelland tries to use the attention paid to Caleb's costumes to spread awareness about his condition, spina bifida. "October is spina bifida awareness month, so his costumes have proven to be a great way to shine a light on spina bifida in a fun and creative way," she said. "All of this actually led me to open an Etsy shop in 2015 where I make and sell wheelchair-costume kits. I have had so much fun designing and making wheelchair-costume kits for kids all over the country."
3. Rock lobster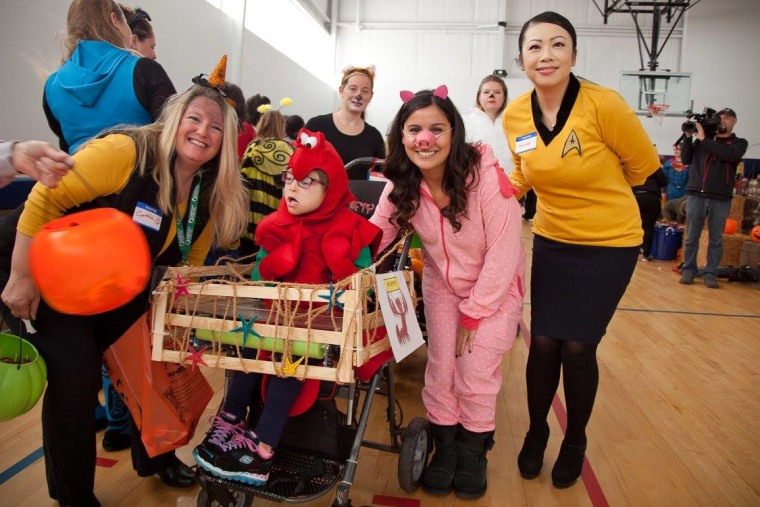 Jenna Stoddard, 8, has been rocking some adorable costumes on Halloweens past thanks to the creativity of her mom, Kim. Jenna has Ring 18, a chromosome variation. "Currently, she's non-ambulatory, so I like to design her costume around her wheelchair so she can participate in the festivities just like her friends," said Kim. "She loves school and being around friends and gets very excited to be there."
Kim said the best thing about Jenna's wheelchair costumes is that her friends are able to help her through the parades. "There's always somebody who wants to push her along!"
Hey, Mister DJ
Demetrius Murphy, 13 years old, spins records for his friends at The Grace School at Meeting Street in Providence, R.I.
Holy Batmobile, Batman!
Ryan Hebert, 8 years old, made an adorable Batman, also at The Grace School at Meeting Street.
Eye of the tiger
Another fun costume from Demetrius Murphy. This time, he throws his hat into the ring with this creative boxer costume.
A little Wonder Woman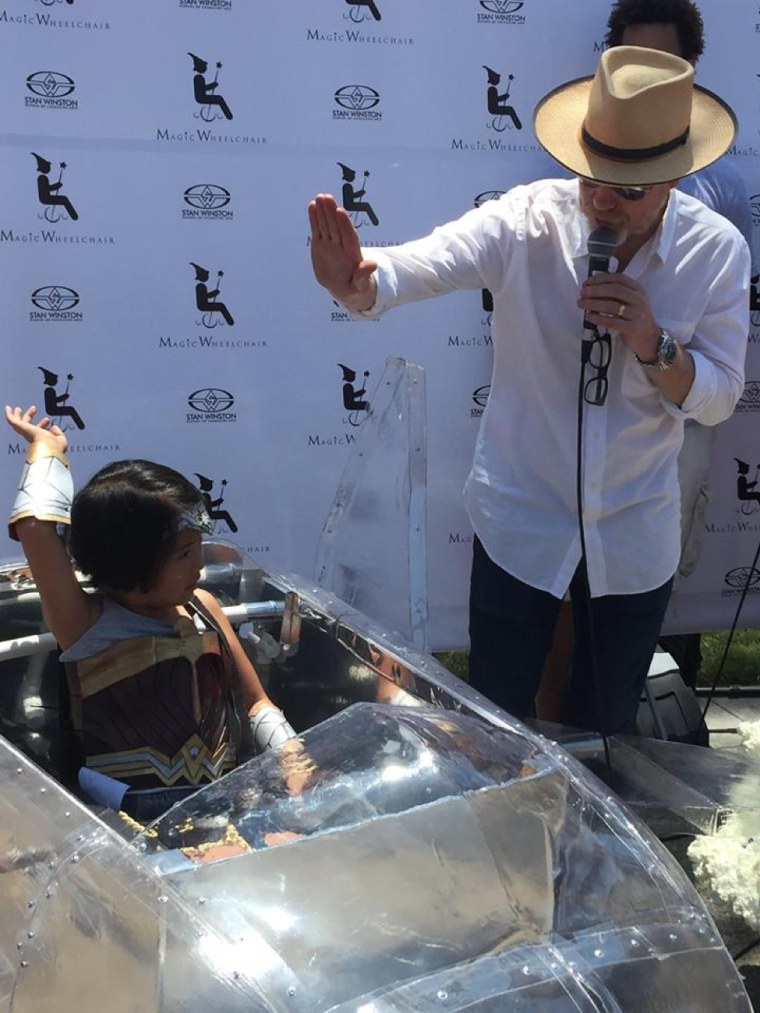 Wonder Woman in her invisible jet courtesy of Magic Wheelchair.
Super girl power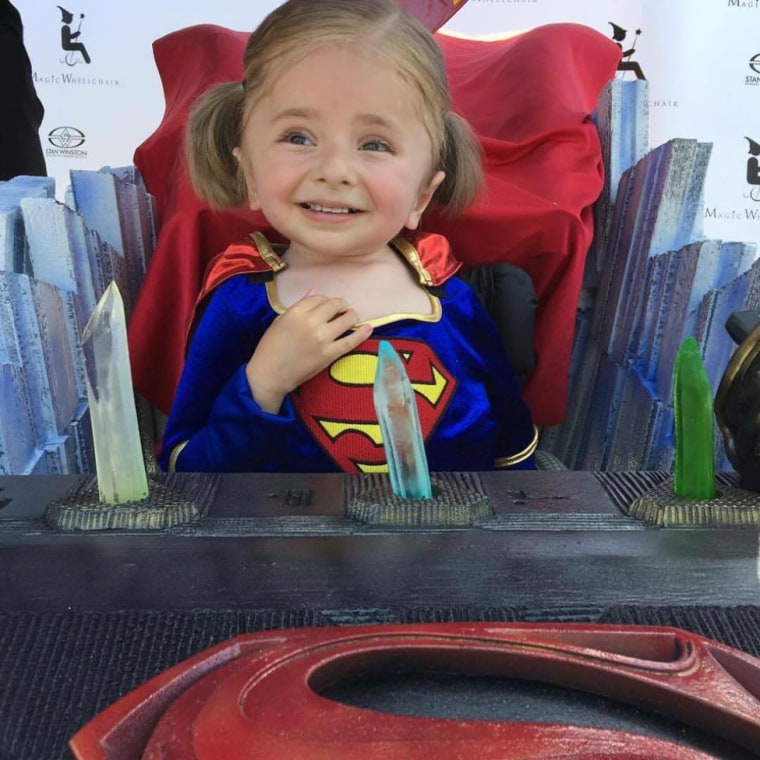 Another awesome costume creation from Magic Wheelchair.
Raging Rapids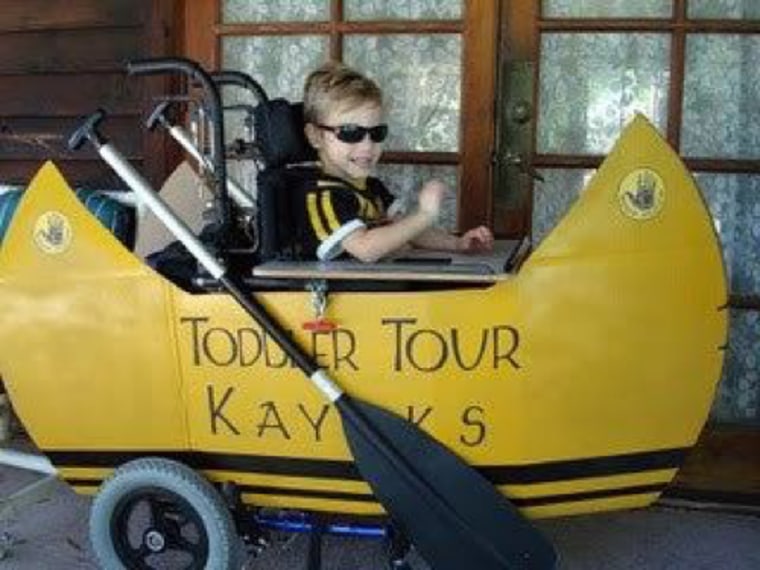 This awesome kayak costume will have its little wearer feeling like he can take on even the roughest whitewater rapids!
Ahoy, Matey!
Neighbors will think Jack Sparrow has come trick-or-treating when this pirate ship rolls up to their doors.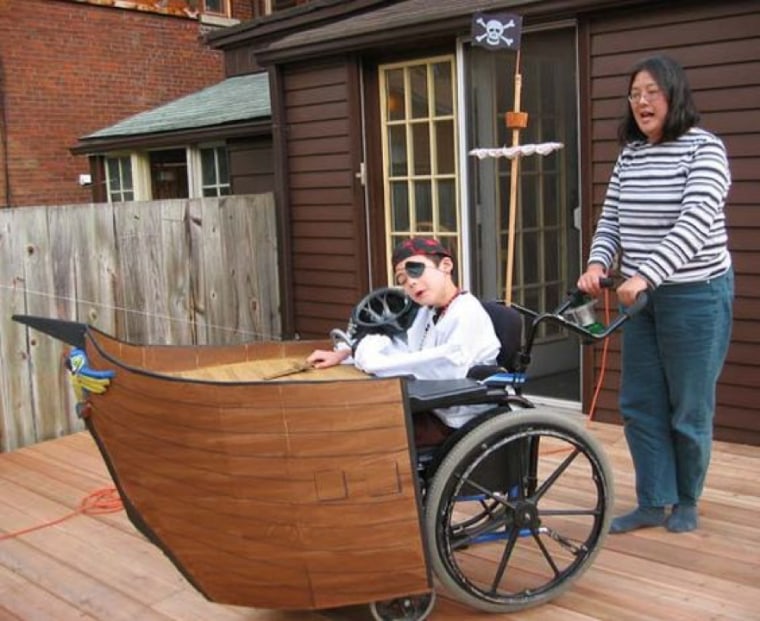 This story was first published on Oct. 27, 2017, and updated on Oct. 26, 2018. Ronnie Koenig contributed to this story.
Related Halloween video: