/ Source: TODAY Contributor
Parents are funny — especially on Facebook! And we love them for it.
Because in the world of Facebook where pages overflow with news of valedictorians and Ivy-League bound progeny, Martha Stewart-esque Kindergarten graduation parties, and pictures of happy children enjoying their screen-free summer, it's easy to believe you're the only one who doesn't have their stuff together.
So we'd like to take a moment to send a shout out, LOL or maybe just a LQWTBN (Laughing Quietly While The Baby Naps) to the hilarious moms and dads who aren't afraid to tell it like it really is. Here are our picks for this week's Funniest Parents on Facebook!
Want to share your funniest parenting moments with TODAY? Just post them on our Facebook page at TODAY Parents, or tag us OR Sarah Maizes (our Parenting-Humorist-at-Large) in your comments. We'll pick our favorites to feature in our next installment!
1. Look at me, Mom (Baby Sideburns)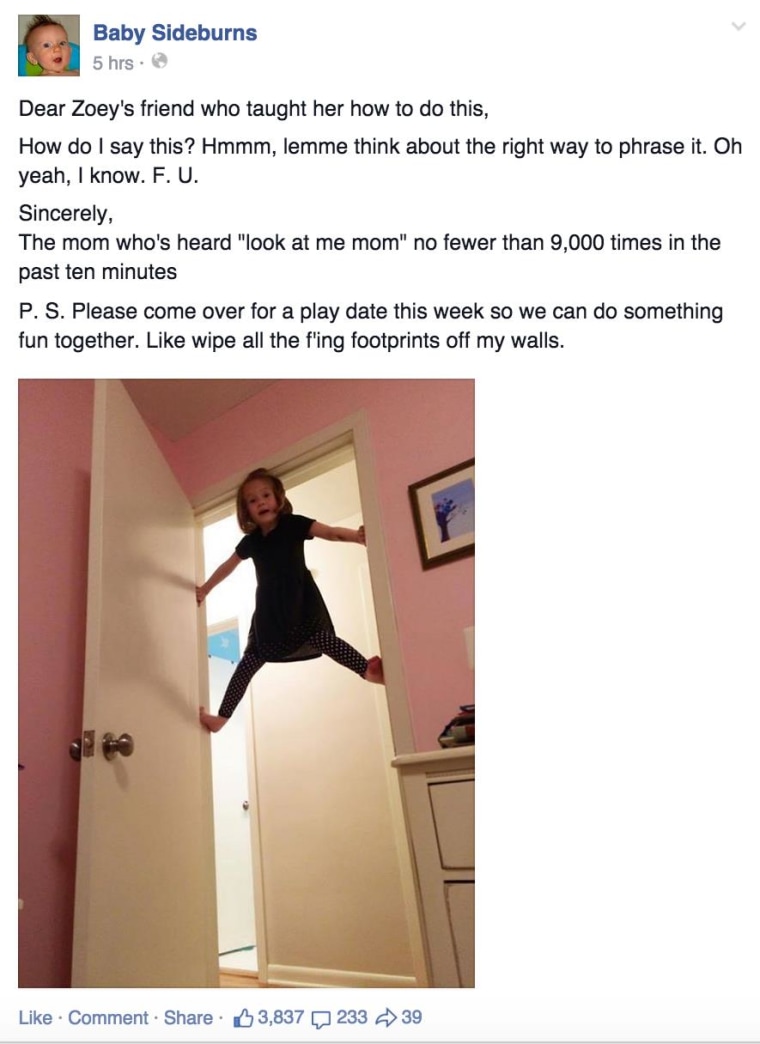 2. Race issues (How to be a Dad)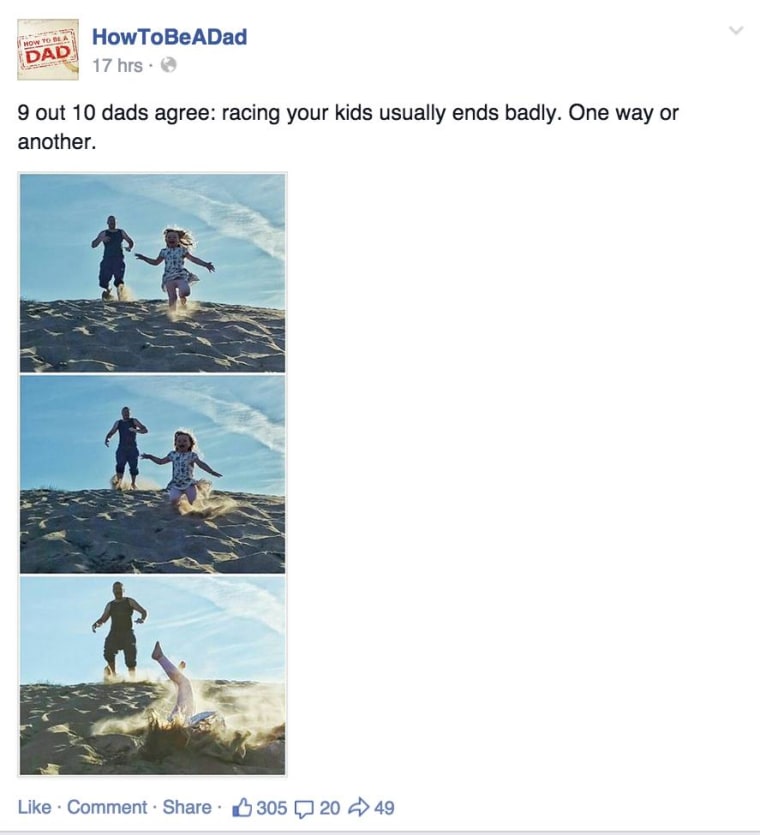 3. Broken record (Agoura Hills Mom)

4. Are you sure? (No Idea What I'm Doing: A Daddy Blog)

5. Lost tooth fees (The Pursuit of Normal)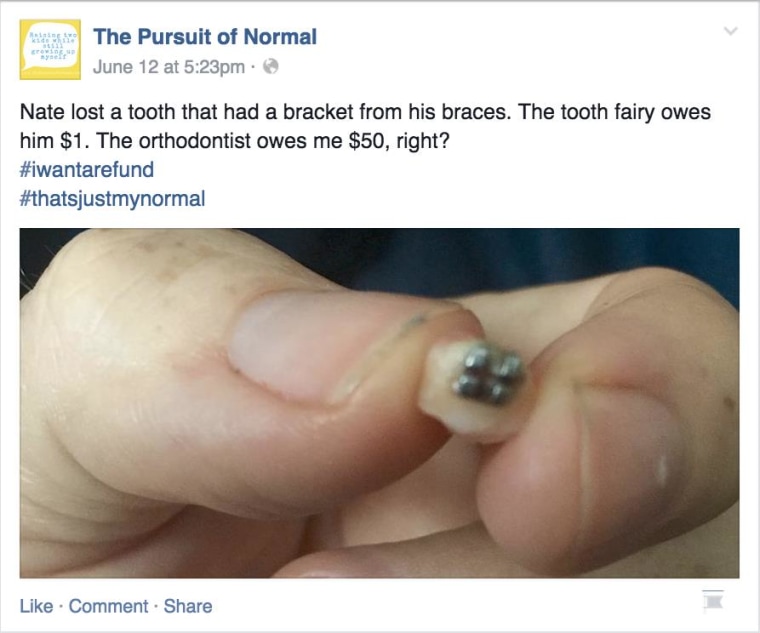 6. Licking lies (Sparkly Shoes and Sweatdrops)

7. Big decisions (The 21st Century SAHM)

8. Above and beyond (Peyton Price)

9. Call me frustrated (Ruckus Girl - Charlie)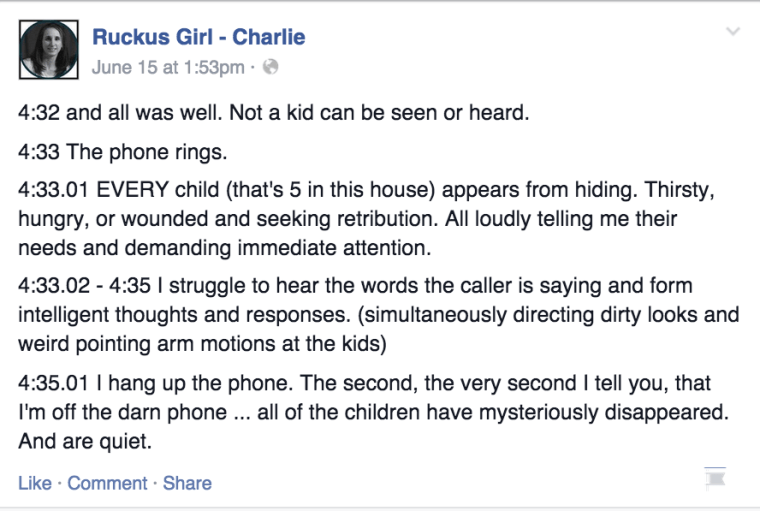 10. Good night to all (Mom Babble)

11. Game on! (Can I Get Another Bottle of Whine With My Morning Quiet Time)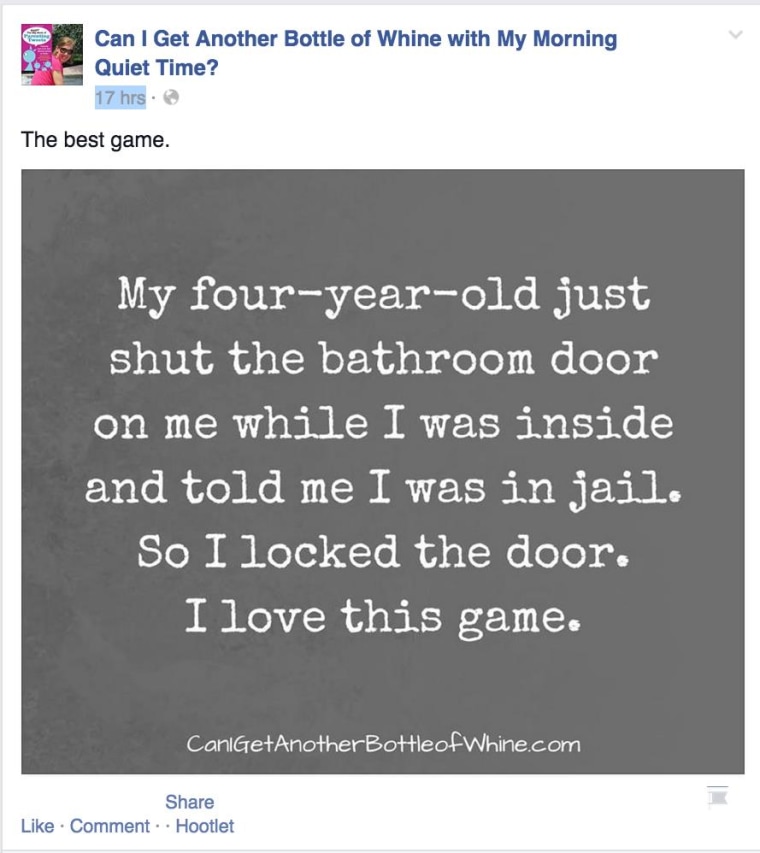 Sarah Maizes is a parenting & lifestyle humorist who keeps it real (funny) on Facebook and her blog. She's the author of several humor and picture books for kids, including "On My Way to Bed." Check outall of her books here!