Stand in line at any coffee shop, and you'll hear evidence of picky eating across all ages — from ordering "extra hot" to adding three sugars to half-decaf ... or any number of combinations. Like their parents, little ones have picky tendencies, too! That's why picky eating has become the most common food-related concern among parents.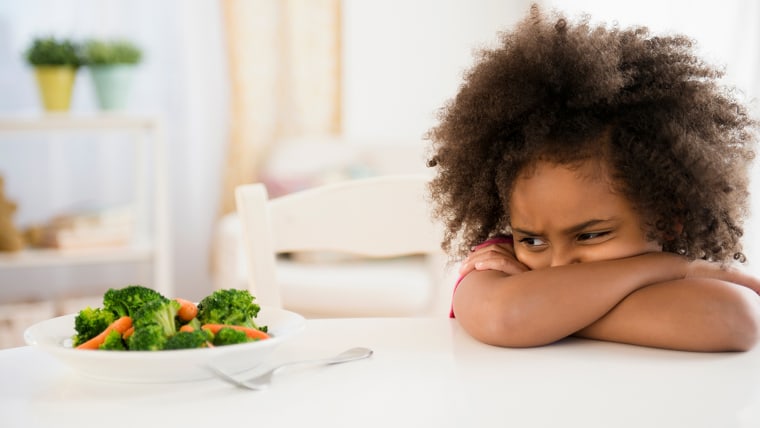 In my work as a pediatrician, and my role as a mom, I've homed in over the years on some of the best ways to beat picky eating. If you're a P.O.P (Parent of the Picky), these ten strategies will help you prevent and cure your L.P.P. (Little Picky Person).
RELATED: What kind of milk should you give your kids?
A couple things you should know before we get to the tips and tricks: Just because your child has some picky preferences, doesn't always mean there's a problem that needs to be fixed. We all have preferences, including our children, but you know it's getting out of hand when ...
The pickiness causes extra work that's a burden on the parent.
You have anxiety about taking your child somewhere in which unfamiliar food will be served.
Your child becomes ultra-demanding and refuses to eat what the rest of the family is having.
If you find yourself in this camp, don't worry; you're not alone. I always tell parents that to prevent and treat a picky eater, your most powerful tool is to serve your child what the rest of the family is eating. It's that simple.
And now, without further ado, my top 10 strategies for solving picky eating.
RELATED: 8 things we learned from a sleep expert about putting kids to bed
1. For kids who aren't big fans of fruits and veggies: Serve your family those things, eat them yourself, and consider your job done. Your job is not to force your child to eat it, just to prepare and serve it.
2. Don't micromanage how your child eats. You (the parent) put the food on the table. The child is in charge of how much she will eat and if she wants to eat at all.
3. Avoid the 2 Bs: bribing and begging! I once heard someone advise offering a child $20 to try a new food — what a terrible (and expensive) idea! Don't bribe your child to eat. Don't beg them, either!
4. Keep trying. It can take at least a dozen times (even just on the plate) for an older toddler or child to accept a new food.
5. Don't worry about the actual amount of vegetables being consumed. Instead, throw your energy into making delicious meals and snacks that include yummy veggies.
6. For kids who will only eat fast food or fried or battered chicken, learn to cook the chicken or other foods at home, and set a frequency limit on how often you will allow yourself to buy those items. It can also be helpful to have a "washout" period where you completely stop going to the desired restaurant for a few weeks.
7. Very small kids shouldn't be controlling what you buy and make! Just change what you buy at the grocery store. When my kids were very young and would ask about a certain brand, I'd tell them the store had been out of it.
8. For cereal, dump it all out of the colorful boxes and into clear hard plastic, tall cereal containers. This is especially helpful for kids who love the characters on sugar-sweetened cereal boxes.
9. Understand that most food marketed to kids hooks them in every way. They love the taste, the packaging, the sameness (the fact that it always looks and tastes the same), the reliability and the excitement of bright foods made with artificial colors. Instead, buy foods with short ingredient lists and without artificial colors.
10. Don't cater to your picky eater. Though you can't always change your child's preferences, what you can change is your response to him or her. Make and serve one meal. I promise: eventually, you will have a kid who enjoys eating all sorts of food!
Tanya Altmann, MD, FAAP is working mother and UCLA-trained pediatrician who practices in Southern California, as well as a best-selling author, network television parenting expert, and entertainment industry consultant. Beth Saltz, RD, MPH is a registered dietitian. For more information on preventing and fixing the different types of picky eaters, check out "What to Feed Your Baby: A Pediatrician's Guide to the 11 Essential Foods to Guarantee Veggie-Loving, No-Fuss, Healthy-Eating Kids."