/ Source: TODAY Contributor
A trip to see the local mall Santa is one of the most daunting adventures of the holiday season for parents, especially those with toddlers. But parents of twins are made of tough stuff, and 10 Chicago-area moms recently braved the crowds to achieve an epic Santa picture — with all 20 of their children under the age of two.
Stacy Kifer, mom to 16-month-old twins Kaleb and Kobe, had the idea for a group picture after meeting up with the other moms for a playgroup at the Woodfield Mall in Schaumburg, Illinois, in early November. She saw mall employees setting up for Santa's arrival and suggested attempting a group photo to her friends.
"The idea took off from there!" Kifer told TODAY Parents.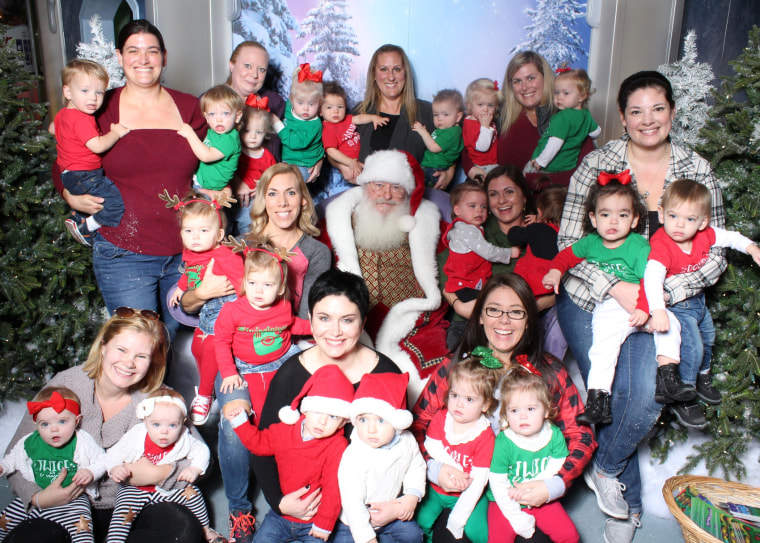 Neither the mall nor Santa were aware that 10 sets of twins and their moms would be heading for his lap that morning, but the group arrived early to try to grab a spot at the head of the line "in order to keep the chaos as minimal as possible," Kifer said.
While they waited, the toddlers waited in a holding area shaped like a snow globe. "That was the really wild part — 20 toddlers running around with fake snow!" said Kifer. When it was their turn to visit Santa, the moms quickly realized they would have to jump in the photo to have any chance of keeping all their little people still for the shot, she said.
Never miss a parenting story with the TODAY Parents newsletter! Sign up here.
The moment went better than the moms could have possibly hoped. "The look on the face of Santa when more twins just kept coming out of the waiting area was pretty priceless!" said Kifer. "Santa's 'elves' and the photographer were amazing at getting all the kids to look at them. We only had one meltdown, which we thought was really good given the number of kids."
The moms in the twins playgroup met through many different channels, most of them online or through the hospital where they delivered their babies. "At some point, we realized that parenting newborn twins is a little bit isolating," said Kifer. "Our online groups became an outlet to discuss the highs and lows of parenting multiples, and we decided that we should get together and meet each other in real life."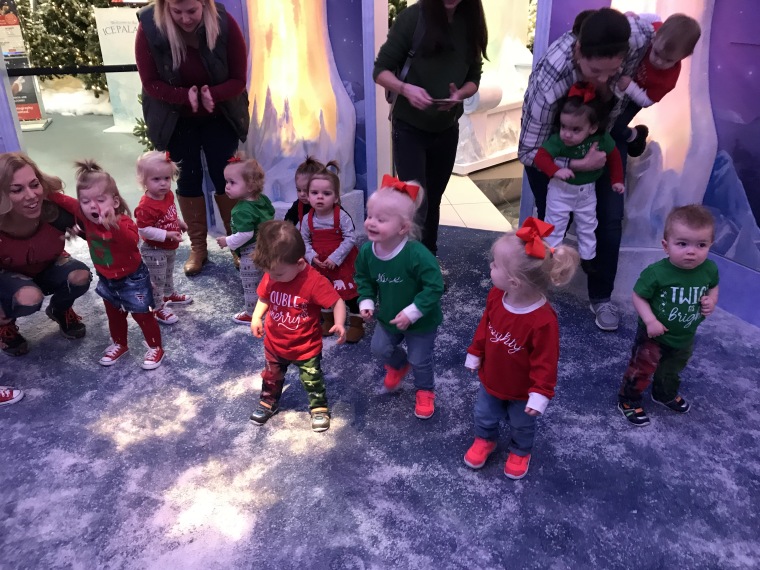 The group started out small, with just five moms and their twins meeting for lunch. But now, the playgroup spans a large part of the suburban Chicago area. They plan meet-ups with their children, but sometimes, the moms are able to snag some child-free time. "Last month, we went to a wine and painting event," said Kifer. "Our husbands have all been very supportive of us and our outings."
Kifer said having twins is "a daily adventure," but she never expected they would lead to the friendships she has now. "Having multiples sometimes feels like an exclusive club," she said. "Twin moms of grown children seek you out to help or encourage you. They just get it."
She said the shared experience of raising twins makes for a strong bond among her fellow playgroup moms. "They all have similarly aged children, so they are living a very similar experience," she said. "We can talk through both our challenges as well as things we've found that work well. We can share tips like 'Don't buy any gifts for your toddler that include a hammer or sticks.'"
Kifer said she thinks the epic Santa photo is special because of how close the group is. "Many of us talk to each other on a daily basis," she said. "We are not just a random twin club that got together to try to get a huge photo. These are my friends!"