/ Source: TODAY contributor
A baby lemur who fell into the moat at his enclosure in a Little Rock, Ark., zoo Wednesday was quickly pulled out and revived with CPR administered by zoo staff. Tragically, zoo officials reported that 5-week-old Houdini later died, possibly of pneumonia.
Before news of the death came out, TODAY reported Friday on the heart-tugging rescue story. Houdini was frolicking with his parents Todd and Pepper at the zoo Wednesday when playtime went terribly wrong.
Zoo patron Jeff Powell, accompanied by his wife and two daughters, snapped pictures of the ring-tailed lemur family as little Houdini hopped back and forth on his parents' backs — but Powell's amusement turned to horror when the baby lemur lost his footing and slipped into a moat's cold water, well below his parents.
Todd and Pepper looked on helplessly as Houdini sank below the water's surface. Ring-tailed lemurs can't swim — and don't even like getting wet.
A parent's pain
Powell shot dramatic footage of the mishap. "As a parent, you can feel the pain the little lemurs are going through," he told NBC. "It was very emotional to be there and really watch it on video."
Powell also called for help, and within minutes, zoo caretaker Karen Caster arrived, frantically searching the murky water until she pulled Houdini out. Zoo curator Joseph Darcangelo gave the struggling lemur the kiss of life through CPR.
"I could see little bubbles coming out of his nose," Darcangelo told NBC. "I could see his eyes still open. I could see him gagging for breath. I didn't lose hope."
In what appeared at the time to be a happy ending to the story, Houdini began breathing on his own. Caretaker Caster's voice cracked and tears rolled down her face as she thought about the little lemur's close brush with death.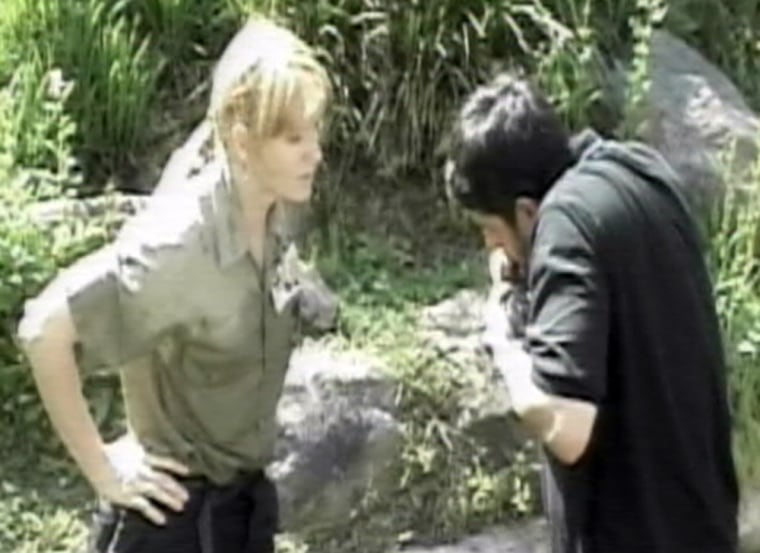 "These guys, we spend as much time with them as family, even more than our family," she explained. "You get very attached to them. It's just like your kids."
Doing his job
On-the-spot videographer Powell, who pitched in with the rescue effort by giving his daughter's blanket to zookeepers to keep Houdini warm after his ordeal, said his children were upset by the event, and he had to keep constantly reassuring them that Houdini would be OK. His youngest daughter left the zoo with a stuffed lemur and said a prayer for Houdini's recovery that night.
Curator Darcangelo was modest about going lip to lip with a lemur. "I'm just a man doing his job with a good staff," he said.
Caster warned KARK-Little Rock at the time that Houdini wasn't out of the woods yet. The little lemur, who weighed barely a pound and a half, was quickly segregated from his parents so that staff could monitor him for any signs of pneumonia or infection. It was hoped that he would be reunited with his folks within a couple of weeks.
Tragically, after the segment was broadcast, zoo officials informed TODAY that little Houdini had died, possibly of pneumonia.