An upcoming Hollywood movie that centers on a headstrong CIA operative central to tracking down Osama Bin Laden has raised interest in the character's real-life counterpart, as well as her fiery reaction to having shared credit for the mission's success.
The undercover analyst, played by Jessica Chastain, is portrayed as a gifted agent and a key figure in Golden Globe-nominated "Zero Dark Thirty."
While "Maya," as she is known as in the movie, successfully hunted down Bin Laden, she was less effective in getting the promotion she and many fellow CIA colleagues felt she deserved for scoring the biggest counter-terrorism victory in agency history.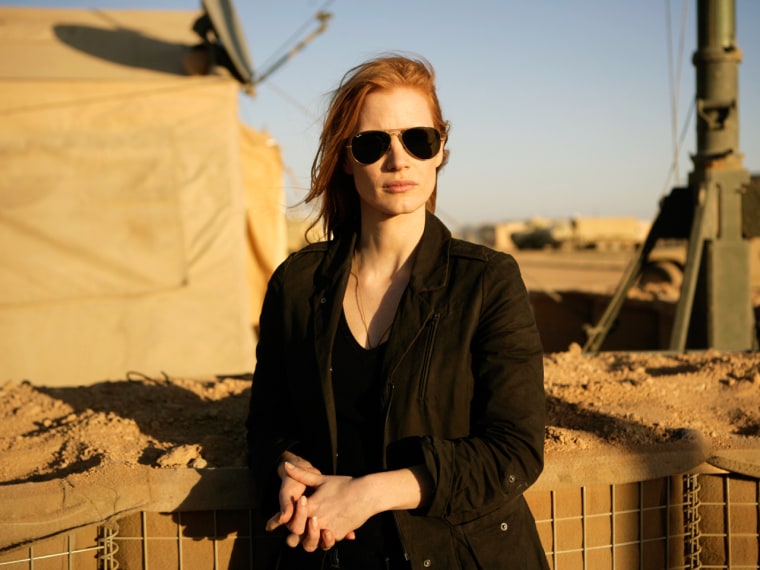 "It's an old-boy network," former CIA officer Bob Baer told TODAY. "You don't know why people are promoted, why people are held back, and often people think the worst."
The agent's glamorous Hollywood portrayal hasn't helped her case, sparking resentment over her new-found attention, while also prompting scrutiny for her cooperation with filmmakers.
"The CIA workforce has a lot of back-fighting. They're hard to manage, they're hard on their bosses," David Ignatius, a Washington Post foreign affairs columnist, told TODAY. "These are people that were picked in a sense for their contrariness."
That trait appeared obvious when the real-life "Maya" fought with CIA colleagues over credit for the Bin Laden mission. The Washington Post reports that after being given the Distinguished Intelligence Medal, the highest honor except for those who came under direct fire, the CIA agent lashed out in a "reply all" email to dozens of other recipients.
The Post attributed a former agency official as characterizing the email's message as, "You guys tried to obstruct me. You fought me. Only I deserve the award."
The Post said the woman did receive a cash bonus for her work but that failed to stop increasing internal friction within the agency.
Over the last year, the agent also was denied a promotion that would have raised her civil service rank from GS-13 to GS-14, "bringing an additional $16,000 in annual pay," the Post said.
Valerie Plame, a former CIA officer whose covert identity was blown by a newspaper columnist, is someone who can relate with the real-life "Maya."
"It clearly was her obsession and her perseverance and her desire," she told TODAY. "She sounds like a pretty gutsy woman and I'd love to have a drink with her one day."
More: Snowstorm survivor made video to say goodbye to her boys 
Madonna Badger: My daughters talk to me in my dreams
Was it racist? Caroline Wozniacki imitates Serena Williams, stirs controversy