It's the week before Thanksgiving and you can hear the question being asked all across the land: "What wine should we drink?" Retailers are thankful for being bombarded with inquiries; wineries are tailoring their pitches to those looking for Thanksgiving guidance; even a big hotel chain, Loews, is trying to get in on the action by offering a Web-based "Wine Line" variation on the Butterball "Turkey Talk-Line." Users can get answers from the company's wine experts by e-mail or on Loews' Facebook page. In reality, the Thanksgiving wine question is less complicated than you might think.
Over the years, a number of wines have come to be associated with Thanksgiving, such as zinfandel (because it's quintessentially American) and Beaujolais nouveau (because the newly fermented wine is said by promoters to capture the spirit of the harvest). To my palate, zinfandel is often overpowering and Beaujolais nouveau is often little more than grape juice. In fact, after considering the issue for years, I don't think there is any one "correct" Thanksgiving wine. Any number of wines, with the exception of the lightest whites and the brawniest, most tannic reds, will work well.
Red or white? It depends on your preference; maybe a white to start off, moving on to a red for the main course. The wines can be made from a wide variety of grapes and can come from just about any wine-producing region. What's most important is that they complement all the foods at the Thanksgiving table. With that in mind, they shouldn't be too high in alcohol and they should have ample acidity, which will make them easy and refreshing to drink with a big, drawn-out meal and less likely to dominate the foods. Oh, and one more thing: Since people like to drink quite a bit of wine on Thanksgiving, the wines should be moderately priced.
With that in mind, I decided to look for a range of whites and reds that I would want to drink myself with our Thanksgiving dinner, and I had no trouble finding them — from the familiar (a $10 California merlot) to the exotic (a lovely Alsatian gewürztraminer). So here are some of my favorites from among dozens I've tasted in recent weeks with Thanksgiving in mind.
Among whites, a top choice is Hugel's 2007 Gewürztraminer "Hugel" from the venerable Alsatian winery. This $24 wine is gorgeous and complex with gewürz's signature floral and herbal notes, along with pear, apricot and honey and some spice on the finish. In my blog, Vint-ed, I said this one "won't easily be bullied by food." Nor will it overpower your meal, adding instead a lovely dimension and distinction. Imported by Frederick Wildman and Sons, New York.
From Washington state, Mercer Estates' 2008 Columbia Valley Pinot Gris offers generous fruit and bright acids that make this a refreshing and elegant Thanksgiving accompaniment. It has notes of apricot, white peach, orange rind, some green bell pepper and minerals on the long finish. It's also a bargain at $14.
For those who like chardonnay, La Crema's just-released 2008 Sonoma Coast Chardonnay from California is well balanced and reserved. It's medium-bodied with notes of yellow apple, subtle butterscotch and a hint of clove. I can easily imagine it with pumpkin soup, sweet potatoes and acorn squash. The suggested price is $20.
A step up in complexity is Oriel's 2006 "Dylan" Chardonnay from Sonoma's Russian River Valley. This one, with a little bottle age, shows great balance between fruit, oak and acids with apple and citrus notes and a nice minerality on the finish. It's an excellent value at $25.
Among reds: From France, Domaine Le Roc's 2006 Fronton "Le Classique" is a standout. I loved its peppery aromas, its muted mix of black and red-berry fruit, its lingering herbal notes and its firm structure and bright acidity. From the Fronton appellation in France's southwest, near Toulouse, it's made from 60 percent négrette, the area's main red variety, 35 percent syrah and 5 percent cabernet sauvignon. It's a true food wine and another real value at $14. Imported by Fleet Street Wine Merchants and available at Moore Brothers Wine Company in New York, among other stores.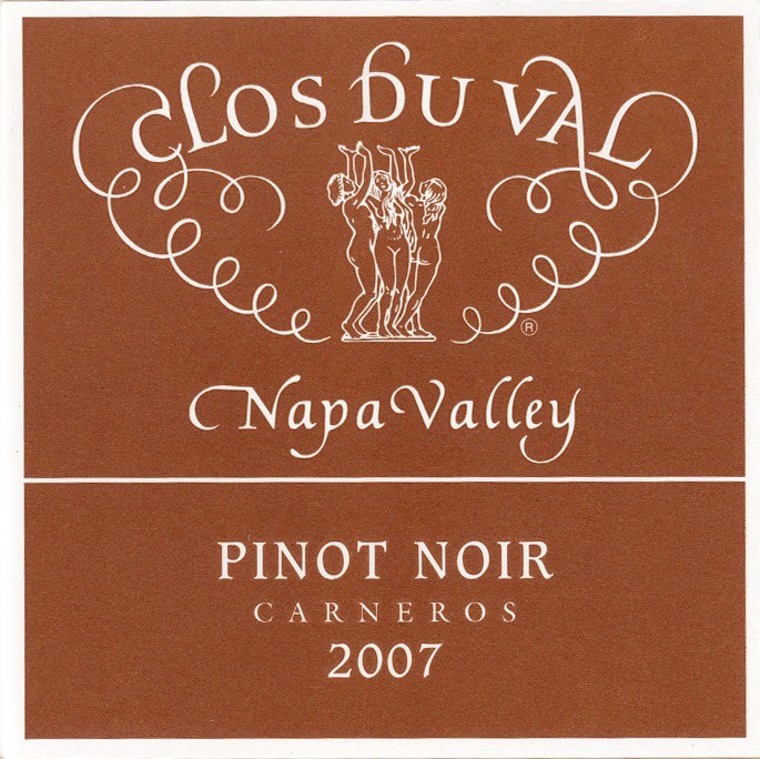 Firestone's 2007 California "Discoveries" Merlot is a discovery in itself — a rare, $10 California wine that is actually, well, interesting. It's Bordeaux-like with blackberry and green olive notes, along with decent tannic structure and acidity. A case study in how to make budget California red and a good case wine (if you need a dozen bottles) to grab for Thanksgiving.
From Spain, El Coto's 2004 "Coto de Imaz" Rioja Reserva has ripe raspberry and strawberry notes, along with vanilla and spice. This is classic Rioja from the excellent '04 vintage with seamless oak integration, bright acidity and an attractive suggested price of $20. Imported by Frederick Wildman and Sons, New York.
Clos du Val's 2007 Pinot Noir from Napa Valley's Carneros district is a well-balanced, Burgundian-style pinot, understated for California, and shows the signature elegance of Clos du Val's wines. It has cherry, black cherry and spice notes and is moderately tannic. $30.
As you can see from the suggestions above, Thanksgiving wines can be as diverse as the foods on the holiday dinner table. Beyond my list, you might also consider any number of sparkling wines and even sparkling apple ciders, such as those from Farnum Hill in New Hampshire. Have a great holiday and I'll see you at Vint-ed.
Edward Deitch is the recipient of the 2007 James Beard Foundation Journalism Award for Best Multimedia Writing. He welcomes comments from readers. Write to him at