At the pinnacle of his profession, when virtually everyone watching the Stanley Cup finals recognizes his voice, Mike "Doc" Emrick is devoting time to the people who personally helped him get to the top.
Every day, NBC's Emmy-award winning play-by-play NHL hockey announcer spends a few minutes writing out a note to a friend, a former broadcast colleague, a neighbor or classmate who made a difference in his life. In a world where email notes rule supreme, Emrick puts ink to paper, doing his part to keep the U.S. Postal Service in business.
"Part of it is meant to be a surprise. People don't expect to get snail mail and a personal note," he told TODAY.com of his handwritten thank-you notes. He hopes he can help those who helped him "understand that they had an effect on at least one life and by extension, probably a lot more than that."
Emrick began his project in April, at the start of the Stanley Cup playoff season, but was inspired many years earlier by a childhood figure — Fred Rogers.
The man behind "Mr. Rogers' Neighborhood" was getting a lifetime achievement Emmy in 1997 when he told his audience of soap-opera stars and talk-show hosts to take 10 seconds and think about "the people who have helped you become who you are." He then timed everyone before telling them: "Whomever you've been thinking about, how pleased they must be to know the difference you feel they've made."
Emrick said the speech had a lasting impact on him and his wife. But he didn't act upon it until earlier this year, when long-time friend and acclaimed sports television director Sandy Grossman passed away. Grossman's death followed just months after the passing of another friend, pioneering sports agent Art Kaminsky.
"I started to think, I should have mentioned to these people how important they were in my life, and I didn't do it for those two," said Emrick, 67. "I did it in person a couple of times, but to actually put something down in writing, in your own handwriting, struck me as a way to tell people, 'Yeah, you were significant and you made a difference.'"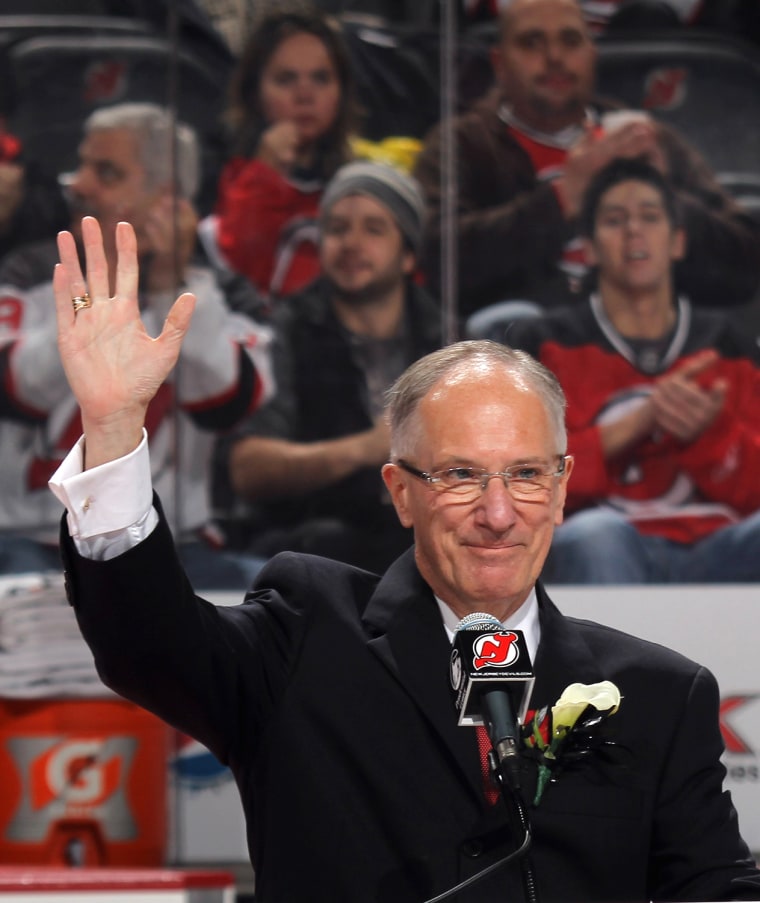 Emrick penned his first letter to his brother, Dan, who had helped arrange for former students of their retired schoolteacher parents to send in letters of appreciation in honor of their upcoming milestone birthdays. His parents received more than 70 cards and were moved when they realized "I did make a difference" in their student's lives.
"So this is an oversight of mine during the past years to at least tell the people along the way, going back to grade school in a little rural town in Indiana, that something that you said really resonated with me in my whole life and you should know that," Emrick said.
In addition to his brother, Emrick has written to Carolyn Bush, with whom he worked while making $1.35 an hour at a Marion, Indiana radio station. Bush rose from someone who typed up daily logs to becoming the station's general manager.
"She was the most cheerful person and made coming to work every day a lot of fun because she laughed a lot," Emrick said. "I shared some of the memories we had together and told her how much that period of time meant to me."
While Emrick's thank-you campaign includes notes to broadcast producers and legends, he's also sent notecards to his personal heroes, like Ed and Ann Kantor, his former next-door neighbors from Cherry Hill, New Jersey.
"We were strangers in a big city," he recalled. "We were small-town people, (my wife) Joyce and I, and they sure made us feel good and comfortable."
Emrick strives to write one note card a day, at the start of each day, but has fallen behind because of the ongoing Stanley Cup Finals, along with the recent death of his father-in-law. But he's confident he'll catch up. He has a stack of envelopes already addressed and even expects to "get a little ahead."
Each letter he writes usually begins the same way: "For no particular reason…"
That's because he doesn't want people to think he's writing because he's sick — or perhaps of a health problem he didn't know that his letter's recipient was experiencing.
Emrick said the positive response he's received keeps him inspired to continue even when his schedule fills up. "We're talking about five minutes and maybe 20-25 short sentences," he said, who believes a handwritten note is appreciated much more than one dashed off quickly by email.
"It takes time, but it does help you weigh your words a little better. It takes a while to write out a sentence, so you can think a little slower about how you're going to word it," he said.
"You put your signature at the bottom of it, and you study it a little bit before you put it in the envelope because you're not mass mailing these things," he said. "This is just one person, one time."
He expects his project will take several years at the rate he's going.
"It becomes fun because you do realize how many people have crossed your path."
Follow TODAY.com writer Eun Kyung Kim on Google+ or on Twitter.