"A Great American Cook, Recipes from the Home Kitchen of One of Our Most Influential Chefs," by Jonathan Waxman, xxxxxxx Here's an excerpt:
Introduction
For brevity's sake, I'm not going to recount my first moment with smoked salmon, and I'm not going to tell you that as a teenager I preferred reading Julia Child to playing baseball. I will say that food didn't always take first place in my heart. Music did. Originally I wanted to be a jazz trombonist, and as soon as I parted ways with home and education, I played every night from 11 p.m. to 6 a.m., then slept until noon and made myself a leisurely lunch.
With the onset of the disco era and a persistent notion that perhaps I didn't have enough musical talent, I began to think differently about my future. I was extremely reluctant to embrace anything resembling a suit-and-tie job, so my prospects were limited to bartending or selling cars. Somewhere along the line, though, as I was fooling around in the kitchen restoring myself for the night to come, I realized that I was enjoying cooking more than my music gigs.
I went to a cooking class at Macy's taught by Richard Grausman, the traveling chef of Cordon Bleu. I happened upon a new place in Berkeley called Chez Panisse and began spending more money than I earned eating there. I read every cookbook in the University of California's agricultural library. One fateful afternoon, I came across the Juilliard Guide to France, which described with relish the emerging cuisine. A friend suggested that I continue my culinary experiments at the school La Varenne in Paris. It was geared toward English-speaking students and took any rank amateur who could provide two requisites: money and time. My parents generously provided the necessary cash injection and on my twenty-sixth birthday, in 1976, I took off for Paris and the start of my cooking career.
The mid-1970s were a deliciously intoxicating time to be in France. At school I could hardly wait for each new recipe. At night I sampled as much food and wine as my limited budget would allow. The students were mostly American, and La Varenne's purpose was to teach us how to capture the French culinary magic and perpetuate it in America.
By the spring of 1977, I was having the time of my life. I was sharing an apartment with a couple of well-known fashion photographers and three models. I had a little money and four willing student accomplices, so we decided to conquer the three-star joints of France. In a broken-down Opel with a two-by-four holding up the front seat, we began touring the country. On a wintry Sunday night, we pulled up to our first three-star restaurant, the remarkable Frères Troisgros, intrepid but very nervous. We were treated like royalty. The meal surpassed anything I'd ever experienced by lightyears.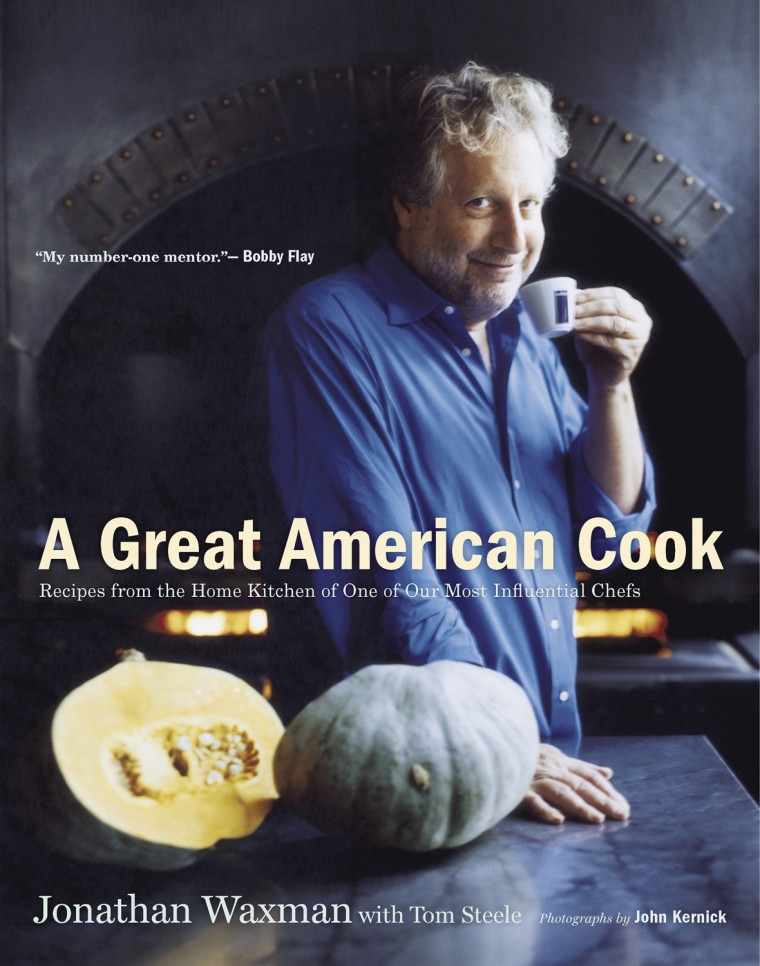 The next day dawned, and one member of our group, having fêted a bit excessively, left us and returned to Paris. We survivors decided that the weather was too blustery to carry on that day, so we went into the bar of Frères Troisgros to have a drink. Jean Troisgros, the taller, more patrician brother, looked us over and asked, "Would you care for a snack?" After polishing off a panoply of fish, a gigantic côte de boeuf, and a sensuous chocolate dessert along with two carafes of Fleurie, we were converted into disciples of nouvelle cuisine aux Troisgros.What I remember most about this extraordinary experience was the passion of the cooks in the kitchen. They seemed to be in a kind of rapture: calm, dedicated, and totally fearless. It reminded me of the great musicians I'd seen.
From that moment on, I was determined to acquire as much skill and experience as it would take to translate what the Troisgros brothers had accomplished into an American idiom. Food at home had grown timid, conservative, and, on the whole, boring. These Frenchmen had used their classical training to break the rules, and, above all, they had learned to improvise. How fantastic!
My desire to develop my own culinary voice was also stimulated by the growing number of chefs elsewhere in France, who, like the Troisgros brothers, were intent on pushing aside the stodgy old rules. The term "seasonal" was becoming as important as any kitchen tool. "Regional" and "fresh" too had new gustatory status. The cuisines of Japan, Spain, Italy, China, Thailand, and, yes, even America became sources for inspiration.
As my stay in Paris came to an end, I found I was not anxious to get home. Instead, I got an apprenticeship in the Vosges region near the Swiss border at a little Relais Châteaux inn. I cooked everything there, from mayonnaise to génoise, from terrine de canard to pheasant à la royale, working 8 a.m. to 1 a.m. seven days a week. The chef was tolerant, the owner overworked, the guests blissfully removed from my life. I slept in a farmhouse more suitable for raising pigs than sheltering cooks. I lost twenty pounds, gained considerable knowledge and experience, and obtained a coveted carte du travail, allowing one to work there legally.
My jazz career had prepared me for chefdom in one small way: I quickly learned that practice and repetition are the most important aspects of a culinary life. Jazz had also bred in me some talent for improvisation, and I began to reread and question the classic dishes.
Fate intervened when my father summoned me home to care for my ailing mother. I quickly found work at Domaine Chandon's fledgling winery in Napa, and then, after a fairly disastrous stint in Monterey, where I discovered that I knew only about 15 percent of the necessary skills, I landed back at Chez Panisse with Alice Waters, this time in the kitchen. Alice believes that none of us should ever take any of what we cook for granted. Emotions, passion, integrity, and thoughtfulness are all essential to good food. If we can instruct and nourish through our cooking skills and do it with a sense of fun and caring, perhaps we can bring about a modicum of spiritual contentment.
Armed with these heady ideas, I was off to Los Angeles and Michael's restaurant, which by that time had acquired a burgeoning international reputation. We were determined to marry the philosophy of the French with an American sensibility. In those wild, experimental days, no recipe was written in stone. Our culinary synthesis of ingredient-focused cooking, charcoal grilling, and lighter sauces became the basis for what many referred to as "California cuisine." A demand for freshness, be it seafood, poultry, or lettuces, was our first order of the day. Our suppliers, unfortunately, were clueless, but the growers themselves rose to the occasion. Soon we had real vegetables, wonderfully diverse garden greens, great quail, and spring lamb coming to the back door of our kitchen every day. Michael's enthusiasm and confidence in my abilities transformed me. I had been a stumbling, timid cook, and I became a confident and secure chef. My judgment still sometimes suffered from overenthusiasm, but in the main, my technique had finally caught up with my imagination.
The next step was logical: my own joint. With the launch of Jams in New York City in 1984, California came east. New Yorkers at that time had no use for charcoal grills. They used them occasionally for summer barbecues in the Hamptons, but no restaurant of note had a charcoal grill on the premises. Most places relied on a gas "grill" that basically burned food rather than imparting that wonderful smoky crispness. But when Jams opened, my promised stoves had still not arrived. I purchased two Weber grills, and they also served as my ovens and sauté stations. After another week passed, I used a makeshift grill made by a Chinese craftsman, and that had to do until I had enough money to buy a Montague, a beautiful grill from Hayward, California, modeled after one from Maxim's in Paris, circa 1930. That grill enabled me to cook a split chicken in 20 minutes. The food, colorful, tasty, and vibrant, with the aroma of mesquite charcoal and intensely flavored sauces, worked a certain magic on New Yorkers. The influence of East Coast ingredients, like soft-shell crabs, white corn, and Maine lobster, propelled my cooking to a new dimension.
But the true turning point in my becoming a well-rounded cook was marriage. From the outset, my wife knew there was some taming to be accomplished. I took time off and cooked for her at home. The dishes I made bore little resemblance to those I served in my restaurant. I was content to visit the market and pick up some clams, oregano, sweet butter, and whole wheat pasta for dinner. With no time restraints or the need to be fancy, my cooking slowly became more homey and rustic. My muse had shifted, and my inner homebody took over. A bunch of asparagus bought from a farmer with the dirt still clinging was a special event.
The recipes in this book range from the simple to the elaborate. They encourage you to flex your culinary muscles with a flourish. The best advice I can give is to practice, practice, practice. Don't let yourself feel intimidated by a lack of experience. Take the plunge, and your skills will hone themselves.
How do you cook a meal that will thrill the most jaded palate? I hope these recipes will shed some light.
Excerpted from "A Great American Cook, Recipes from the Home Kitchen of One of Our Most Influential Chefs," by Jonathan Waxman. Copyright 2007 Jonathan Waxman. Reprinted by permission of Houghton Mifflin. All rights reserved.