It was 70 years ago that Norwood Thomas first met Joyce Morris in a whirlwind romance that might have led to marriage before World War II turned those plans upside down.
Only months after the two met in 1945 when they shared a rowboat on the banks of the River Thames in a London suburb, Thomas went off to take part in the invasion at Normandy with the 101st Airborne Division.
A miscommunication in a letter Thomas sent to Morris after the war resulted in the two never reuniting to share their lives together.
Both still had the short time they shared burned in their memories, often thinking of one another — and what might have been — over the years.
Morris recently asked her son to do a search for Thomas on the computer. They found a story on him going skydiving for his 88th birthday, The Virginian-Pilot first reported.
RELATED: Illinois family shocked after balloon launched in memory of son lands in Denmark
The reporter at that paper provided a contact for Thomas, which led to the former couple seeing one another's faces for the first time in 70 years.
Thomas, 93, and Morris, 88, had a nearly-two-hour conversation via Skype between his home in Virginia Beach, Virginia, and her home in Australia, The Virginian-Pilot reported.
The two reminisced about the time they spent together and talked about their lives since.
Morris has two sons and divorced her husband after 37 years, while Thomas had two girls and a boy with his late wife.
RELATED: State trooper helps raise $470 for recent orphans after Halloween accident
"Let me tell you," Thomas said during the conversation, according to The Virginian-Pilot. "This is something I wouldn't trade anything for."
"It's nice in our declining years, isn't it?" she replied. "We can just have a little chat now and then. I think that's lovely."
"The only one big problem is, I can't take you in my arms and give you a squeeze," he said.
"Well, we've got to get on that then."
"So tell me, what would you do if I could give you a little squeeze?" he said.
"Oh, it would be lovely. We could always do with a hug, can't we? Whatever age we are."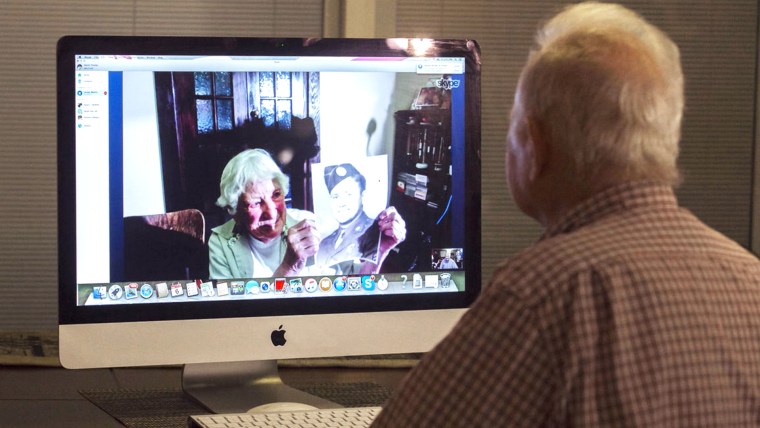 They spoke about the final letter he wrote her in which he asked, "Why don't you come and make my house a home?"
She took it to mean he was already married and wanted to leave his wife, so she did not respond.
"You broke my heart,'' he told her.
He still has a picture of her she gave him in 1945 that remains in great condition.
She has his Army portrait framed, which her son printed for her after finding it online, and looks at it every day as she battles failing eyesight.
During the conversation, she held it up to the camera.
"I say good morning to you every morning,'' she said. "And then I say, 'What mischief have you been up to?'"
"I tell you, I don't look like that now," Thomas joked.
"A lot of water under the bridge, right?" she said.
"A lot of hair gone," he said. "A lot of teeth gone. And the eyes are not what they used to be."
The two then made plans to have another conversation soon.
"I just wish I could give you a hug and tell you good night," Thomas said. "But since I can't, I'll just say, 'You take care.' "
"I will, yes," Morris replied. "And you take care, also."
Follow TODAY.com writer Scott Stump on Twitter.