/ Source: TODAY staff and wire
An Ohio woman who was implanted with the wrong embryo says she hopes to visit soon with the baby boy she delivered and turned over to his biological parents.
Carolyn Savage of the Toledo suburb of Sylvania told NBC's TODAY show Wednesday that she has been waiting for her family to finish a run of colds. She says she hopes that in a couple weeks she'll be able to see the child for the first time since the hospital.
"Every once in a while the loss kind of sneaks up on us," Carolyn told Meredith Vieira Wednesday. "But we know he's doing very, very well ... and that helps us."
On Sept. 24, Savage gave birth to the 5-pound, 3-ounce biological son of Paul and Shannon Morell of the Detroit suburb of Troy, Mich. The families say a fertility clinic outside Ohio had a mix-up with frozen embryos in February.
The Morells issued a statement of gratitude to the Carolyn Savage and her husband, Sean: "It's been a long, difficult journey, and we're thrilled that our family is now complete. We will be eternally grateful for his guardian angel, Carolyn Savage, and the support of the entire Savage family."
A difficult choiceWhen they learned about the mix-up, the Savages were presented with an agonizing choice: They could either terminate the pregnancy, or carry the fetus to term and then hand him over to his biological parents.
The Savages waited 14 weeks into the pregnancy to have their lawyer contact the Morells. The initial contacts were done anonymously through attorneys. But they eventually met face to face and have had a relationship that the Savages characterized as cordial.
The Savages have three other children, and Carolyn, 40, has experienced multiple difficulties in becoming pregnant and carrying children to term. She had been told that this would have to be her final pregnancy, and the couple had planned to have the five embryos they had frozen implanted in the hopes that one would take. Because of their beliefs, they felt they could not destroy any embryos.
"We felt strongly that we needed to give every embryo that we created a chance at life," Carolyn told NBC News.
Reproductive problemsSean and Carolyn Savage met in 1989 when both were students at the University of Miami in Ohio. Four years later, they were married and almost immediately set out to have the large family they dreamed of.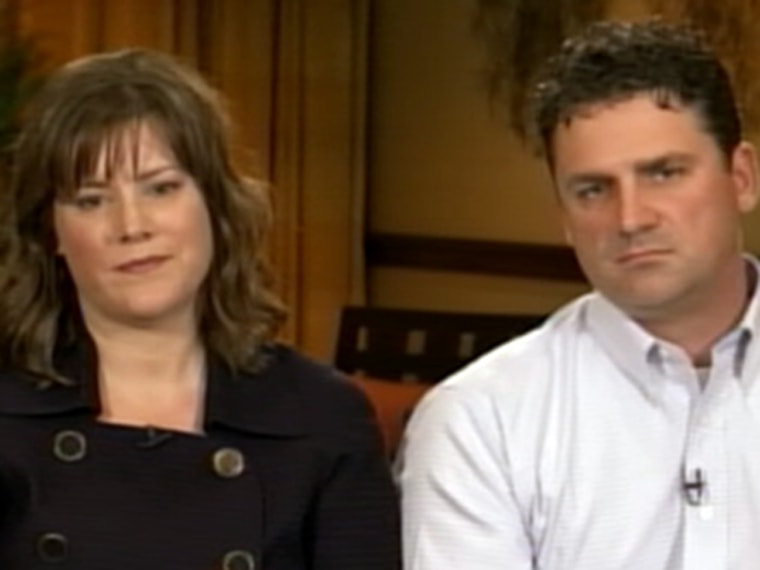 Their first son, Drew, was born in September 1994 after a normal pregnancy. But after Drew's birth, the couple began having reproductive problems. Their second son, Ryan, was born after 30 weeks of gestation in April 1997. The early delivery was necessitated when Carolyn was diagnosed with HELLP syndrome, a life-threatening complication related to pre-eclampsia. The syndrome's symptoms include anemia, elevated liver enzymes and low platelet count along with elevated blood pressure.
Although Drew spent four weeks in neonatal intensive care, he is now a healthy 12-year-old.
10 years of tryingThe Savages were told that it was safe for Carolyn to get pregnant again, and for the next 10 years they tried to conceive their third child. They resorted to ovulation stimulation, but all they had to show for it were two early miscarriages.
Finally, the couple opted to try in vitro fertilization through a fertility clinic. The first attempt resulted in another miscarriage. At that time, Carolyn was diagnosed with two blood-clotting disorders that may have contributed to her other difficulties.
Undeterred, the couple finally succeeded in conceiving a daughter though in vitro fertilization in 2007. After 32 weeks of gestation, a return of Carolyn's HELLP syndrome necessitated an early delivery in March 2008 via Caesarean section. Like her older brother Drew, Mary Kate spent four weeks in intensive care and is now a healthy child.
This past February, in the belief that they were using the last of their frozen embryos, Carolyn went back to the fertility clinic. On Feb. 16, a blood test confirmed that one of the embryos was viable and Carolyn was pregnant.Sean remembers being told in a phone call at work. Stunned, he went home to tell Carolyn.
"I was upstairs in my bedroom and he came to the door and said, 'I have really bad news,' " she told NBC News. Then came the news: "You're pregnant, but they transferred the wrong embryo."
Sorrow and joyCarolyn Savage's pregnancy with the Morells' child was without complications, but the delivery was difficult; Savage lost a lot of blood. "Thankfully, everything stabilized eventually and things did get better," Sean said.
"We were thrilled that he was born healthy," Carolyn said. "He came out kicking and screaming, very feisty little guy."
The Savages immediately turned the child over to the Morells, who were waiting in another room of the hospital. "During that very short walk, it was exceptionally emotional; I was crying," Sean recalled. "But at the same time, there was a sense of pride of what we were doing and that what we were doing was right. And upon entering the room, just the joy that the Morells had at that moment — it was, within 10 minutes, almost a second childbirth.
"We were very, very excited for them, but at the same time very sad for what we were experiencing ourselves," he added.
The next day, the Savages and their three children were granted time with the baby to bid hello and goodbye. "It was bittersweet," Carolyn recalled. "We were so grateful to the Morells that we were allowed to do that.""Whatever access they want, they have," Shannon Morell told NBC News. "And hopefully we'll move forward together."Carolyn Savage now says she wants another child, but will use a surrogate for medical reasons.
The Associated Press contributed reporting to this story.