When President John F. Kennedy came to Dallas, 31-year-old housewife Mary Ann Moorman and a friend made their way downtown to see him — along with his glamorous wife.  
"It was an exciting time, that we could see a president, but we liked Jackie. We wanted to see Jackie, and that was the main reason to come downtown," the witness to history, now named Mary Ann Krahmer, recalled Tuesday for TODAY's Matt Lauer.
Krahmer got to see both the charismatic young president and the first lady, from a vantage point along the motorcade route so close that her camera captured a key piece of history. Her Polaroid camera snapped the only photograph of Kennedy the moment he was gunned down by an assassin's bullet. The so-called grassy knoll can be seen in the background.
"I saw his hair jump. But it wasn't just his hair, it was part of his head," said Krahmer. "That is so clear in my mind, to this day."
She was so close to the president she heard his wife react to the chaos.
"I heard Jackie yell, 'My God, he's been shot,'" she said.
In the famed film footage taken by Abraham Zapruder that day that shows the president being shot, Krahmer can be seen in her blue coat, ready to take her photograph .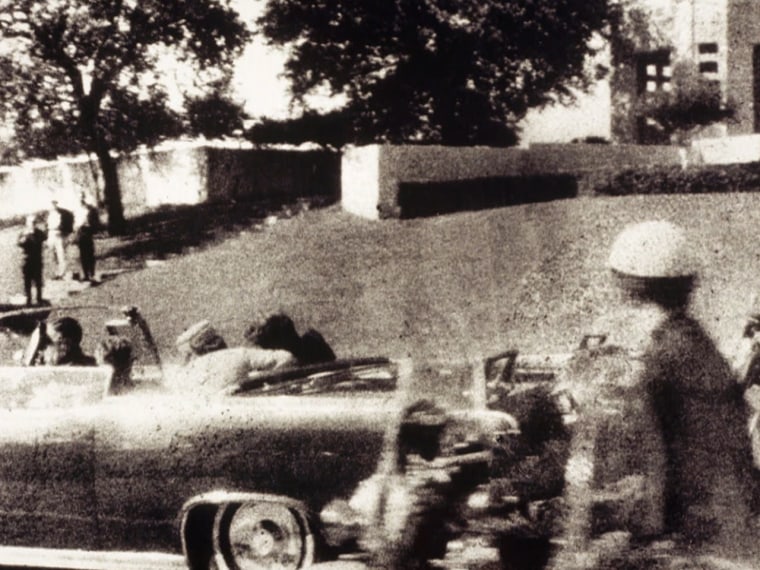 An enlarged copy of the photo Krahmer took that day, Nov. 22, 1963, is now on display in Dallas at the Sixth Floor Museum at Dealey Plaza.
The original photo has been scrutinized thousands of times by conspiracy theorists exploring the possibility that Lee Harvey Oswald didn't act alone in killing the president. They believe a second gunman may have taken aim at the president from the grassy knoll. 
But Krahmer said she clearly remembers only three shots being fired that day.
"I heard the shot, took the camera down, and I heard two more shots," she said, comparing the sound of the shots to exploding firecrackers. "Just pow, pow, pow."
Last week, an attempt to auction off the actual Polaroid failed because it did not meet its reserve. Cowan's Auctions in Cincinnati had expected the photo to fetch between $50,000 to $75,000.
Over the years, Krahmer said she hasn't paid a lot of attention to the conspiracy theories. But she has contemplated the history she witnessed.
"It was a traumatic time, really," she said. "The thought always come back to me, I saw a man murdered right in front of my eyes. That thought is still present in my mind right now."