Don't steal from Kayla Smith, because the Vancouver woman won't hesitate to steal right back.
After her $1,000 bicycle was stolen last week while locked up at the Olympic Village, Smith became despondent.
"I was like, 'I'm a good person, like, why would someone do this to me?'" she told NBC's Kevin Tibbles.
Then, when a friend noticed a Craigslist ad for a similar bike, selling for $300, she got mad.
"Asked for karma to run him over with a flatbed truck," the 33-year-old said. "I was so angry."
Smith had contacted police but thought they might take too long to act.
"THIS GUY IS SELLING MY BIKE RIGHT NOW!!!" she wrote on the online site Reddit. "I am not missing this opportunity waiting for a call. So I jump into action."
Smith turned vigilante and set up a sting. She made arrangements to meet the seller at a local McDonald's parking lot. She told the seller she needed a test drive. She said the man hesitated but warily let her try out the bike. That's when Smith hopped on, started pedaling — and never returned.
"I was feeling like an NFL player, like, just scored a touchdown! I was like, Yeah!" she told Tibbles.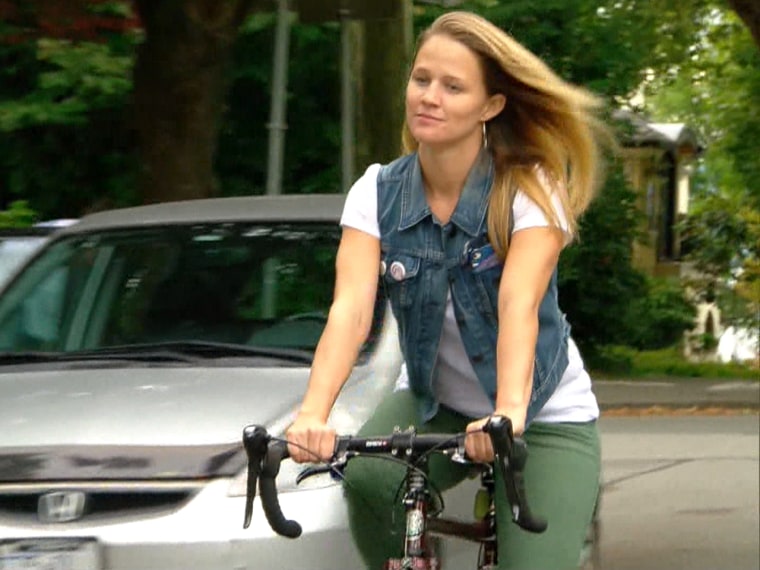 While Smith's story has a happy ending, authorities warn against following her example.
"Setting up a meeting with the person on your own can potentially be very dangerous," Vancouver police said in a statement. "You do not know who you are meeting, how many people will be there and how desperate that person may be."
The thief who stole Smith's bike still hasn't been caught but Smith, who confirmed the bike was hers after confirming its serial number, feels happy about getting her revenge.
"Sometimes you just need to stick up for what's right and for what's yours," she said.