A Minnesota widow was able to see and touch her late husband's face after it was transplanted to a man who survived a suicide attempt nearly a decade ago.
Lilly Ross met Andy Sandness, who now has the face of her husband, Calen "Rudy" Ross for the first time last Friday at the Mayo Clinic in Minnesota, where the 56-hour surgery took place last year.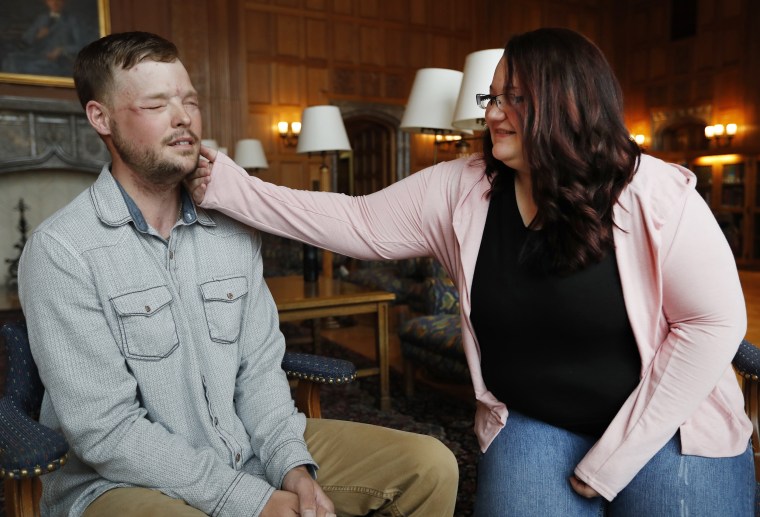 Calen Ross had committed suicide last year while Lilly Ross was pregnant with their son. Lilly Ross decided she wanted to donate her husband's organs to someone who was in need.
Lilly Ross told the Associated Press that she was nervous about seeing her husband's face again. But when she saw Sandness, 32, "it made me proud."
"Meeting Andy, it has finally giving me closure," she told the AP.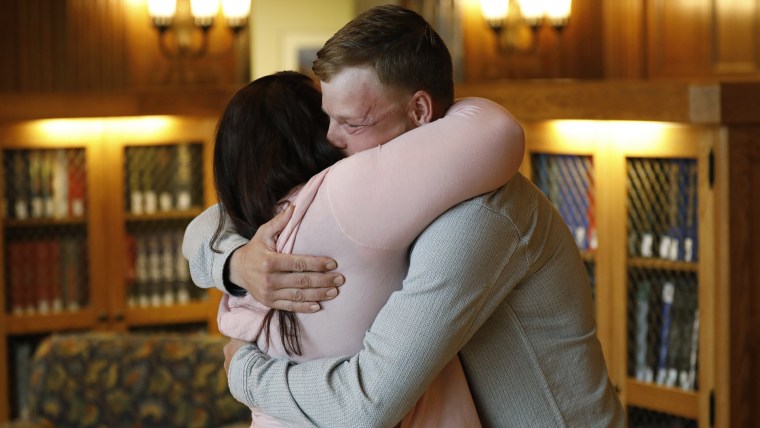 The tearful meeting took place with the Ross's 17-month-old son, Lenoard, by his mother's side. Lilly Ross said wanted to meet Sandness to show her son that his father helped others.
Sandness had tried to take his own life in 2006, putting a rifle below his chin in his native Wyoming.
That event destroyed most of his face and resulted in Sandness isolating himself from much of the outside world.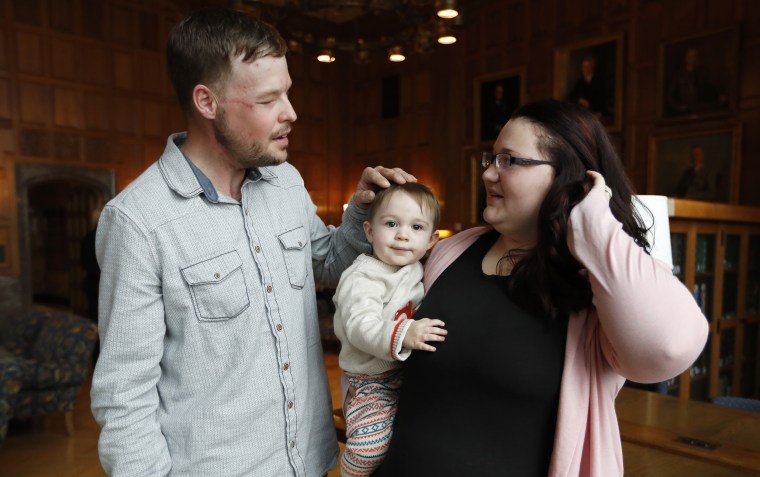 "I wouldn't go out in public. I hated going into bigger cities," Sandness told the AP.
"And now I'm just really spreading my wings and doing the things I missed out on—going to restaurants and eating, going dancing."
He went on a waiting list for a face transplant last year and was eventually connected with the Ross family.
A doctor who performed the surgery said Sandness was the perfect donor match, so much that they could have been genetic cousins.
Sandness told Ross, "I wanted to show you that your gift will not be wasted."