/ Source: TODAY contributor
He was controlling, and obsessed with the wife who was ending their marriage. As their bitter divorce was coming to a conclusion, Richard Shenkman kept talking about "The War of the Roses," the hit movie in which a couple's divorce battle takes both their lives.
In Shenkman's mind, the film's title was "The War of the Tylers" — but the ending was just the same. "The only way this marriage was going to end was by death," Shenkman's ex-wife, Nancy Tyler, told TODAY's Meredith Vieira Monday in New York.
Tyler, a lawyer, was calm as she spoke; there was no exaggeration in her words. She was speaking publicly for the first time since July 7, when Shenkman abducted her at gunpoint in a parking lot and held her hostage — often with a gun to her head — during a 12-hour standoff with police in the home they once shared in South Windsor, Conn.
12 hours of terror
During those 12 terrifying hours, Shenkman handcuffed Tyler to an eyebolt in a basement wall; told her the house was rigged to explode, and repeatedly held a gun to her head while he recited countdowns to what was to be her death. It was only when he torched the house and it was literally burning down above their heads that Tyler managed to unscrew the bolt while Shenkman was distracted and flee the house.
Shenkman, who survived the fire in a basement bunker, was arrested by police and is being held on $12.5 million bail.
Tyler and Shenkman met in 1992 when she was 40 and recovering from a heart attack. They married in 1993, and Shenkman adopted Tyler's two children and adopted the family name, Tyler. It was his third marriage and her second.
By 2006, as Shenkman became increasingly controlling and impossible for Tyler to live with, she filed for divorce. The following year, in a preview of what was to come, Shenkman burned down the family's Victorian beach house rather than allow it to become part of the divorce settlement.
Over the next year, Tyler hid as much as possible from Shenkman, obtaining a court order of protection. On July 7, Shenkman was under a court order to turn over the family home to Tyler as part of the divorce settlement. But he had other ideas.
'He's got a gun!'Tyler was getting ready to go to court in Hartford when she saw Shenkman's car in the parking lot.
"I called a friend and was talking to her about the fact that the car was there as I was going down to my car to go to court," Tyler told Vieira. "I came out of the elevator talking on the phone and he came up and grabbed me with a gun."
Tyler alerted her friend. "I screamed into the phone, 'He's got a gun! Call the police!' He then took the phone away from me and forced me into my car," she said.
Shenkman told her to drive to their South Windsor home and not to attempt to escape.
"Don't try to signal anyone, don't try to get help. I'm sitting behind you with a gun. I'll kill you where you sit," he told her.
Tyler believed him.
A former promoter and producer, Shenkman had carefully planned what he apparently intended to be his last stand. He had set up monitors around the house so he could keep track of what police were doing outside. He told Tyler and police he had rigged the house with 65 pounds of dynamite and propane tanks and had installed motion detectors in the roof that would blow the house if anyone attempted to enter or leave. He even had a hostage negotiator's handbook with him in the house during the 12-hour ordeal.
Tyler told Vieira she absolutely believed the house was booby-trapped. She said that during the ordeal, Shenkman's mood varied from calm to enraged.
"He was angry, but what I was able to do was talk to him," Tyler said. "I talked all day because that kept him calm. When he got angry and enraged, that's when the gun went to my head, and there were several instances where there were countdowns if the police didn't do something. With the gun to my head, he was counting down, and he was going to kill me if they didn't comply with his demands."
As the day wore on and tension mounted, "It got worse," Tyler told Vieira.
Finally, he told her they were going to the basement.
Basement bunker" 'There's a bunker set up down there,' " Tyler said he told her. " 'I'm going to blow the house from there.' He said, 'Get down there, or I'll throw you down the stairs.' He handcuffed me to an eyebolt that was already set up in the wall."
But Tyler wasn't going to give up her life without a fight. As Shenkman was distracted screaming at police on the phone, she used the handcuffs to loosen the eyebolt, then kept unscrewing it.
Meantime, the police were sending a robot up to the house, and that outraged Shenkman.
"This was one of the countdowns. He had the gun to my head, he was screaming for them to get the robot away from in front of the house, and he was counting down from 20," Tyler said.
"Then something happened. I don't know what it was that diverted his attention from me, [but] he ran out of the room, and I could hear him running up the stairs."
Deciding that she was going to die if she didn't act, Tyler made her move.
Do or die"I yanked the bolt the rest of the way out and I ran out of the room across the basement into a door — a little-used door that we had in the back — and I went out. I didn't know if the door was wired to explode, but at that point, it didn't matter," Tyler told Vieira without emotion. "It was either die with a gun to my head or maybe go out a door and die that way."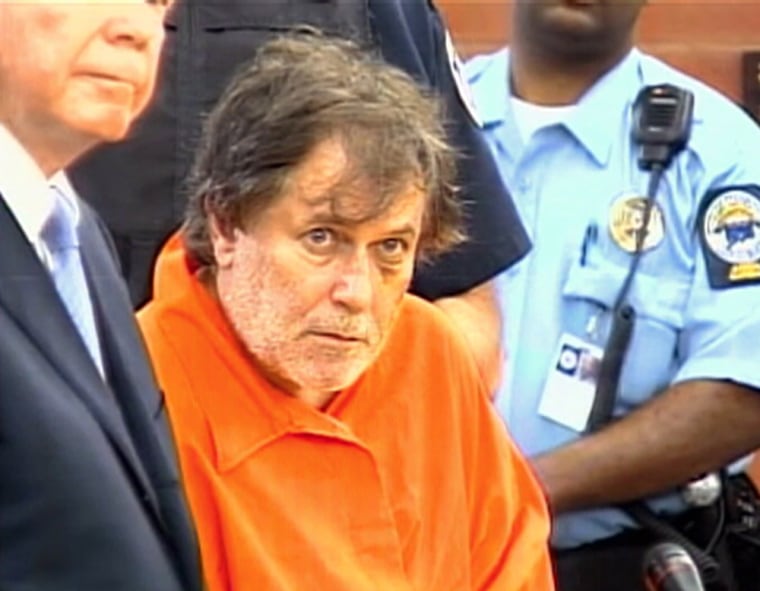 Fortunately, Shenkman had not wired the house to explode as he had claimed, and Tyler was able to escape. Although Shenkman is now in custody, Tyler and her attorney are attempting to have his bond revoked so that he cannot be released pending trial. Shenkman has a brother who has put up previous bonds.
Tyler told Vieira if it weren't for a great support system and her faith in the courts, she wouldn't be able to hold up.
"I'm doing well because I've had incredible support. I have an incredible family and friends and colleagues at work, and the police have been amazing, so I've been very, very lucky," she said. "I've worked in the court system my entire life, and I have faith that the court system will protect me now. It's just a matter of pulling together, praying, and hoping for the best."
But, Tyler told Vieira, she knows that as long as there is the possibility that Shenkman could be free to resume the "War of the Tylers," she will never be safe.
"He's told me over and over again the only way this will end is by death — either his, mine or both of us ... and whoever else has to go."