Mimi Harris had no idea that someone had been trying to track her down for the past 13 years.
But, unbeknownst to her, a photo taken at a wedding in 2001 in which she posed with a group of friends had made its way into the Sept. 11 wreckage of the World Trade Center in New York, where it became the basis of a long-running mystery. The picture, recovered from the rubble, ended up in the hands of Elizabeth Stringer Keefe, a woman who then spent more than a dozen years trying to find someone — anyone — from that photograph.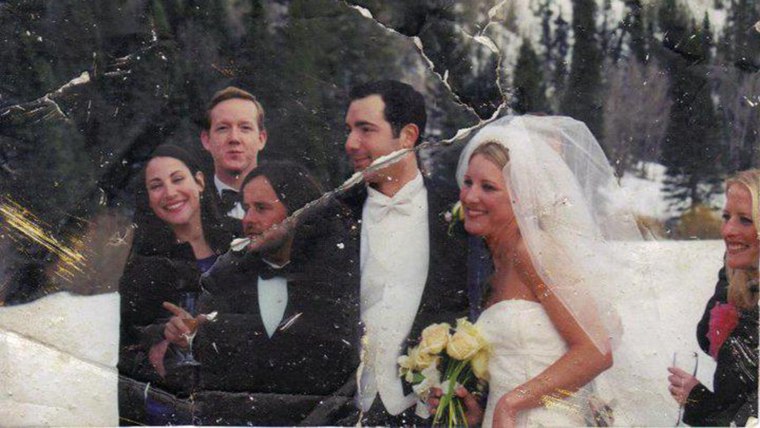 Keefe finally found the answer this year, after getting a big assist from social media, and eventually connected with Fred Mahe, the photo's owner and Harris' date for that 2001 Aspen, Colorado wedding. Mahe now lives in Colorado but used to work in the Twin Towers, where the photo hung in his cubicle.

On Monday, the two met in person in New York. Keefe posted pictures of their meeting on Twitter to celebrate the photo's return to its rightful owner.
And Harris, who now lives in Cleveland, found out she'd played a role in a good news story-gone-viral.
"I'm so thrilled to be a part of a story that, out of the rubble of 9/11, has been making people happy," Harris told TODAY.com.

She said she hadn't thought about the picture until she got a call over the weekend from her best friend.
"Her message said, 'There's this picture out there, and it's crazy. You're in it,'" Harris remembers. "So I called her and she led me to the photo on Facebook. It was really crazy."
Harris said she probably has the original copy of the photo "somewhere in a big box of loose photos in my closet." She never imagined that a snapshot captured at a blissful celebration 13 years ago would eventually be linked to the tragedy of Sept. 11.
"It's incredible," she said. "The fact that Elizabeth Keefe had this photo and kept trying to find these people, and then by God's grace, here we are, the six people from this picture found in the rubble, and we're all alive and well." 
Harris said she also spoke with Mahe by phone briefly Monday as he awaited a flight back home. The two broke up amicably about a year after the photo was taken, but have failed to keep in touch.
"Back then, we didn't really have social media like we do today, so it wasn't as easy to stay connected," she said. She and Mahe have since married other people and started families. 
"We didn't get to talk long but it was just so wonderful," she said.

Harris doesn't know of any plans for a reunion with everyone in the photo — she's in Ohio, Mahe in Colorado, the bridal couple in California — but she would definitely be up for one. 
"It's wonderful to be a part of something making happy and bringing joy to people."
Follow TODAY.com writer Eun Kyung Kim on Google+ or on Twitter.