Even while embroiled in a series of heated exchanges with the main rival in her own party, Hillary Clinton said she found the tenor of the Republican candidates' words to be "deeply distressing."
"In my analysis, and I think it's fair, Donald Trump agrees with Republicans on many of the hot button issues," she told TODAY's Matt Lauer in a sit-down interview that aired Friday. "What he said about abortion, for example, his absolute insulting action toward immigrants, calling them rapists and criminals, he is expressing, maybe in more colorful language, what Republicans believe."
That includes Trump's controversial remarks that women who have abortions should face "some form of punishment," she said. While the Republican front-runner found himself under fire from both sides of the issue for the remarks, Clinton said Trump's comments were "just a half step" away from what Republicans want when it comes to abortion.
"If you make something illegal, what are the consequences for that illegality?" she said. "So it's really just a half a step away from what they've been saying for some time."
While speaking with Lauer in a New York diner, Clinton addressed the email controversy that continues to hover over her campaign. She dismissed the idea that many Republican leaders are hoping that it will ultimately be her downfall and send her to prison.
"I know that they live in that world of fantasy and hope because they've got a mess on their hands on the Republican side. That is not going to happen," she said.
"There is not even the remotest chance that is going to happen. But look, they've been after me, as I say, for 25 years. And they have said things about me repeatedly that have been proven to be not only false but kind of ridiculous," she said.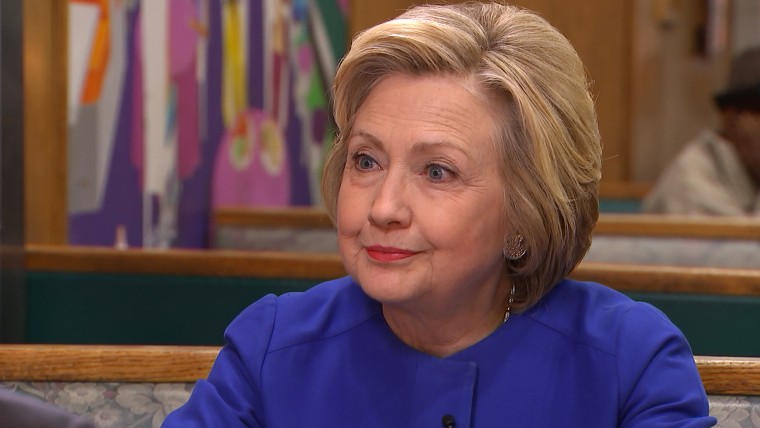 "The Republicans' fondest wishes will not be fulfilled."
Clinton sat down with TODAY just as she and fellow Democrat Bernie Sanders escalated a war of words over their qualifications to serve as president.
The exchange comes as each fights to win over voters in Clinton's adopted home state of New York before they head to the polls for the April 19 primary.
The Vermont senator on Thursday maintained that Clinton was not qualified to be president, while the former secretary of state dismissed the claim as "silly" and said voters will be the ones to decide who is more fit for the Oval Office.
"I will take Bernie Sanders over Donald Trump or Ted Cruz anytime," she said.
MORE: Hillary Clinton on TODAY: Bernie Sanders' comments about my qualifications are 'silly'
But Clinton also said Sanders' attack on her was misguided and based on comments she made about "questionable answers" he provided during a lengthy interview he gave the New York Daily News.
"His response to me was a misrepresentation of what I've said, but also, kind of a historic amnesia," she said, referring to past support Sanders has shown for President Obama, Vice President Joe Biden and Secretary of State John Kerry back when he was the party's presidential nominee.
"And each one of them has, according to him, not been qualified. But I think, in the heat of the campaign, people say lots of things. I want to stay focused on the issues. There are contrasts between us. And I think that's fair game," she said.
Clinton has lost all but one of the past eight Democratic primaries and caucuses to Sanders but she said she isn't deterred. She pointed to her husband's 1992 presidential campaign, when he lost numerous spring contests.
"This is the give and take, the movements that I am very familiar with. So I don't have any doubts. I don't have any concerns," she said. "We're going to win the nomination, and then we're going to unify the Democratic Party, and then we're going to take on whoever the Republicans end up nominating."
Follow TODAY.com writer Eun Kyung Kim on Twitter.