One man is using his experiencing coping with the devastating loss of his wife to help others gain insight into overcoming grief.
John Polo has gained a steady following on his blog, Better Not Bitter Widower, sharing insights on his struggles since the death of his wife, Michelle, from a rare form of cancer on January 22, 2016.
But the wider world got a glimpse into his heart when he posted on Facebook about discovering a picture of Michelle wearing a wedding dress he never got to see while she was alive.
The couple, who rushed to get married in a courthouse when she faced her first cancer surgery in 2013, had planned to do a more traditional ceremony for friends and family. Michelle, just 30 years old, died two weeks before the scheduled celebration.
"About a week after she died, I was laying in our bed looking at her phone for the first time," Polo, 33, told TODAY of coming across the image of his wife in the dress she never got to put on for him. "When I saw the picture, I felt happy and devastated at the same time, but mostly I felt proud she was my wife. I was crying and laughing at the same time."
He knew when he posted the image and the emotional poem he captioned with it — "When it is my time, I am running up there ... to see her in that dress" — that it would inspire a lot of people, but he wasn't prepared for it to have touched so many strangers.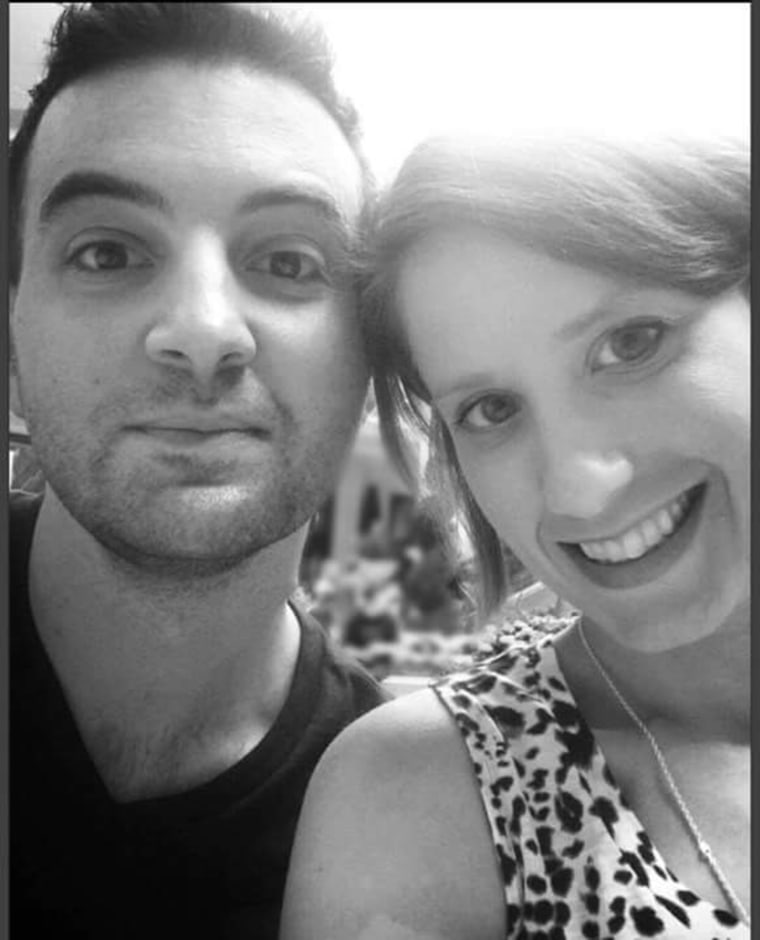 "I love that everyone's seeing her in that dress, because that's what she wanted so much," said Polo.
It's especially important to Polo because in the last year and a half he has made it his life's mission to help other grieving widowers and widows find their footing.
He has a book, "Widowed: Rants, Raves and Randoms," and he has been giving talks and workshops on coping.
"While she was dying, Michelle would cry a lot that her daughter would forget her, that people would forget her," said Polo, who lives in the Chicago suburbs and runs an event planning company. "So when I started the blog it was really to keep her memory alive, but it became a deep passion. It's turned into what I want to do with the rest of my life."
Their love story started around 15 years ago, when they dated for a year as high school students in Illinois. They broke up and drifted apart but reconnected in 2011, by which time Michelle had a daughter. Polo was so smitten, he proposed in July of the following year.
In July 2013, however, doctors discovered a tumor in Michelle's kidney, the result of an extremely rare form of cancer called proximal-type epithelioid sarcoma (PES). The surgery seemed a success, but the cancer eventually returned, surfacing in her liver, ovary, tailbone and lungs.
After what Polo calls a "cancer battle from hell," he faced any spouse's worst nightmare: watching someone he loved die in a hospice.
In the aftermath, he poured his soul into his own personal Facebook account, and a friend suggested he start a blog. "I had never even read a blog before," said Polo.
Polo, who considers himself a spiritual person, has a vision of reuniting with Michelle in heaven, where they would finally walk down the aisle and get Etta James herself to sing "At Last," the song they planned to use during their wedding ceremony.
As for the dress, he wants that that to go to his now 11-year-old stepdaughter.
"I'd like to spread the message that you can survive loss," said Polo. "I think I'm testament to that. And once you survive it, you can live again. You can smile again."
TODAY has affiliate relationships, so we may get a small share of the revenue from your purchase of this book. Items are sold by the retailer, not by TODAY.