Ventura County Sheriff's Office Sgt. Ron Helus gave his life trying to protect others when he tried to stop last week's mass shooting in which a gunman killed 12 people at a country-western bar in California.
His widow, Karen, and his son, Jordan, 24, spoke exclusively with Joe Fryer on TODAY Thursday about Helus's courage and legacy as the family prepared for his burial.
"I can't bring him back,'' Karen said tearfully. "But you know what? He died doing what he would have wanted to do. And he's in a better place."
Helus, 54, was on the phone with Karen, his wife of 29 years, when he received an emergency call on the night of Nov. 7 that there was an active shooter at the Borderline Bar & Grill in Thousand Oaks.
"He said had to back someone up, and he said he loved me,'' Karen said. "And I'm glad that I said I loved him. That was the last time I talked to him."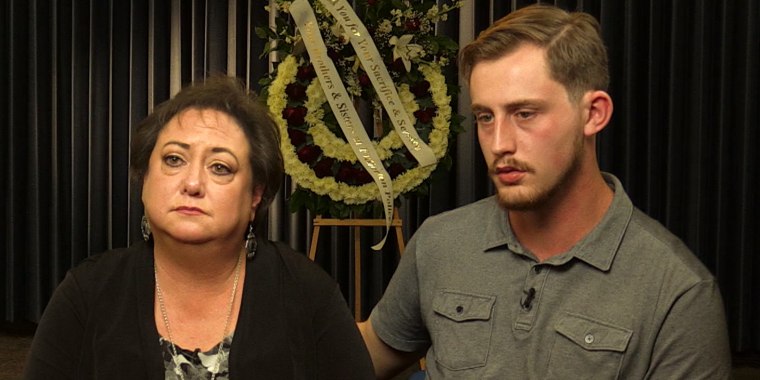 Helus rushed to confront the alleged gunman, former U.S. Marine Ian Long, 28, and was shot multiple times. He died later at a hospital. Long fatally shot himself, police said.
Ventura County Sheriff Geoff Dean lauded Helus as a hero during an emotional press conference following the shooting. Helus was a 29-year veteran of the job.
"Tonight, as I told his wife, he died a hero,'' Dean told reporters while getting choked up. "Because he went to save lives, to save other people."
His widow and son were not surprised by his selfless actions. He was just months away from retiring, having gone back to school to get a master's degree and opened a side business training people in gun safety.
"He was (a hero),'' Karen said. "He would have said he was just doing his job, but you know what, he is a hero, and I want him to be known for that, because that's what he did."
"He would've have expected anyone to do that for him,'' Jordan said while holding back tears. "He wouldn't have asked anyone."
Jordan not only lost a father but a best friend. The two frequently went fishing together and always looked forward to their annual camping trip.
"It's a life of good memories," Jordan said.
The lobby at the Ventura County Sheriff's Department is now filled with tributes to Helus.
"He had a heart of gold,'' Karen said. "He would've done anything for anyone."
Helus was also remembered for his inclination to always assist others, often giving out his phone number to neighbors and telling them to call any time day or night if they needed help.
Karen had a simple request for others looking to honor Helus.
"You know what, remember to tell the people that you love them,'' she said.