/ Source: The Associated Press
The models auditioning for New York Fashion Week were undeniably thin. But it was only after the fashion industry started worrying about too-skinny models that casting agent James Scully began asking their age.
Most, he found, were under 16.
"Things are very seriously wrong at this moment," Scully said.
As another round of runway shows kicks off on Thursday, fashion insiders are again taking up the cause of emaciated models, this time with a new target to blame: youth.
The Council of Fashion Designers of America hosted a panel discussion Tuesday night on changing the standard model "sample size," part of the health initiative it started after the death three years ago of a model with an eating disorder.
Spain and Italy adopted mandatory weight guidelines at the time, but the CFDA opted instead for voluntary measures that put the focus on nutritional and emotional counseling. Since then, some models have been red flagged and removed from the runway to focus on eating and living well, said CFDA president Diane von Fursternberg.
Very young modelsTuesday's panel, "The Beauty of Health: Resizing the Sample Size," initially focused on whether increasing the size of sample garments used in fashion shows and magazine photo shoots from 0 to 4 would result in healthier models. But designers, models and agents agreed that part of the problem was the dominance of very young models.
"You can't address the sample size 0 without addressing age," said David Bonnouvrier, head of DNA Models.
Among the CFDA guidelines was a recommendation that models under 16 be kept out of fashion shows, and models under 18 kept out of fittings or photo shoots past midnight. Those guidelines clearly haven't stuck and remain purely voluntary.
The current youthquake happened as runway tastes moved from Brazilian bombshells like Gisele Bundchen to Russians and Eastern Europeans, such as Natalia Vodianova, who previously disclosed her weight struggles, Scully said.
When scouts first fell in love with the very angular, narrow Eastern bloc look, those girls were ill-prepared to be away from home in the high-pressure, competitive fashion world, added DNA's Bonnouvrier. Even American models were younger — 17-year-old Karlie Kloss, for example, did her first round of shows with her dad by her side.
Designer Zac Posen traced the problem to Kate Moss back in the early '90s, and said it could take a long time to erase the cultural impression of the waif.
The curse of the sample sizeIt's natural for a 13- or 14-year-old to be slim, have a small bust and hips that measure no more than 33 inches, but as those models age — to all of 18 or 19 — they will do "terribly dangerous things" to fight nature and their increasingly womanly bodies, Scully said.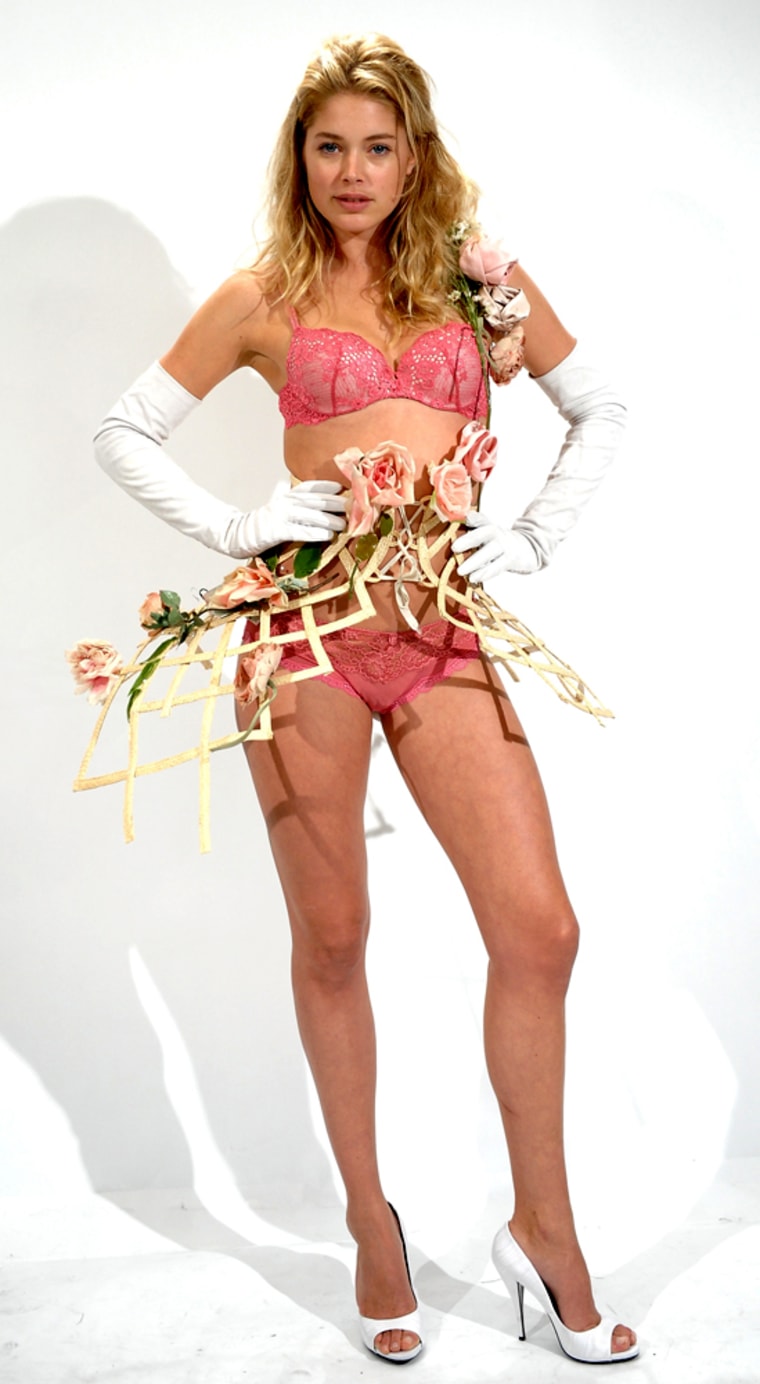 Model Doutzen Kroes, 25, is a Victoria's Secret Angel but says her fashion-show work has slowed to almost nothing. The reason? She's too big.
"I'd love to do shows but I don't fit in the sample size," she said in an interview after the panel.
The Dutch native started her modeling career at 18, and was constantly told she was pretty but "needed to lose a few pounds," she recalled. But she looked in the mirror and liked what she saw, and made the decision to work with her agent to make her curvy figure an asset — hence a brand like Victoria's Secret.
"I had the luxury, which makes it an easier choice. In Holland, I could have gone home and gone to school, college, and had a good life," she said. "For other models from poorer countries, if they don't fit the sample size, they don't have the same options."
Designer Erin Fetherston uses a sample size 4 — but told the AP that she's often making major alterations before shows and shoots because a garment "is swimming on the model."
There is the concern about models' and their health, Fetherston said, but she's even more concerned about the message fashion is sending out about global beauty standards.
"We create image content. We are selling a dream and we put the dream out there," she said. "We should promote something more attainable."
Comfortable in her size 4 bodyStill, there are signs of imminent change. Models have been noticeably healthier in recent fashion seasons, and the collective eye seems to be moving toward a sportier look, sparked by interest in Dutch model Lara Stone, whose ample bust and hips have been noted.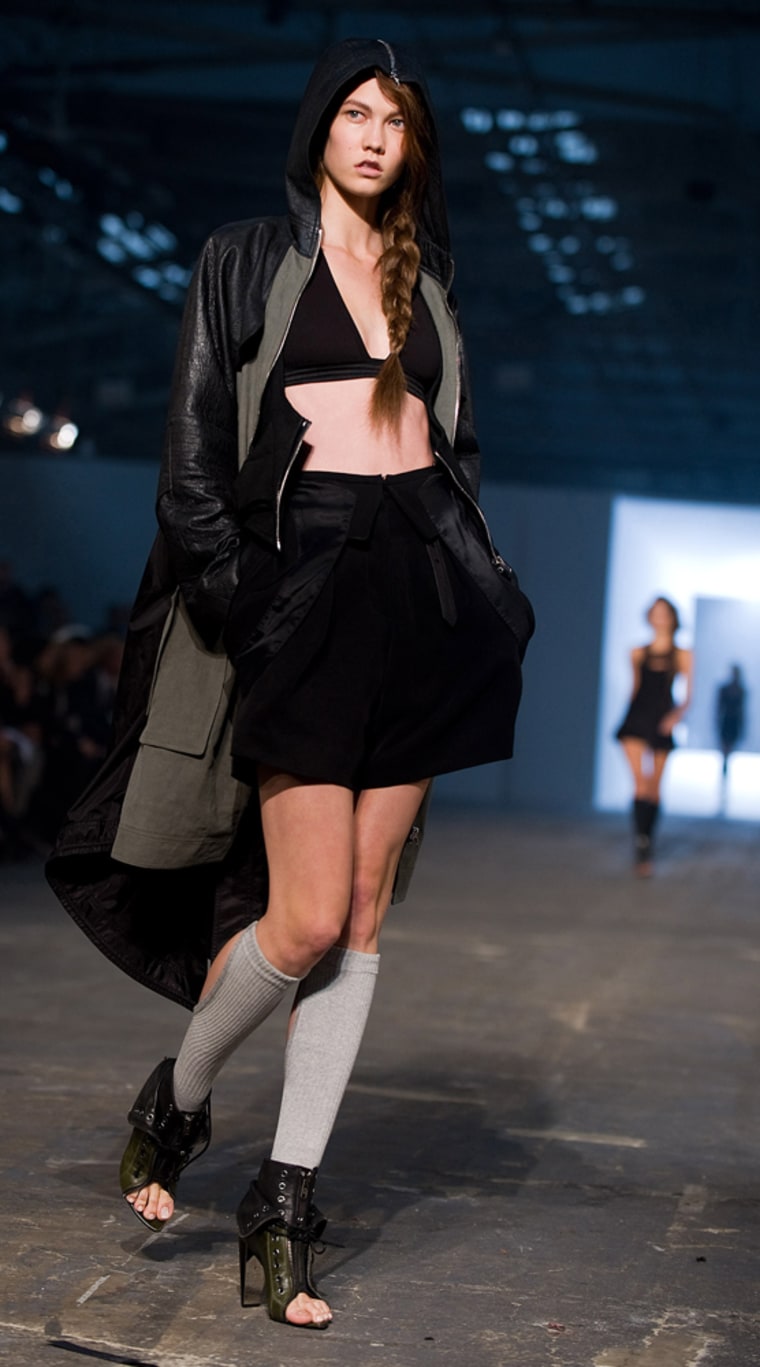 "Lara has embraced her look," said Bianca Posterli, editor at Modelinia.com. "She is not drastic, she's a size 4 and comfortable in her own body — and designers and editors have fallen in love with her."
All it takes is a "hot" model or two to get designers to cut clothes bigger, said Nian Fish, creative director at fashion-show powerhouse producer KCD.
"Dutch girls are bigger, they're older, they finish high school. They're bigger in their age and DNA, and some of those girls are more popular now," she said. "If we like them on the runway and then in editorial, we start cutting clothes bigger."
The Netherlands' Mirte Maas is a model who could have a potentially big season, and that could help further a shift, said Fish, who chairs the CFDA panel.
"No one can tell designers what to do. They want the hot model, but if there's a new Daria (Werbowy) — the last sort of supermodel — the designers will make her work on their runway even if they have to remake an outfit," she said.
But the ultimate motive? It's good for business.
After all, Fetherston noted, paying customers come in a range of sizes and shapes, too.