/ Source: TODAY contributor
It was exactly 40 years ago. Our elder son was graduating from high school and wanted to work for the summer; his young brother would be entering first grade in the fall. For months, I had thought: If we're ever going to do it, it has to be this summer. Otherwise, I knew, we never would.
I had two guidebooks: "America's History Lands," about the National Parks, and "America's Wonderlands," both published in 1962. My mission: To see as much of America as possible with my husband and children before the scheduling became impossible.
It wasn't as if we had never made road trips before. We had already been to Boston, New England, Cape Cod, Gettysburg, Washington, Philadelphia, Colonial Williamsburg, the Blue Ridge Mountains and most of the East Coast. But this would be an epic trip, and it might be the last chance we would have to do it together. We would get away from TV, get back to nature for a while, and — to echo the civic and conservation groups lobbying for the organization of the National Park Service in the early 20th century — "see America first."
Home on wheelsMy husband surprised me when he announced there would be no hotels, motels or restaurants: He had arranged to borrow a 16-foot house trailer. Within it were somehow jammed sleeping accommodations for four, a bathroom and shower, and a full kitchen.
Our starting point was our home in the suburbs of Buffalo. We would cross the northern part of the country from east to west, then return on a southern route from west to east. I figured we could do it all in a month. So we packed the trailer with food, warm clothes, books and maps, a campground guide and Dr. Seuss.
The first day we made it to Elkhart, Ind., without any problems. We found a trailer park, had a cookout and went for a sunset wagon ride. By the next evening we were in the Dells of the Wisconsin River, where we gorged on ice cream and milkshakes and loaded our tiny refrigerator with a variety of cheeses.
The trailer was comfortable and cozy, and I learned to prepare meals in the miniature kitchen. We had a micro-house on wheels that was very efficient.
Westward we wended. We overnighted mostly in trailer parks and became adept at hooking up to water and electric connections. To this day I maintain that my younger son taught himself how to read out of that campground guide; one of the first words he recognized was "hookups."
O Pioneers!
Our first national park was Badlands National Park in South Dakota, a fossil hunter's paradise filled with miles of pinnacles, mesas, ravines and rocks of every imaginable shape. Our next landmark was Mount Rushmore, where we gawked at the great granite presidents while "America the Beautiful" played over outdoor speakers.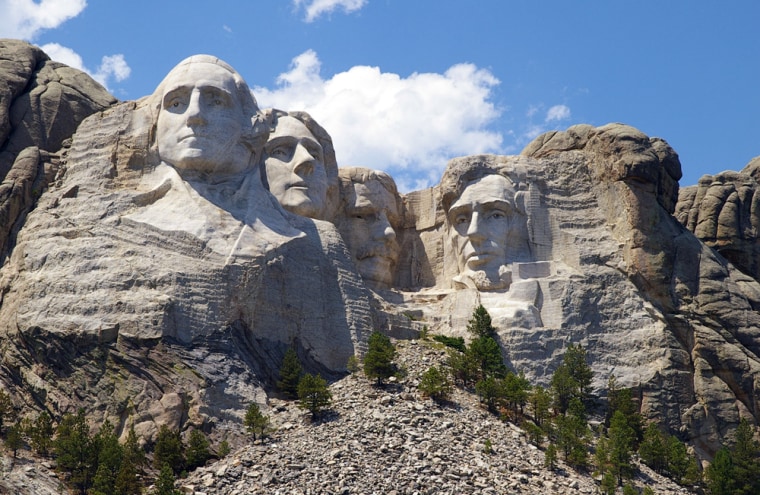 We moved on through the Black Hills. We were in the West now, an entirely different world than my little hometown in eastern Pennsylvania or my adopted home of Buffalo. The weather stayed good and my three men would sleep outdoors in their sleeping bags while I stayed in the security of my little house on wheels, where I was reasonably sure there would be no bugs, snakes or wild animals.
We felt like pioneers. Our only stops were for gas, oil and tire checks and to replenish our food supply. Far away in Vietnam a war was raging, and there was plenty of turmoil closer to home; Buffalo had not been exempt from the tide of racial violence that swept dozens of cities after the assassination of Dr. Martin Luther King only the year before. Many cars we passed bore bumper stickers that suggested "America: Love It or Leave It" and similar sentiments. But we were serene in our mobile bubble, cruising along without cares.
But when we got to Yellowstone National Park, things began to change. As we reached ever higher elevations, the weather turned cold and we began to encounter snow, even though it was summer.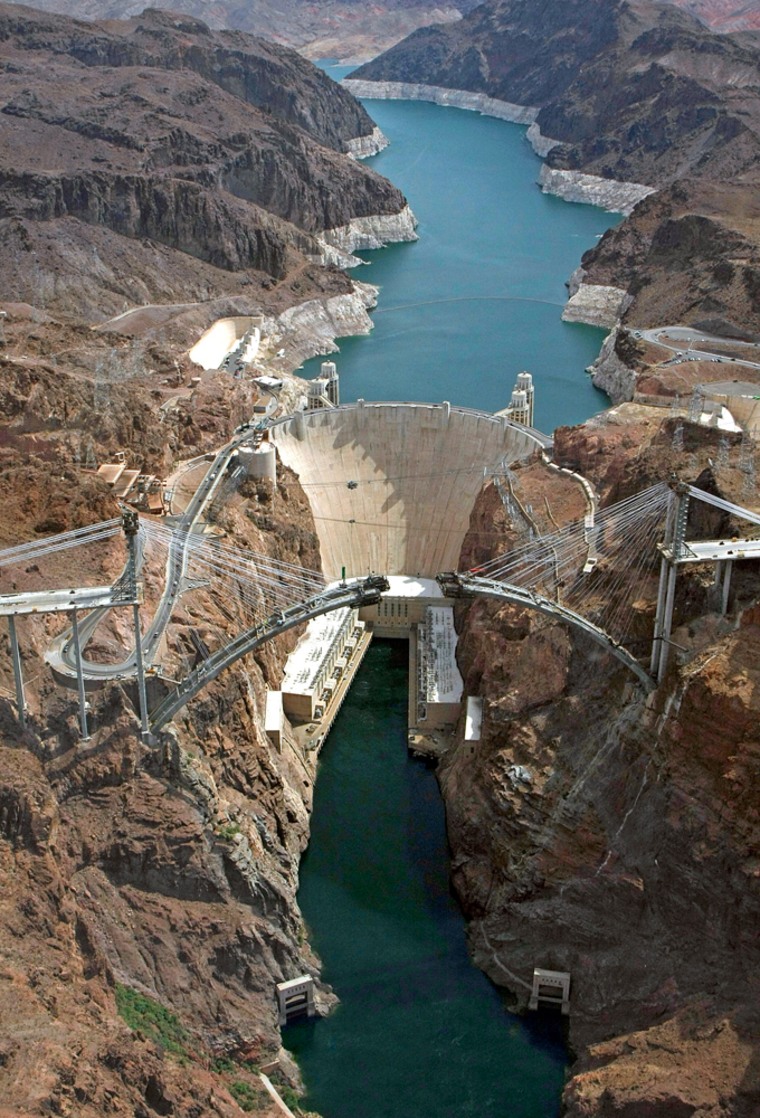 As we entered the park from the east, we were advised that all roads to campsites were closed. The cold didn't worry us — our trailer had a furnace — so while other travelers not so fortunate were filling the motels, we managed to get to a Montana campsite outside the western border of the park with hookups for electricity.
We hunkered down and listened to weather reports and the price of pork bellies on the radio. After three days we were advised that the south road to Old Faithful was open, and off we went. The sun came out and the geyser performed on schedule. All was well, or so we thought.
Grease is the wordAs we continued west, gas stations became less frequent. Pulling a house trailer took a lot of fuel, especially at high altitudes, as we discovered the first time we ran out. We bought a 5-gallon jerry can to carry a reserve.
There was still a lot of snow in the mountains and the roads were alarmingly narrow, but we got through the high passes and started down. As it got warmer, we saw road workers in shorts throwing snowballs at each other, as well as the occasional moose, elk, deer, wolf and black bear. But other drivers started signaling us as we passed; something was wrong.
It turned out we had a wheel bearing that was throwing sparks. We limped to a service station late in the day and learned that the bearing had burned out. There was nothing we could do until the next day, so we made camp for the night in a church parking lot.
The next day, some lovely folks in the small Utah town we had chosen to break down in took hours out of their day to help us find the part we needed. They refused to take any money for their time; only for the part. We had learned two important lessons:
Small-town America can be just as sweet and wonderful as Norman Rockwell portrayed it.
Trailer wheel bearings require grease.
America's best ideaThere is much more to tell about that trip 40 years ago. I could tell you about floating in the Great Salt Lake; about Death Valley temperatures that made the car overheat whenever we turned on the air conditioning; about Rainbow Bridge National Park, where I got thirstier than I can ever remember being before or since; about the miracle of nature that is the Grand Canyon, and the colossus of human artifice that is Hoover Dam. I could tell you about the Navajo chief we gave a lift to the post office so he could pick up his pension check, during which he told us about fighting under General Patton and bronco-busting in rodeos, and showed us the mountain teepee that was his summer home when he drove cattle.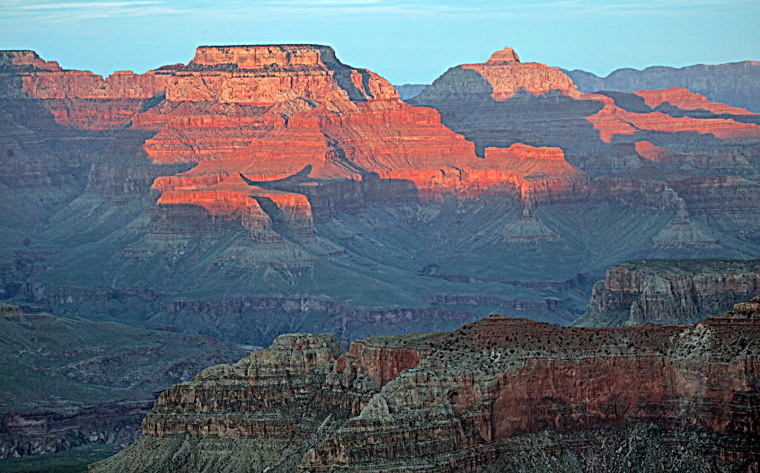 I could tell you more about our adventure across America, but instead, I suggest you have one of your own. On the weekend of August 15-16, entrance fees will be waived at 147 national parks and monuments, including the Grand Canyon and Yosemite. Chances are, you live less than a day's drive from at least one of them. To find out more, click here.
In the title of his six-night series on America's National Parks coming up on PBS in September, "Civil War" filmmaker Ken Burns calls them "America's Best Idea." Having visited at least a few of them, I agree.
But you don't have to wait till September to see our country's bounty of natural wonders. Now is the time to grease your wheels (as we neglected to do) and see America first.
Kitty Schindler, 85, grew up one of 10 children of a Pennsylvania coal miner during the Depression. Now she shares her perspectives on these challenging times with TODAYshow.com readers. If you have a question or comment for Kitty, send her an e-mail! To Ask Kitty, click here.