/ Source: TODAY contributor
University wear is not a big fashion trend in Europe. If you spot anyone on the street wearing an Oxford, Sorbonne or University of Milan sweatshirt, chances are they are a tourist. And yet, it's hard to walk a block in central London without spotting shirts, pants and jackets with the Franklin & Marshall logo.
Does this small liberal arts college, located in the heart of Pennsylvania's Amish country have a really active overseas program? Not exactly. This fashion craze has not much to do with the college and everything to do with two Italians who loved the American school's logo so much that they created a high-end fashion brand around it.
While on a trip to London in 2000, Giuseppe Albarelli and Andrea Pensiero found a sweatshirt with the Franklin & Marshall logo while rifling through vintage goodies at a local market. Pensiero, a designer, was already the owner of several shops in Italy, and Albarelli was selling bags made out of ship sails. Together, they decided to found a brand of clothing based on that one sweatshirt they came across in London.
Months later, Franklin & Marshall was up and running, making clothing with the logo emblazoned front and center.
"At the time, we didn't know what Franklin & Marshall was other than a logo," said Albarelli from his office in Verona, the city best known as the home of Romeo and Juliet. "It was only after we did a little research that we found out it was a college. About a year after we started the company the college contacted us. At first they were disappointed that we were using their name, but when they got to know us better they were happy for our business to carry on."
Flying off shelves
The marriage of the college, established by a grant from Benjamin Franklin in 1787, and a high-end European fashion brand seems somewhat unlikely to say the least.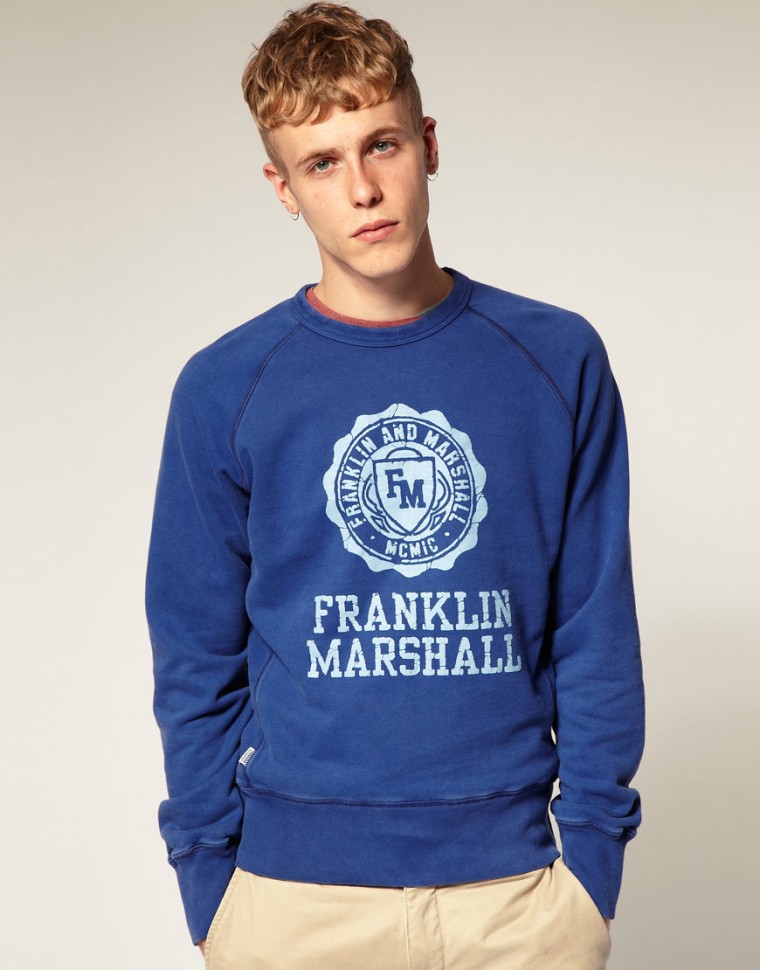 Franklin & Marshall — the clothing company — licenses the name from the Lancaster-based school, where tuition runs over $42,000. Last year the company also pledged to donate €100,000, or $130,000, over four years to the school's scholarship fund.
"It certainly can't hurt to have our name out there, and it's great that their clothing promotes our school," said Mickey Blymier, director of athletic communications. "They even interviewed our basketball coach for their catalogue. But it's definitely not what you would expect to see. Typically people aren't copying what a school of 2,200 does."
Despite the incongruity of the pairing, people are flocking to the brand's six stores around the world, including in Athens, Milan, Tokyo and Paris. The line is so hot among 15-to 30-year-olds in the Middle East that the company plans to open three new stores in Dubai and Kuwait in the coming months. Franklin & Marshall apparel is also flying off the shelves in other shops that stock the brand, giving the company sales last year of around $61 million.
For the college's students, knowing that there is an overseas company promoting their school instills in them an extra boost of school pride.
"The first time I saw someone wearing a Franklin & Marshall sweatshirt was in Rome on a vacation with my family," said Elisabeth Oehrlein, 21, a senior at the college who is majoring in German. "My brother was a student at the college and my mom got so excited when she saw someone wearing a sweatshirt with the school logo so far from home. She ran over to speak with him and couldn't understand why he didn't speak English. It's definitely interesting and exciting to meet people from so far away who have heard of our small school with mostly American students."
Ask the make's enthusiasts what Franklin & Marshall actually is and you will be met with blank stares.
"When my girlfriend gave me my tracksuit, I had no idea it was a college in the States. It was only when I Googled it that I found out," said Daniel Aston, 28. "It doesn't matter either way, and the clothing is great quality, really soft."
But be prepared to pay for that quality. Sweatshirts on the Franklin & Marshall website sell for between $110 and $205, quite a bit more than the $37 to $60 the college's bookstore sells its own Champion-brand sweatshirts for. Despite the high sticker price, at London's Selfridges department store, size small sweatshirts and sweatpants tend to sell out not long after coming in, menswear salesmen say.
If you live in the U.S. and fancy Franklin & Marshall wear, you may be out of luck. Although the company did distribute its clothing in the U.S. in 2003, it sold poorly and Albarelli said it currently has no plans to reenter the market. The company produces 92 percent of its apparel in Italy, making prices higher for American consumers already inundated with university wear.
As for the college, has it seen an uptick in interest or admissions?
"Does it actually draw students to us? Do they come because of the clothes? That would be impossible to tell," Barry Bosley, the college's associate vice president for administration, told the Associated Press last year. "But it does put the name out there internationally."