/ Source: TODAY Contributor
Jane Carson-Sandler was earning her nursing degree and raising her three-year-old son in Sacramento in 1976 , when she said she was raped by the infamous Golden State Killer. That day, her husband, who was in the Air Force, left for work in the morning, and her son was in bed with Carson-Sandler. She said she heard movement in her house, and then saw a man wearing a ski mask and wielding a butcher knife, looming over her. This is what she said happened next, and why she was able to forgive the assailant.
Update: Joseph James DeAngelo, 72, who police say fits the description of the elusive California killer, was arrested in Sacramento for two murder charges, per NBC News.
He tied us with shoelaces and cloth, he blindfolded us and he gagged us both. Before he raped me he moved my son. This was probably the most frightening part — I had no idea where he had moved him — he was gone from my side. My heart was beating so hard it almost came through my chest.
My whole focus was on what he had done with my son. When I got my blindfold off, my son was asleep next to me. I had to wake him up for us to leave the house. We went out of the gate and screamed for help and a neighbor took us in and called the police and called my husband.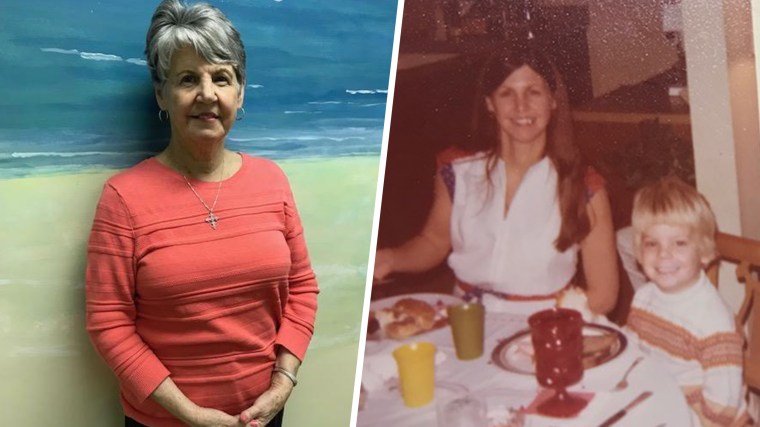 For a long time, I carried around a backpack of hate and shame and guilt and revenge. It was filled. In the beginning, I thought I could handle this on my own because I'm a nurse, I'm in the military, I'm disciplined. The rape was in October. And in January, I went to the rape crisis center in Sacramento. That's when I started to heal, by talking to women who had gone through similar things. I realized I wasn't crazy. I reached out, asked for help, and shared my story. I felt validated.
I didn't tell my son about the rape until he was in college. I had waited a long time to discuss it with him. I didn't want someone else to tell him. No one had ever said anything. I just sat down at the kitchen table one morning and told him the whole story. He was just shocked. It was all about me. He was asking how I felt.
The fact that he was tied up, gagged and blindfolded — he didn't remember it. He thought maybe we'd had a burglar that came into the house. I would tell women that it's very important that they sit down and personally discuss the incident with the child. Don't have someone else tell the child. You do it. It has to be done at the appropriate age.
After something like this happens, you need to take time to grieve over whatever has happened to you. Give yourself time. Go through the process. Forgiveness isn't for everyone but it was for me.
It was so important for someone to hear me and understand what I went through. That's when my healing began. Don't let the rape define or defeat you. Use the painful experience and do something positive with it — after you have healed. But you never fully heal. Your wounds always remain open but at least they're not oozing. But you need to reach out and help another person.
I don't live in fear. But I'm much more aware of my surroundings and the people I associate with. I am not covering my face when I am interviewed. I am not afraid of him. I hope he's still alive and I hope we see him in court. I have no shame. I didn't do anything to cause me to be assaulted. He broke into my house and held a knife to my neck.
If I met [the Golden State Killer] today I'd want to sit across from him at a table and ask him questions. Where did we meet? Were we at Cal State together, what was the connection, why did you move my son? Where did you move my son to?
I used to want to punch him in the face. I really feel that if I were to see him today — it took me a long time to be able to forgive him. He's a very sick man and I was the one carrying all these feelings around. Once I was able to forgive him, I felt a tremendous freedom. I want to look him in the eye.
If you or someone you know is a victim of sexual assault, please call the National Sexual Assault Hotline at 1-800-656-HOPE or visit RAINN.org.
This story was originally published on March 29, 2018.