We thought a hot-air balloon ride would make a great anniversary gift for our friends. But wait, we thought, this could be fun for us too! So — click — we bought another one for ourselves.
As our anniversary neared, we picked a date, made sure the kids were taken care of after school, and off we went for our flying adventure.
The drive to Pennsylvania took about two hours, with a quick stop at a favorite restaurant for lunch, before heading to the launch site. I honestly didn't know what to expect. Sky-diving had been on my "bucket list," but I nixed that after having children. Somehow, hot-air ballooning seemed a safer, and just as thrilling, close second.
Ten of us huddled around the "meet here for balloon ride" sign in the airport parking lot. We then piled into a van and drove around a hanger to the launch site. Within minutes, this massive hot-air balloon was rising up into the sky. The pilot loaded a few people in the basket sideways, so they could help the basket stay grounded when they tipped it upright. Then, I popped in, followed by my 6'2" husband. Somehow, we all managed to squeeze in rather comfortably into this Wizard-of-Oz-looking wicker float.
Rhett and Scarlett, Will and Kate, Bogart and Bergman, even Britney and Madonna – they all shared iconic lip-locks. Get in the mood for Valentine's Day with our colorful guide to classic kisses.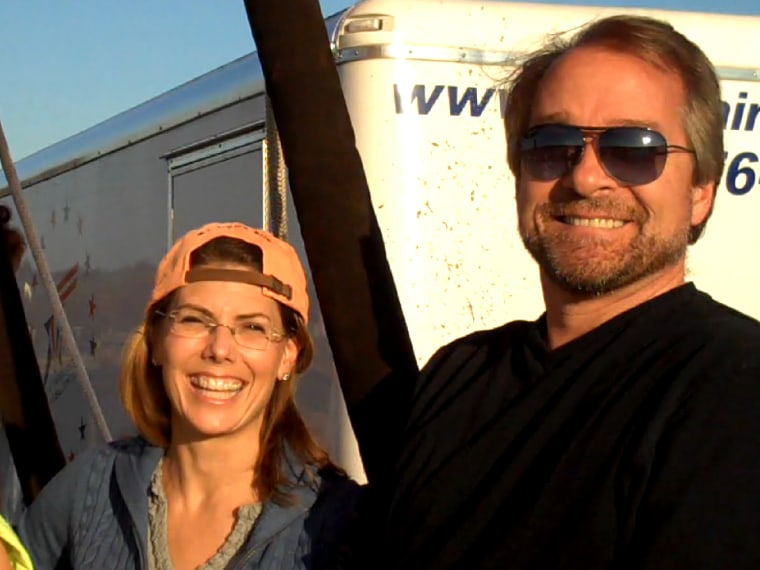 Seconds later, we were in the air, watching as the ground below us quickly sped farther away. We sailed over houses, barns, and tree tops. Dogs came outside to bark while horses continued to graze beneath. The air was crisp and dry, and the foliage was simply spectacular. A lovely autumn day turned into an incredible experience in a matter of seconds. As the balloon drifted over the Pennsylvania landscape, you could feel the temperature dropping. The fiery "whoooosh" that spit from a furnace and sent the heated air into the balloon was a constant, as was the slightly singed feeling on the top of your head when the flame ignited. Luckily, I had done some homework and brought baseball caps for the ride.
I was fine until we hit 1,000 feet, lost in the clouds, when a mild case of vertigo hit as I looked down over the edge of the basket. I admit, I was afraid to talk or move for a few seconds, but luckily that feeling passed.
The wind whistled by, but that was pretty much all you could hear. My husband and I nestled close together, flying high over the earth, and loving it.
We flew over an orchard, looking for a nearby street to land in, when a man came out of his back door and motioned to us. "Looking for a place to land?" he shouted. "Come on down!" Our pilot yelled back, "Are you sure it's okay?" And with a second nod, our group was told to bend our knees as the basket and sunlight seemed to drop in tandem on a lovely patch of green.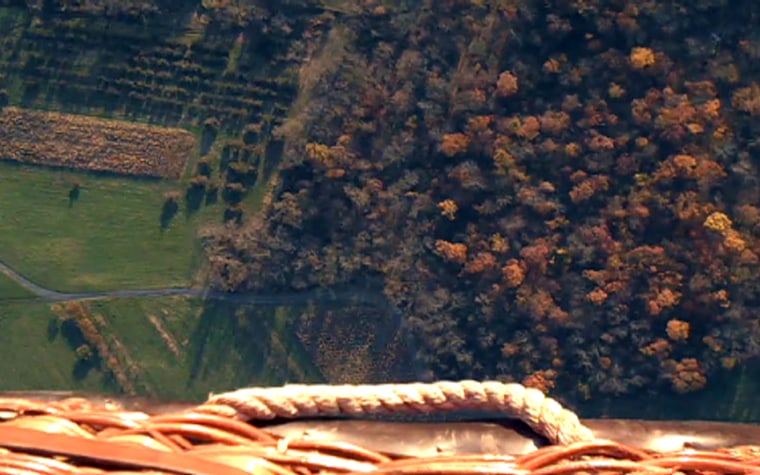 Story: Celebrate love over an indulgent chocolate beer
Apparently, hot-air balloons are a frequent sight in the Pennsylvania countryside, but our landing still brought out every neighbor and child in the area. I felt as if we had dropped in on a slice of Americana —friendly, and happy to help. Everyone was smiling and laughing as we all rolled and hopped from the basket and then helped pack up the balloon.
Ten minutes later, we were all back in the van and headed to the airport. We managed to travel about 20 miles from the launch site, and on our return, toasted with bubbly to a successful flight.
Our pilot said we spent the afternoon living the balloonist's prayer — a flight of soft winds and gentle landings. My husband and I know we shared something so much more.