In the four days since announcing their Powerball win on TODAY, John and Lisa Robinson have already felt its life-changing effects. The Tennessee couple is one of three winners of $528 million from last week's record $1.5 billion jackpot.
"It's been an overwhelming experience, and I think my husband and I finally realized the impact,'' Lisa told TODAY on Tuesday.
The Robinsons have allowed TODAY to follow them since their announcement on Jan. 15. to get a glimpse at what life is like when your bank account swells by nine figures. Winning tickets were also sold in California and Florida, but the owners have not yet come forward to claim their share of the prize.
RELATED: Powerball winners: Tennessee couple reveals their jackpot-winning ticket on TODAY Show
The parents of two from Munford, Tennessee, which has a population of about 6,000, are still trying to absorb everything while remaining grounded.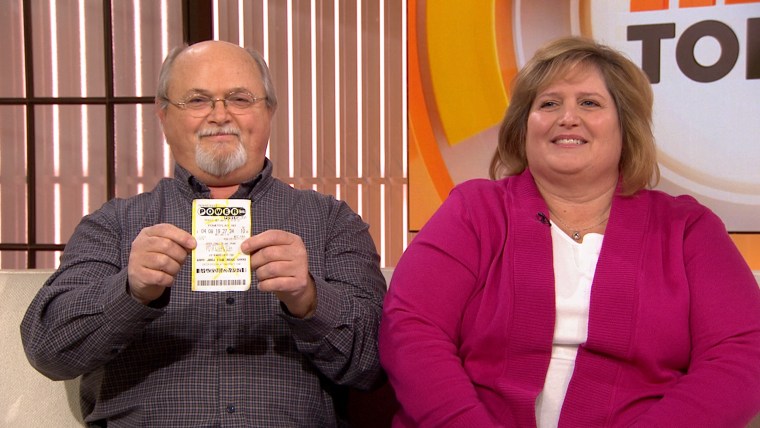 "We're common people,'' John said. "We're just like ya'll are."
Life back in Munford has also gotten more hectic.
RELATED: Powerball jackpot hits $1.5 billion: Here's how to stay anonymous if you win
"I love my Hondas and I can't even drive my own cars right now,'' Lisa said. "My friends, they want to come see me and they can't come see me right now. I want to go visit some of my friends and just relax."
However, they are enjoying some of the perks of their good fortune. They have received a private tour of Elvis' mansion at Graceland in Memphis, something Lisa has always wanted to do. They also were invited to the Country Ball sponsored by St. Jude's Children's Hospital, where they met Randy Owen, the lead singer of the group Alabama.
RELATED: What to do if you win the Powerball jackpot: 9 ways to handle your money
Unlike many who fantasize about winning the lottery, the couple also plans to keep their jobs. Lisa went back to work at her job in a dermatologist's office on Monday, and John, who works at a maintenance distribution center, planned on returning back to work on Tuesday. They intend on continuing their lives as they always were, just with a lot more financial security.
"I got my wife on my arm, what more could I ask for?" John said. "I've got plenty of money now."
Follow TODAY.com writer Scott Stump on Twitter.