In 1983, Tez Anderson thought he had been given a death sentence.
After he was diagnosed with HIV, doctors told him that he had only two years to live. He was 26, and had just moved to San Francisco.
"I worked on dying,'' Anderson told TODAY. "I was going to be the best dying guy in the world. I bought books on it and did meditation. I kept planning to die well for so long that I didn't live well."
One thing Anderson, 59, never considered was what life would be like if he actually survived to live a long life.
"I had no plan for growing old,'' he said. "Being an old man with HIV, that scared the hell out of me. I'd been told I would be dead in two years, and dead people don't need degrees or retirement accounts."
Living with 'survivors' guilt'
Thanks to drug cocktails that inhibited the progress of HIV, Anderson soon found himself staring at a future he never thought he would reach.
His constant worry about death came to an end after his partner, Gary Lebow, died in his arms in 2000 from complications related to AIDs.
"When Gary died that night that night, any residual fear of death I had, it dissipated,'' he said. "I don't walk around afraid of things that are going to kill me."
However, Anderson soon began isolating himself from family and friends, pushing people away with his anger. Part of it was survivor's guilt now that drugs inhibiting the progression of HIV meant he could live a long life after watching some many others in the gay community die over the years.
"For me it was, why now?" he said. "I had nightmares, I couldn't sleep, I was anxious and angry all the time. I also was severely depressed and obsessed with suicide. I felt like I had been duped, like I bought the lie that I was going to die and I lived."
He also realized that there were a lot of people like him with HIV who never expected to still be alive and struggled with that fact. He coined the term "AIDS survivor syndrome" and formed a grassroots organization he called "Let's Kick ASS" to help those who lived through the early days of the epidemic and now found themselves struggling.
Forming a community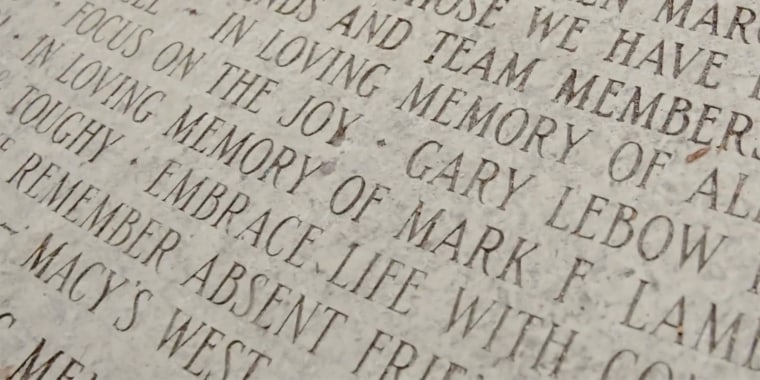 Anderson held the first gathering for Let's Kick ASS in September 2013 in San Francisco, thinking he might get about 40 people showing up. Instead, about 250 people attended.
"It was like people had an answer for something they didn't heretofore understand or have a name for,'' he said.
It made Anderson realize how many older people living with HIV had isolated themselves over the years.
One day he was in San Francisco's Castro district when he ran into a man with HIV who said he used to live in the city but left to move to Mendocino, California, for what he thought would be the final years of his life.
That type of isolation is common among people who have had HIV long-term, Anderson said. The man didn't want to return to San Francisco because he said there were too many "ghosts" from the past.
"He said it wasn't until reading my writing that he decided to come back to the city for the first time since 1994,'' Anderson said. "I started to cry, then he started to cry. I got goosebumps."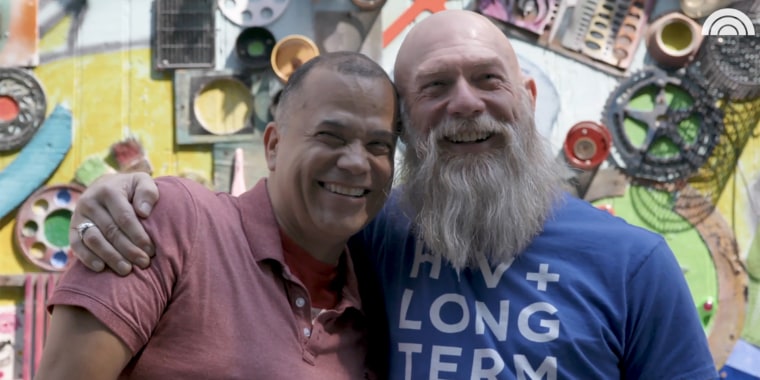 That type of community is crucial according to Vince Crisostomo, who is the program manager for the Elizabeth Taylor 50-Plus Network at San Francisco AIDS Foundation.
The group provides social and networking support management program for long-term survivors and has more than 350 regular participants over 50. They meet regularly, which gives survivors an opportunity to share their personal stories.
"As long as we're breathing, there's still hope, so we're all about focusing on that resilience,'' Crisostomo told TODAY. "A big thing we've found is that planning for the future in small steps helps plan for the large steps.
"Everybody's fear four to six years ago was that they were going to die old and alone, but now it's not as much doom and gloom. People are more worried about something that could happen to anyone our age."
Several online support groups in various cities have been created around Let's Kick ASS to give survivors an outlet. That can serve as a lifeline for those not in cities with large gay populations like San Francisco or New York.
The response to Let's Kick ASS also has been a signal to the world that there is a whole community of people who have lived with HIV for decades. The group also celebrated HIV Long-Term Survivors Awareness Day on June 5, which is symbolic of the day in 1981 that the Centers for Disease Control reported that two people had died from their illnesses in the beginning of what would later be identified as HIV/AIDs.
"In New York and San Francisco, about 24 percent of the people living with HIV have been living with it since 1996,'' Anderson said. "That's a whole generation of people who planned to die young and got a reprieve.
"There's kind of this meme that we lost an entire generation to AIDs, but I like to say that's wrong. There's a lot of us still around."
Now that AIDs is not responsible for the same number of deaths as the epidemic era of the 1980s, Let's Kick ASS serves as a reminder that the effects from that time still linger. The CDC reported that there were 6,465 deaths from AIDs in 2015, so it still is claiming lives.
"Now that it's no longer considered a crisis, we've been forgotten about,'' Anderson said. "I think that's a common refrain that it's no longer a big deal. There's still the traumatic effects of losing so many loved ones over the years."
Those living with HIV for decades aren't the same as survivors of mass shootings or natural disasters in that what they suffered through was not a one-time event. It was watching friends and loved ones die year after year for more than a decade.
"We're old soldiers who have gone through a particular kind of war,'' Anderson said. "If we were veterans, we would all have Purple Hearts, but there's not that reverence for what we lived through."
Now that the older HIV community is dying of what Anderson dubbed "old-age things" like heart attacks and strokes, it's like they are reliving the wave of death they faced in their youth.
"The key to getting through it is being grateful, humble and happy, and those are not impossible things to do even in the worst of times,'' Anderson said. "Aging is a privilege. I'm happy to be pushing 60."
"Something we do to keep people going is to have everyone begin a meeting by introducing something new and good and our lives and then close with something look forward to,'' said Crisostomo, who has lived with HIV for more than 30 years. "Our focus is always on hope."
Anderson was able to persevere through the difficult period in his life by changing his mindset.
"I stopped focusing on all the times I nearly died,'' he said. "I was close to death three times, but I got up again, and instead of focusing on the losses, I looked at what I had in my life."
Let's Kick ASS aims to provide a place where survivors can tell their stories and come out of isolation to be part of a community that understands what they have been through.
"It was a combination of resilience and gratitude that got me over the hump,'' Anderson said. "It's healing to tell your story and have others validate it."
The aim is to turn the fear and survivor's guilt from aging with HIV into enjoying the long life many thought they would never have.
"The lesson is that you can survive more than you think you can survive,'' Anderson said.