Tens of thousands of Burning Man festivalgoers are slowly making their way home from the Nevada desert after muddy conditions from heavy rains made it nearly impossible to leave over the weekend.
Following an announcement at 2 p.m. on Sept. 4 that festivalgoers could leave, vehicles took six or more hours to make the trek out of the drying mud in a backup stretching for miles.
The area in Nevada's Black Rock Desert received two months' worth of rain in two days starting on Sept. 1, which resulted in over 70,000 festivalgoers stranded and attempting to flee Black Rock City, a temporary community set up for the festival.
"Do not move. You're going to get stuck," hosts on Burning Man Information Radio, broadcasting from within the event, told festivalgoers early on Sept. 4.
According to NBC News, the Pershing County Sheriff's Office in Lovelock, Nevada, confirmed that one person has died. He was identified on Sept. 4 as Leon Reece, 32, who was declared dead at the scene once first responders arrived, the sheriff's office told NBC News.
His cause and manner of death have not been determined. Sgt. Nathan Carmichael of the Pershing County Sheriff's Office said a toxicology report will need to be completed, but there were no obvious signs of trauma.
"No indication it's the weather," he said. "He had no stab wounds or bullet wounds."
Amid photos of ankle-deep mud, news of a shelter-in-place mandate and the casualty, Marian Goodell, CEO of Burning Man, told NBC News that the situation was under control and that "there is no cause for panic."
President Biden was notified of the situation and, according to a spokesperson, administration officials monitored and received updates on the latest details.
Why are people stranded at Burning Man?
Each year participants in the Burning Man event gather for nine days in an "annual experiment in temporary community dedicated to Radical Self-expression and Radical Self-reliance," according to burningman.org.
Held in Nevada since 1991, the festival sees dreamers, artists, tech founders and celebrities — among others — converge to create a temporary community in the desert.
This year's Burning Man began on Aug. 28 and was slated to run through Sept. 5, with tickets starting at $575 a person.
However, shortly after the festival began this year, the area was flooded by torrential rainfall, turning the desert basin — or playa — into a muddy, sodden mess, one cars were unable to cross. The "playa" refers to the desert streets surrounding Black Rock City's streets, according to a Burning Man blog.
By Sept. 1, organizers tweeted on X that the more than 70,000 attendees of Burning Man should "help each other stay safe" and that the gate and airport in and out of the area was closed due to the impossibility for vehicles to "traverse the playa."
After another day of significant rainfall, the situation became more dire and another tweet issued on Sept. 2 announced that "Ingress and egress are halted until further notice," and asked attendees to conserve food, water and fuel, along with sheltering in a "warm, safe space."
An update on BurningMan.org posted the night of Sept. 3 offered those still on site a "Wet Playa Survival Guide" with tips, as well as an update saying that conditions were "improving" and that roads in Black Rock City were expected to open on Sept. 4 for "Exodus."
"Thank goodness this community knows how to take care of each other," the Instagram page for Burning Man Information Radio wrote on a post predicting more rain.
Neal Katyal, Chris Rock and others detail their 'escape' from Black Rock City
Comedian Chris Rock and Diplo, producer and DJ, were among this year's Burning Man attendees. The pair journeyed six miles through the desert on Sept. 2 to escape the difficult conditions and mud, which some likened to quicksand.
"My camp had some celebrities nearby, so we ventured out with Josh Kushner, Karlie Kloss and Cindy Crawford and Chris Rock and some writers, and we just we decided to all go together," Diplo told NBC News correspondent Liz Kreutz on TODAY on Sept. 5.
"It felt like we had a little victory, a little battle that day, and it felt nice."
In an Instagram post, Diplo shared a video of their trek through the mud, citing that he and Rock hitched a ride out of Black Rock City with a fan to return to Reno, 100 miles away.
"A fan offered Chris Rock and I a ride out of burning man in the back of a pick up," Diplo wrote in a text overlay of the video.
According to Diplo, he and Rock "walked the side of the road for hours" because Diplo didn't want to miss a show he was performing at in Washington, D.C.
"The Killing" actor Joel Kinnaman and fiancée Kelly Gale were also at the event.
On Sept. 3, Gale posted a photo of her, Kinnaman and others in the mud, writing, "Right before our camp/friends split up. Half of us stayed and half of us left. Felt so difficult leaving but the good thing was making sure there would be enough food and water for those who stayed. Praying for everyone to stay safe and get out safe."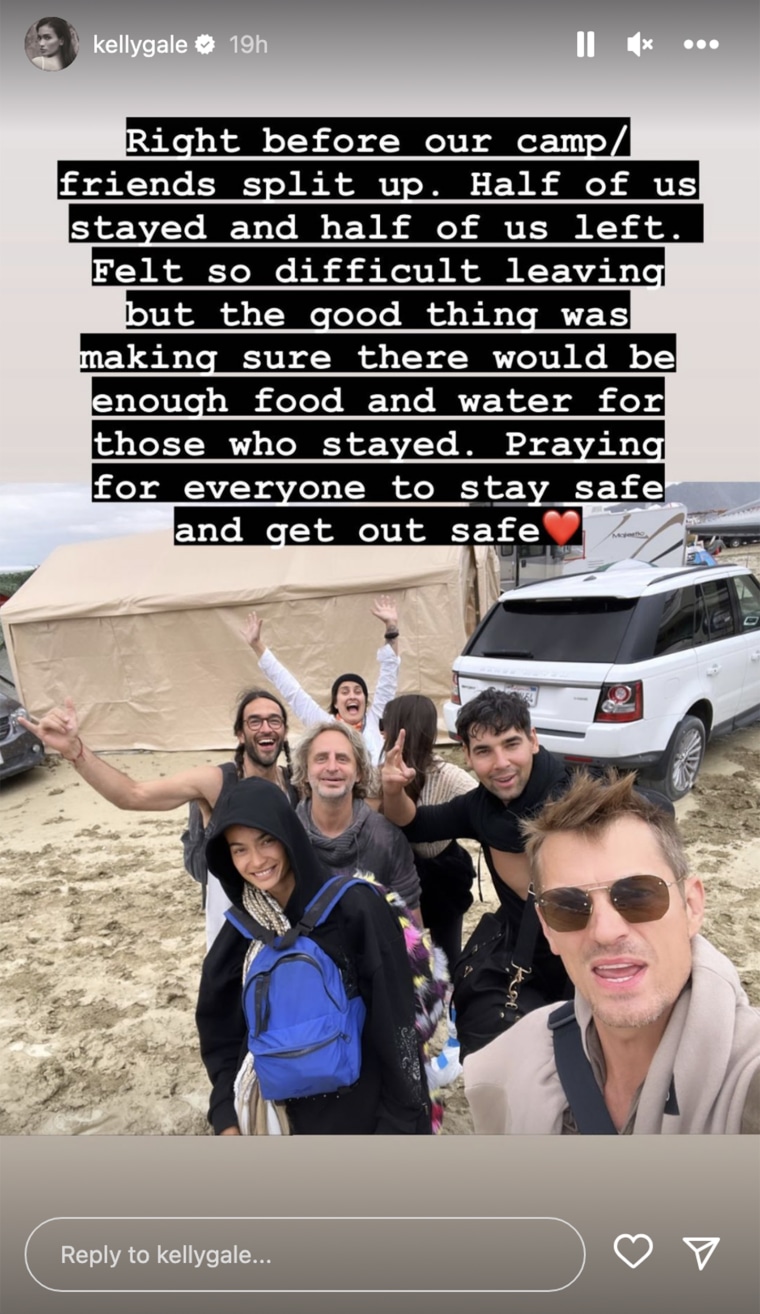 Neal Katyal, former U.S. acting solicitor general under the Obama administration and Supreme Court lawyer, described his Burning Man experience, writing, "It was an incredibly harrowing 6 mile hike at midnight through heavy and slippery mud, but I got safely out of Burning Man."
Despite his treacherous escape, Katyal says he's never been before and that the experience was "fantastic" with the exception of "the ending."
One death reported amid the flooding
According to a statement released by the Pershing County Sheriff's Office on Sept. 2, officials were investigating "a death which occurred during this rain event" and that "the family has been notified."
The death isn't the first at Burning Man.
In 2017, a 41-year-old man died after leaping into a 40-foot bonfire known as the "Man burn" event, according to NBC News.
In 2014, a 29-year-old woman was hit by a bus outside of Black Rock City, and a motorcycle accident claimed the life of a friend of the Burning Man founders back in 1996, according to an article in the Reno Gazette Journal.
No, there isn't an outbreak of Ebola at Burning Man
Though the death at this year's Burning Man is still being investigated, a social media hoax was blamed for spreading rumors that it's due to a breakout of Ebola.
Outside of a rare U.S. outbreak of the disease in 2014, the virus is found primarily in Africa and is often deadly.
Posted as a fake CDC warning Sept. 2 on X, the unsubstantiated claim stirred up concern that the thousands who were stranded at Burning Man due to the hazardous road conditions were facing an alarming new concern: Ebola.
However, the CDC didn't post the warning and the claims were false.
Though Ebola isn't a concern at Burning Man, festivalgoers' health was still at risk. Maya Alexandri, a resident physical and medical volunteer at the festival, told NBC News that the real risk was that those remaining may not have had enough warm clothes and could've suffered ill effects from the ongoing rain and cold.
"These are very, very extreme and devastating conditions under the best circumstances," Alexandri told NBC News.