/ Source: TODAY contributor
A Kansas retiree still suffers from some minor headaches but otherwise is fine after a friend accidentally fired a 2 1/2-inch nail into his head during a home fix-it job on Friday.
George Chandler, 60, chuckled as he described what happened on Wednesday. But it might have been no laughing matter: Doctors told Chandler he could have been paralyzed if the nail fired into his head by an air compressor struck his skull only a millimeter away from where it did.
"That's the nail ... It's got a little blood on it," Chandler told TODAY's Ann Curry during a live interview in New York.
Chandler was holding up lattice for his backyard deck while his friend, Phil Kern, stood on a ladder with a nail gun. Kern, also 60, was trying to unkink the nail gun's tangled compressor hose when, without warning, the gun fired a single nail.
'Sit down!'
At first, Chandler did not realize what had happened. There was no blood, but he felt a stinging sensation on the top of his head and assumed a nail had grazed his skull.
Kern, however, looked down from the ladder and saw the nail embedded in the left side of Chandler's skull.
"He was hollering at me, telling me to sit down," Chandler said.
A 911 operator told Kern not to remove the nail and to wait for an ambulance.
"Don't take it out. Just go ahead and leave it in there," the operator recommended calmly.
When the two friends arrived at a nearby hospital, emergency room staff looked at Chandler's wound, and deemed him to be stable and in no immediate danger. A doctor told him to wait.
"When he came in he said, 'There are two emergencies ahead of you that are worse than you, and we'll get to you just as soon as we can,' " Chandler said with a laugh.
'I need a claw hammer'
When it finally was his turn for treatment of his injury, Chandler was surprised to learn that doctors don't have any special tools for such accidents. The doctor tried, and failed, to remove the nail with common household tools.
"He had a pair of pliers and he was trying to get hold of the nail, and he couldn't quite get it," Chandler said. "He looked at me and said, 'I need a claw hammer.' "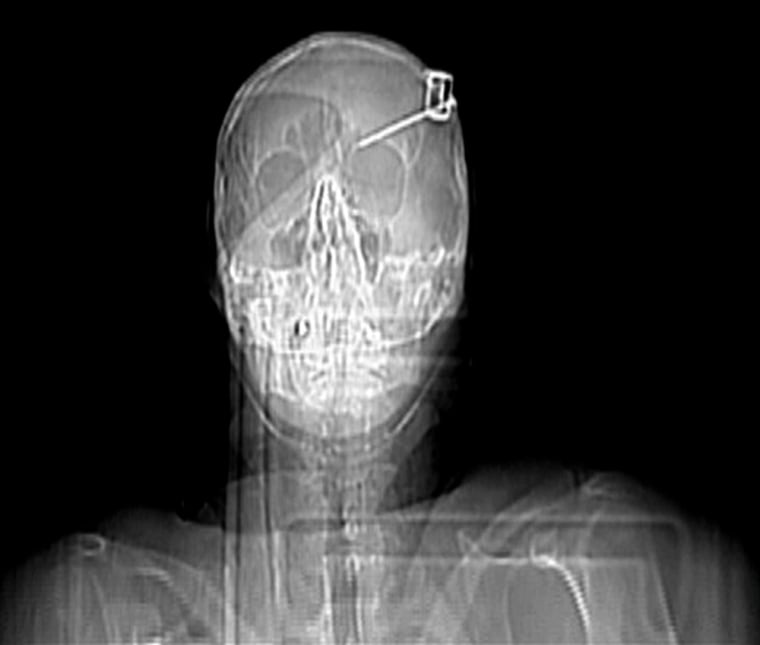 A hospital maintenance staff worker happened to have a hammer, so it was sanitized with iodine and pressed into service. Using the hammer and a screwdriver, the doctor removed the foreign object.
Told he was lucky the nail did not invade the area of the brain that controls motor skills and speech, Chandler was given the nail as a sort of souvenir and sent on his way. Chandler had the nail and a baseball cap with a tiny hole in it when he and Kern chatted with Curry on Wednesday.
Chandler doesn't blame Kern, and both men smiled as they recalled the ordeal and expressed that they were just happy that Chandler wasn't seriously injured.
"We're still good friends," Chandler assured Kern.