What do you do the night after you sweep the podium with your best buds?
Throw the craziest party you can conjure up.
Slopestyle skiers Joss Christensen, Gus Kenworthy and Nick Goepper, who picked up gold, silver and bronze respectively on Thursday, may have had vastly different prep routines before the races that won big for Team USA, but their plan for Friday night was the same: "A good time for sure," said Gus. 
Here's how elite athletes like these three spend their time minutes before their medals.
The night before

Joss took down a big meal — chicken, rice and "lots of veggies to avoid having too bad of a stomachache" — and then bedtime around 10 p.m. to watch "Ted" and a few episodes "Archer," one of his favorites. 
Gus struggled to sleep. "It was a long night," he said. "I tossed and turned thinking about it. I kept waking up thinking I had slept through my alarm."
Nick spent an evening alone, he prayed and stretched. "I visualized my run a bunch," he said. "I kept looking at myself in the mirror, and was like, 'All right, tomorrow is the day.'"
More on TODAY: Sweeping the podium was 'awesome' for US slopestyle skiers
Breakfast
Nick housed his first meal, which included oatmeal, potatoes, fried eggs, bacon, fruit and a banana. "I had to have fuel for the whole day," he said. 
That's in stark contrast to Gus. "It's sort of hard for me to eat on contest days," he said, so he just had some cereal and headed to the course. 
Joss grabbed some cereal bars and apple sauce on his way out the door.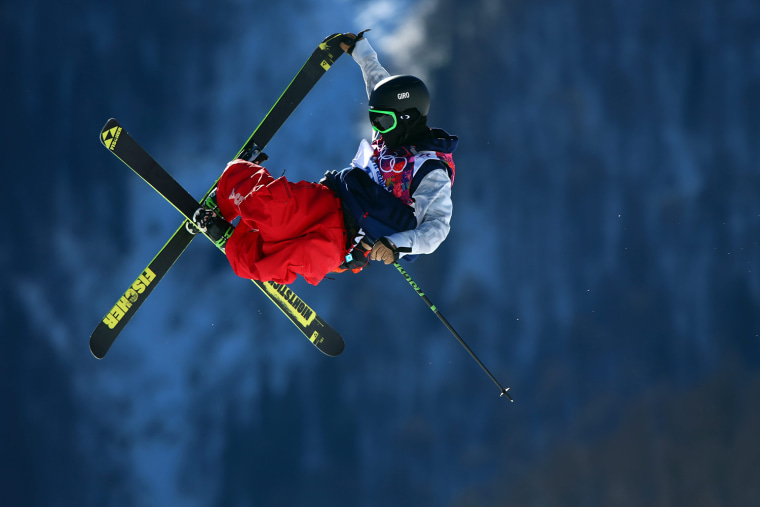 Moments before the run
The trio saw the sunrise over the Sochi slopes, taking a few warmup runs. "The teammates, especially Gus and I, were skiing together all morning trying to give each other encouragement and positive thoughts," Joss said. "We're all stoked to see each other. Everyone is nervous, of course, but no one is competitive against each other, or no one shows it."

Gus remembered giving Joss a boost that morning. "I told him, 'Dude, you've got this. If you land the run that you're doing the way I've seen you do it in practice, you've got this."
Watch on TODAY: Nervous life of slopestyle parents
At the end
The three pals' historic win — only the third U.S. sweep of an event in Winter Olympic history — "means everything," Joss said. I "wouldn't be here without these friends."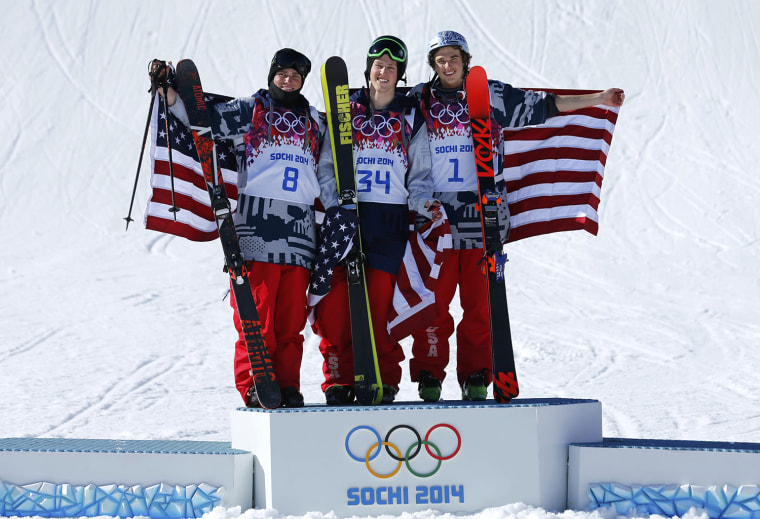 "It's crazy to think of the significance of this win," Nick added.
"To put down the best contest run that I've ever put down, at the Olympics, in the finals, with a stadium full of people and everyone chanting USA, it was just overwhelming," Gus said. "My head was spinning."
More on TODAY: Gus and Gracie? Skier hints he has his eye on a special Valentine
Party time...

"I told my friends a few months ago before I made the Olympic team — when it wasn't looking too good for me — I said, 'If somehow I make it to the Olympics, and somehow I win, I'm going to burn down our house with such a great party,'" Joss said. So a celebration was on tap in the Athlete's Village.
"It should be a good time for sure," Gus said. 

Nick said he's looking forward to returning stateside and skiing with friends. "I want to go skiing in Indiana before the season is over," he said.  
And there will be no actual arson, Joss assured. "But it'll still be crazy."
Steve Veres is an editor for TODAY.com. Follow his Sochi adventures on Twitter.